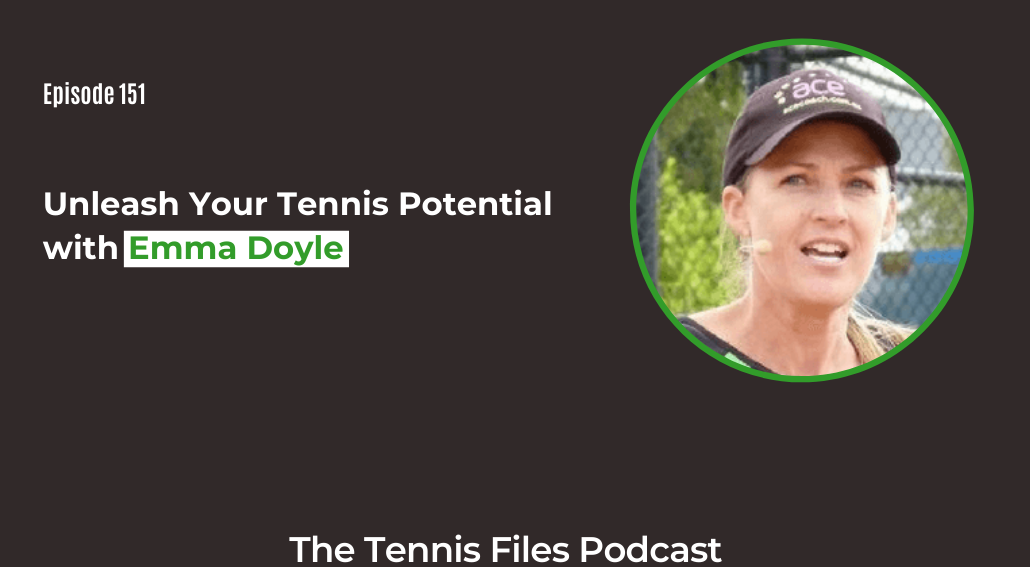 On Episode 151 of The Tennis Files Podcast, I interviewed elite tennis coach and speaker, Emma Doyle, about how to unleash your tennis potential.
Emma is an expert instructor, communicator, and mentor, and has helped several professional tennis players reach top WTA rankings. She is also a Tennis Australia High Performance Coach and travels the world as a professional speaker specializing in helping people to maximize and live their potential through tennis. Emma has been on four of my Tennis Summit as well, and I have brought her back each year because of the fantastic content that she consistently produces to help tennis players improve their skills.
On the show, you'll learn about how you can increase your confidence, find your inner motivation to improve your game, communicate better with your partners, transform your mindset, achieve your true tennis potential, learn the secrets and habits of the pros, and much more!
I hope you enjoy my interview with Emma! Let us know what you think about the episode in the comments below!
And be sure to subscribe to Tennis Files to receive the latest tennis content to improve your game straight to your inbox!
Subscribe to automatically download new episodes!

Click the icon above, click the blue "View in iTunes" button, then hit "Subscribe."

Or hit the subscribe button in your favorite podcast app!
Right Click Here to Download the MP3
Links Mentioned in the Show
Books:
Resources:
Emma's TEDx Talk – Unleashing Female Potential
Social Media:
Podcasts:
Check Out All My Podcasts Here!
Check Out All My Podcasts on Apple Podcasts!
My Youtube Channel!
Tennis Files Youtube Channel - Subscribe! You know you want to 😉
Note: Some of the links above are affiliate links, so if you make a purchase after clicking, I'll make a small commission that will help support the podcast. Thanks either way!
If you enjoyed this episode, subscribe to The Tennis Files Podcast in iTunes or your favorite podcast app!
For more tips on how to improve your tennis fitness, subscribe to my newsletter and download a free copy of my free eBook, The Building Blocks of Tennis Success below! Thanks for listening!
The Building Blocks of Tennis Success eBook
Subscribe to get my free eBook and learn about goal setting, training smart, proper technique, mental fortitude, the importance of competition, health and fitness, and more!
Thanks for being a valued Tennis Files subscriber! I am proud to serve you 🙂