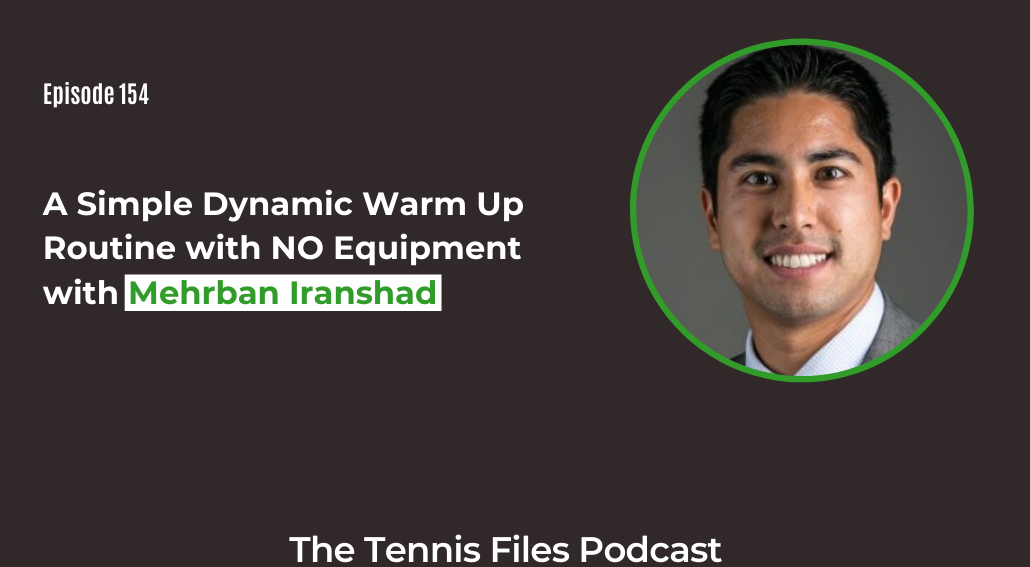 On Episode 154 of The Tennis Files Podcast, I am going to walk you through a complete dynamic warm-up routine with no equipment that will help you perform your best on the tennis court and stay healthy.
Performing a dynamic warm up that is specific to tennis movement is going to give you the best preparation to play well and prevent injuries, according to many studies, the science, and top tennis fitness experts. There are obviously a ton of other warm-up exercises, variations, and levels of difficulty, but I find that this is a simple one that just about anyone can do to get ready for a great practice or match session. Remember to perform this dynamic warm-up routine before your matches and training, and let me know how it works for you.
If you want to watch this full dynamic warm-up routine on video (it'll be up within a few days of this podcast episode), go to the Tennis Files Youtube channel at tennisfiles.com/youtube and click the subscribe button and notification bell so that you'll receive an email as soon as I publish the video!
I hope you enjoy this episode! Let me know what you think about this episode in the comments below!
And be sure to subscribe to Tennis Files to receive the latest tennis content to improve your game straight to your inbox!
Subscribe to automatically download new episodes!

Click the icon above, click the blue "View in iTunes" button, then hit "Subscribe."

Or hit the subscribe button in your favorite podcast app!
Right Click Here to Download the MP3
Links Mentioned in the Show
Warm-Up Routine - Free Download!
Books:
Dynamic Stretching - Dr. Mark Kovacs
Study on Dynamic vs Static Stretching and Activity Specific Warm-ups
Podcasts:
Check Out All My Podcasts Here!
Check Out All My Podcasts on Apple Podcasts!
My Youtube Channel!
Tennis Files Youtube Channel - Subscribe! You know you want to 😉
Note: Some of the links above are affiliate links, so if you make a purchase after clicking, I'll make a small commission that will help support the podcast. Thanks either way!
If you enjoyed this episode, subscribe to The Tennis Files Podcast in iTunes or your favorite podcast app!
For more tips on how to improve your tennis fitness, subscribe to my newsletter and download a free copy of my free eBook, The Building Blocks of Tennis Success below! Thanks for listening!
The Building Blocks of Tennis Success eBook
Subscribe to get my free eBook and learn about goal setting, training smart, proper technique, mental fortitude, the importance of competition, health and fitness, and more!
Thanks for being a valued Tennis Files subscriber! I am proud to serve you 🙂