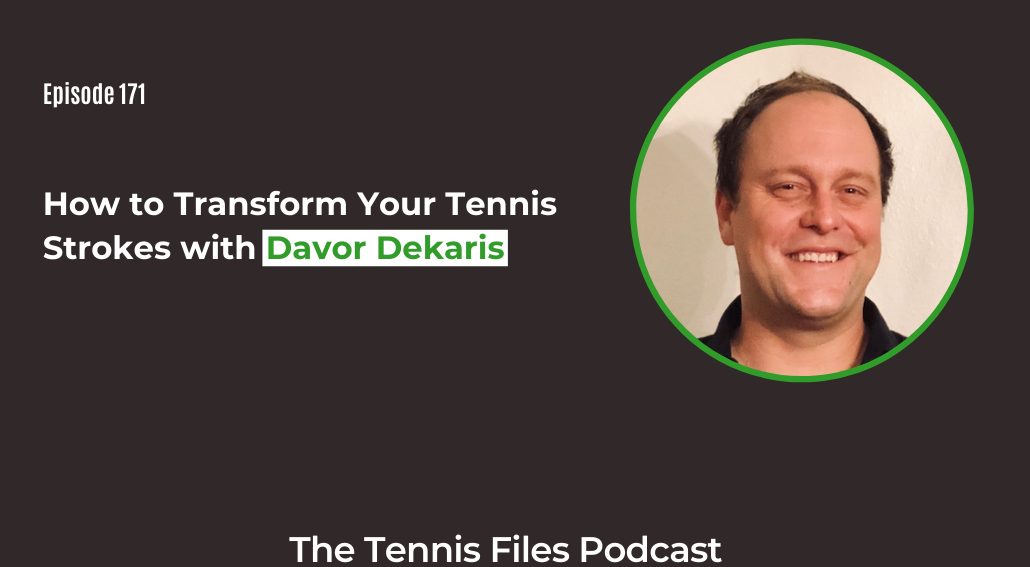 On Episode 171 of The Tennis Files Podcast, I interviewed USPTA Elite Professional, Davor Dekaris, about drills and techniques to help you transform your tennis strokes.
Davor is a Stroke Development & High Performance Coordinator at Stone Creek Club and Spa. He was previously a tennis instructor in Berlin for 10 years. He also played on the ITF, Future Tours and in the highest divisions of the German Team Tennis Leagues. He was awarded USPTA Southern Pro of the Year in 2017. Davor is currently the founder of Tennis Haus, which has grown into a wonderful community of tennis coaches and players. With Tennis Haus' awesome tips, techniques, drills and advice about tennis, Davor's community has grown to well over 52k followers on Instagram and keeps increasing at a rapid pace.
On the show, you'll learn the biggest technical flaws on the serve and backhand, drills to get more spin and power on your serve, how to use your legs and upper body on your volleys, the best grips for your strokes, expert coaching tips, and much more!
I hope you enjoy my interview with Davor! Let us know what you think about this episode in the comments below!
And be sure to subscribe to Tennis Files to receive the latest tennis content to improve your game straight into your inbox!
Subscribe to automatically download new episodes!

Click the icon above, click the blue "View in iTunes" button, then hit "Subscribe."

Or hit the subscribe button in your favorite podcast app!
Right Click Here to Download the MP3
Links Mentioned in the Show
Tennis Haus
Equipment
Books
Complete Conditioning for Tennis - Dr. Mark Kovacs
The Inner Game of Tennis - W. Timothy Gallwey
Rafael Nadal Biography - Rafael Nadal and John Carlin
The Power of Habit - Charles Duhigg
Podcasts:
Check Out All My Podcasts Here!
Check Out All My Podcasts on Apple Podcasts!
My Youtube Channel!
Tennis Files Youtube Channel - Subscribe! You know you want to 😉
Note: Some of the links above are affiliate links, so if you make a purchase after clicking, I'll make a small commission that will help support the podcast. Thanks either way!
If you enjoyed this episode, subscribe to The Tennis Files Podcast in iTunes or your favorite podcast app!
For more tips on how to improve your tennis fitness, subscribe to my newsletter and download a free copy of my free eBook, The Building Blocks of Tennis Success below! Thanks for listening!
The Building Blocks of Tennis Success eBook
Subscribe to get my free eBook and learn about goal setting, training smart, proper technique, mental fortitude, the importance of competition, health and fitness, and more!
Thanks for being a valued Tennis Files subscriber! I am proud to serve you 🙂