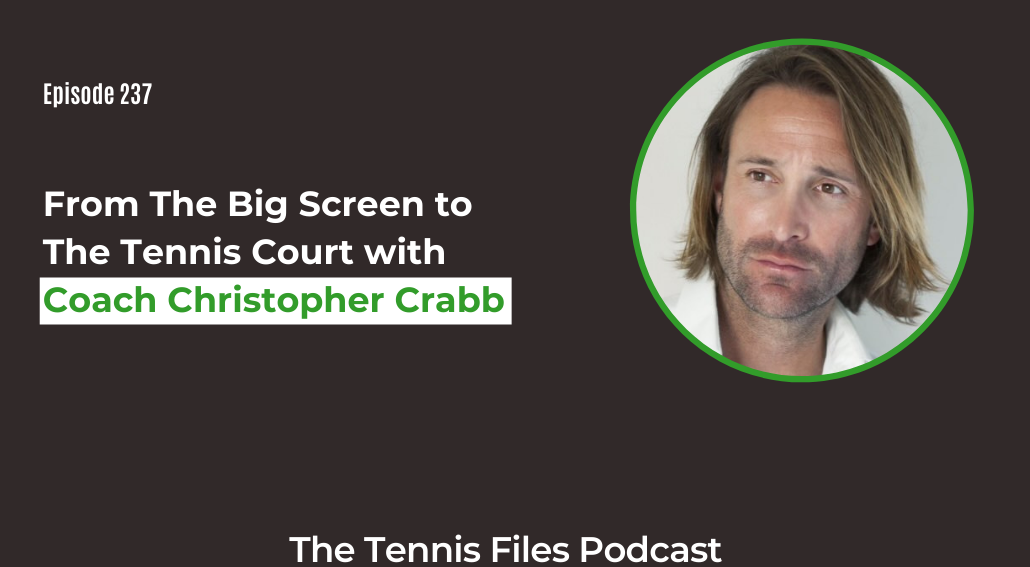 On Episode 237 of The Tennis Files Podcast, I spoke with actor and tennis coach Christopher Crabb about how he went from both competing on the court and acting at the highest level to coaching famous celebrities.
Chris is a tennis coach in Los Angeles with an A-list rolodex of clients. His tennis students include George Clooney, Alec Baldwin, Robert Downey Jr., Kevin Kline, Elle Fanning, Steve Carell, Pete Wentz from Fallout Boy, Dakota Fanning and Jeff Probst. Chris tutored Robert Downey Jr. for his Oscar-nominated role in the film "Chaplin," for which Chris also served as tennis coordinator. He began acting at the age of eight and has starred in many commercials, movies and series including the remake of "A Christmas Carol", "Danger Bay", "Life Goes On", "Rebel Highway", and many more. Chris was a highly-ranked junior tennis player and turned pro at the age of 16. He has defeated grand slam champions Michael Chang and Jim Courier.
On the show, you'll learn how Chris developed his skills in tennis and acting and how he managed to do both at the highest level, the biggest challenges he faces when teaching celebrities, his unique green jacket approach of coaching, the biggest mistakes that amateur tennis players make, why players don't play well during competition vs. practice, and much more!
I hope you enjoy my interview with Chris! Let us know what you think about this episode in the comments below!
And be sure to subscribe to Tennis Files to receive the latest tennis content to improve your game straight to your inbox!
Subscribe to automatically download new episodes!

Click the icon above, click the blue "View in iTunes" button, then hit "Subscribe."

Or hit the subscribe button in your favorite podcast app!
Right Click Here to Download the MP3
Links Mentioned in the Show
The Magic Key to Tennis - Eric Sage
The Hollywood Reporter Article
Podcasts:
Check Out All My Podcasts Here!
Check Out All My Podcasts on Apple Podcasts!
My Youtube Channel!
Tennis Files Youtube Channel - Subscribe! You know you want to 😉
Note: Some of the links above are affiliate links, so if you make a purchase after clicking, I'll make a small commission that will help support the podcast. Thanks either way!
If you enjoyed this episode, subscribe to The Tennis Files Podcast in iTunes or your favorite podcast app!
For more tips on how to improve your tennis fitness, subscribe to my newsletter and download a free copy of my free eBook, The Building Blocks of Tennis Success below! Thanks for listening!