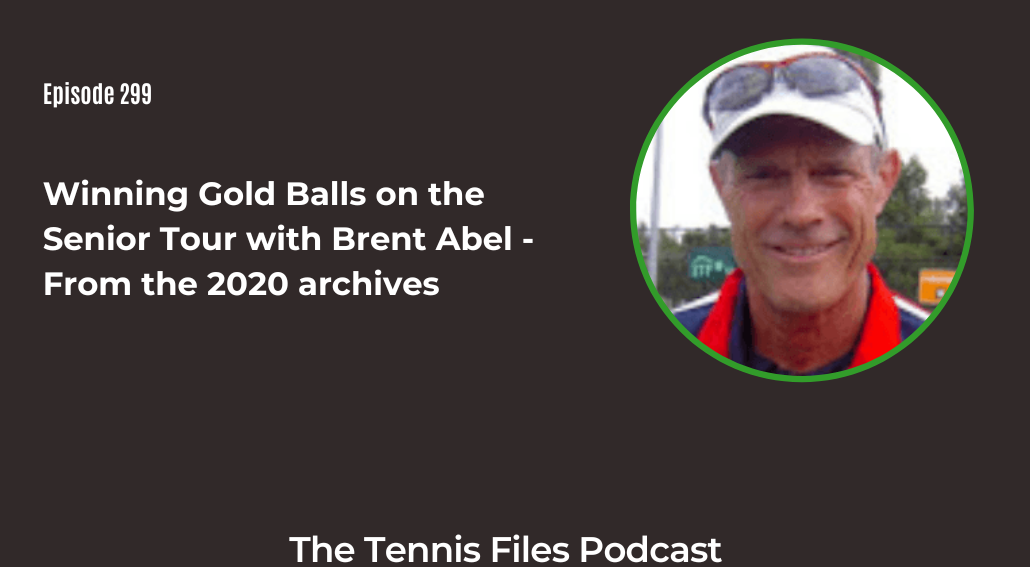 On today's episode of The Tennis Files Podcast, I spoke with elite coach from Web Tennis, Brent Abel, about winning gold balls on the senior tour.
Brent has won 14 USTA National Gold Balls. He was also the 70s age group Captain of the 2018 and 2019 USA Senior World Cup Teams. Brent founded Web Tennis, and his youtube channel has gotten over 11 million views and has helped many thousands of tennis players improve their games all around the world. Brent has been featured on my Tennis Summits as well to share his wisdom about the game with our massive audience.
On the show, you'll learn how senior players can thrive in tournaments and prolong their careers, Brent's favorite singles and doubles match strategies, playing tournaments all around the world, Brent's unforgettable experiences winning gold balls (a LOT of them!), and much more!
I hope you enjoy my interview with Brent! Let us know what you think about the episode in the comments below!
And be sure to subscribe to Tennis Files to receive the latest tennis content to improve your game straight to your inbox!
Subscribe to automatically download new episodes!

Click the icon above, click the blue "View in iTunes" button, then hit "Subscribe."

Or hit the subscribe button in your favorite podcast app!
Right Click Here to Download the MP3
Links Mentioned in the Show
Podcasts:
Check Out All My Podcasts Here!
Check Out All My Podcasts on Apple Podcasts!
My Youtube Channel!
Tennis Files Youtube Channel - Subscribe! You know you want to 😉
Note: Some of the links above are affiliate links, so if you make a purchase after clicking, I'll make a small commission that will help support the podcast. Thanks either way!
If you enjoyed this episode, subscribe to The Tennis Files Podcast in iTunes or your favorite podcast app!
For more tips on how to improve your tennis fitness, subscribe to my newsletter and download a free copy of my free eBook, The Building Blocks of Tennis Success below! Thanks for listening!