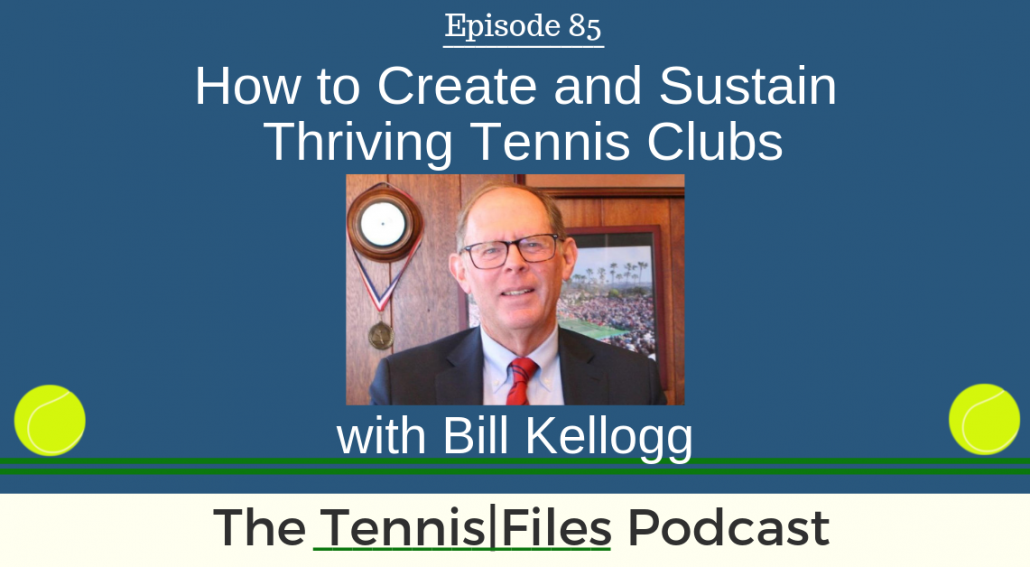 On Episode 85 of The Tennis Files Podcast, I spoke with Bill Kellogg about how he has transformed tennis clubs into hugely successful programs, and his incredible experiences both playing and contributing to the advancement of tennis by wearing many different hats in the industry.
Bill is the President of La Jolla Beach and Tennis Club, which has been designated a Top 25 Tennis Resort by Tennis Resorts Online. He was inducted into the Southern California Tennis Association Hall of Fame in 2017, alongside such legends as Rod Laver, Bobby Riggs, Debbie Graham, Ken Stuart, and Stella-Sampras Webster.
Bill has competed in pro level tournaments, played #1 for Dartmouth College, and participated in the NCAA Championships Bill also serves as a Sectional Delegate of the Southern California Tennis Association, and was a longtime member of the International Advisory Council of the International Tennis Hall of Fame, and was also previously a Director at Large for the USTA (Audit Committee). He even served as a linesman and chair umpire at Wimbledon....a pretty well-rounded career indeed 🙂
On this episode, we discuss Bill's highly successful competitive tennis career, how he went from thinking he'd be an engineer to running multiple highly successful tennis clubs, his many roles in tennis, and much more.
Bill learned by doing, from accounting to gardening, hiring to marketing, and everything in between. And the great thing about Bill is that he truly loves the game and continues to keep himself involved in numerous positions within tennis to help advance the game.
I really hope you enjoy my interview with Bill! Let us know what you think about this episode in the comments below!
Show Notes
Becoming a linesman and chair umpire for Wimbledon during the same year that Bill played pro tournaments
Going from a degree in engineering science to managing multiple highly successful tennis clubs
How Bill learned to do just about every aspect of running a tennis club
Bill's advice for managing and sustaining successful tennis programs
How he and his family have kept La Jolla Beach and Tennis Club running strong for over 90 years
Bill's experience supporting and marketing for Davis and Fed Cup matches
His thoughts on the changes to Davis Cup
What USTA and other organizations need to do to improve the state of tennis in the US and grow the game
The message Bill would write on a huge billboard for all to see
A key tip to help you improve your tennis game....and much more!
Subscribe to automatically download new episodes!

Click the icon above, click the blue "View in iTunes" button, then hit "Subscribe."

Or hit the subscribe button in your favorite podcast app!
Note: Some of the links above are affiliate links, so if you make a purchase after clicking, I'll make a small commission that will help support the podcast. Thanks either way!
​If you enjoyed this episode, subscribe to The Tennis Files Podcast in iTunes or your favorite podcast app!
For more tips on how to improve your tennis fitness, subscribe to my newsletter and download a free copy of my free eBook, The Building Blocks of Tennis Success below! Thanks for listening!
The Building Blocks of Tennis Success eBook
Subscribe to get my free eBook and learn about goal setting, training smart, proper technique, mental fortitude, the importance of competition, health and fitness, and more!
Thanks for being a valued Tennis Files subscriber! I am proud to serve you 🙂