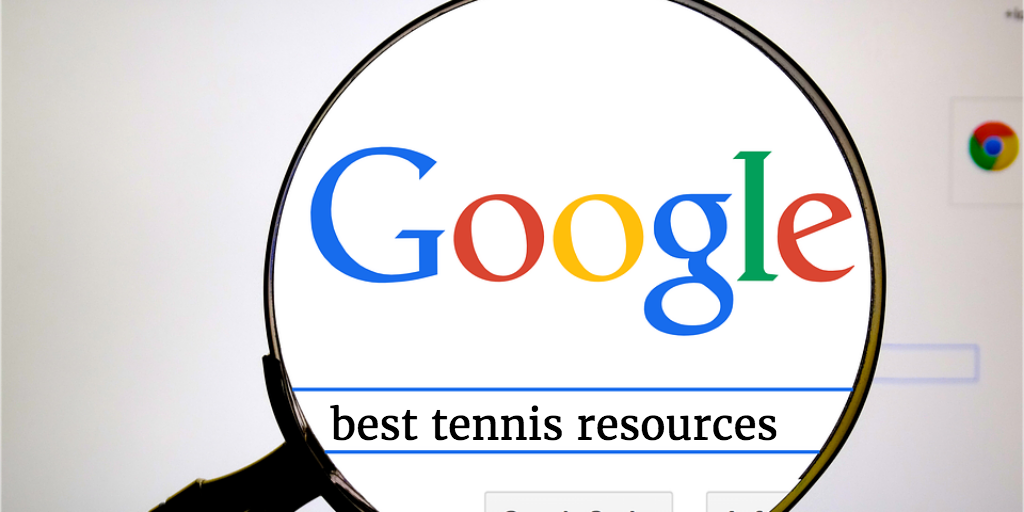 Have you ever googled the term "tennis resources" or some variation, and clicked on the first few results? I did, and I didn't quite find what I was looking for. That's why I put together this comprehensive compilation of the best tennis resources that will help you improve your game. As the old saying goes: "If you can't find it, build it!"
The 41 Best Tennis Resources

This is the most widely read tennis book known to man, and the most recommended read by my podcast guests to our audience. The Inner Game of Tennis by W. Timothy Gallwey shows us how we can use our mind effectively to perform our best on the court, especially in high-pressure situations. The Inner Game of Tennis is a timeless classic. If you are having trouble overcoming mental obstacles and want to know how to play tennis with a clear mind, you need to read this book!
Brad Gilbert, a former world #4 and coach of Andre Agassi, takes you into the mind of one of the most strategic and resourceful players ever to play tennis. Although he never had the most elegant strokes or big weapons, he used his mind to "win ugly" and defeat tennis legends, like Bjorn Borg and Jimmy Connors. You will learn how to assess opponents, formulate a winning game plan, and give yourself the best chance of winning. There's a ton of awesome, high-value content from Brad that will help improve your game.
An in-depth analysis of doubles strategy to help you play the best strategic doubles matches of your life. Louis Cayer has captained the Canadian and Britain's Davis and Fed Cup teams and has worked with 6 number 1 players and 24 top 50 ATP, including #1 doubles player Jamie Murray this year. Othmane Garma, coach of ATP doubles world #18 Treat Huey (who I both interviewed on The Tennis Files Podcast), told me that Louis Cayer has been instrumental in teaching him world class doubles play. If you want to learn winning doubles formations and strategies, I highly recommend this book.
Yes, I am the author of this (e)book 🙂 I highly recommend you download a free copy of The Building Blocks of Tennis Success because it will teach you how to maximize your tennis potential. My ebook covers goal setting, training smart, technique, mental fortitude, competing, health and fitness, and other important aspects of tennis. Best of all, it is free, and you can get it here.
This book, while not tennis-specific, will help you focus on what you need to do to reach your ultimate tennis and life goals. Instead of trying to accomplish a million things at a time, Gary and Jay show us the importance of concentrating on the big picture goals. Instead of just crossing things off the list, we need to accomplish the things that further our long-term objectives. These principles apply to tennis, and this book is a fantastic read that can be a huge game changer for your tennis. Do you want to improve the quality of your tennis game and your life? If yes, then I highly recommend you check out this book!

Tennis Round makes it easy to find hitting partners by skill level near your area. You can search TR's player database according to their NTRP rating and send and receive text messages and emails for free to connect with other players. Other features on Tennis Round include reporting your scores, accumulating points, and viewing results of other players on the site. I have been contacted and reached out to players with Tennis Round with great results. Sometimes I'm a little hesitant when the player doesn't have much of a profile and just a first name, so proceed at your own risk and meet at a public place (perhaps a tennis court will do! 🙂 ). Definitely worth a look!
GTN helps you connect with other tennis players, and even lets you search tennis courts around your area! You can find tennis leagues, ladders, and tournaments on the Global Tennis Network as well. GTM is another neat tool that you should check out if you want to find tennis partners over the internet.
With PlayTennis, you can find a tennis partner by zip code. I tested this one out and noticed a couple players that I know on the search results list. Another decent resource for finding a hitting partner. On top of that, you can also find coaches, courts, programs (clinics), and even tennis stores at PlayTennis. To contact players, you need to sign up, which is free.
Check out this massive network of over 51,000 tennis players around the globe! You can sign up and join its network for free to view the profiles of other members. From there, I think you'd be able to find a couple hitting partners! There are also over 750 tennis partner groups on Tennisopolis! For example, the VA/DC group on its homepage has 866 members! Hopefully one of the tennis partner groups is local to you. Join in on the fun and find a tennis partner at Tennisopolis!
Plug in your address or zip code, and Tennis Maps will spit out a map with a ton of flags and other icons indicating tennis courts near your area! Click the flag and then "more info" for a detailed map of the tennis court. It even tells you whether the courts are lighted, have a backboard, are public or private, how many courts there are, if they have a tennis pro, and more! A very helpful resource indeed!
A new tennis smartwatch and app co-founded by multiple grand slam champion Andy Ram. I interviewed Andy on Episode 27 of The Tennis Files Podcast about his career and the features of Pulse Play. One awesome aspect of PulsePlay is the ability to find playing partners. Once you create an account (free!), you can search for players. The experience is a lot cooler and more seamless with the Pulse Play smartwatch (enter code TENNISFILES for an exclusive 15% off discount! – Note: this is an affiliate link), but I'd definitely also listen to the podcast episode and check out the app/information beforehand to make an informed decision. I love technology!

Tomaz from Feel Tennis Instruction emphasizes using your body's natural mechanics to play tennis more efficiently. His philosophy makes sense and appeals to those who want to feel more relaxed and biomechanically sound on the tennis court. I interviewed Tomaz on Episode 6 of The Tennis Files Podcast, which you should definitely check out! He also has a fantastic online course called Serve Unlocked that will help you improve your tennis serve.
Jeff is a former Top 100 ATP pro who produces tons of awesome courses on all aspects of tennis, from technique to fitness and the mental game. I have checked out several of his videos and courses and benefitted from them. A couple of my favorite tips from Jeff are "elbow the enemy" and "the buggy whip forehand." Definitely consider checking out his courses! I also recommend that you listen to my interview with Jeff on Episode 28 of The Tennis Files Podcast to get a better idea of what he is about and how knowledgeable he is about tennis.
Will Hamilton has put together a bunch of fantastic instructional videos that breaks down stroke mechanics in an easy to understand fashion. He also happens to live around my neighborhood! Will is another high-level instructor with tons of free and purchasable instructional videos that will help you improve your game.
Ian Westermann is another top-level online course creator. He has a ton of well-produced and helpful videos (not to mention some hilarious ones as well!) that will help your tennis game. He has expanded recently to include more coaches on his staff and has a pretty cool studio where he produces many of his videos, which is impressive. Ian, like me, also has a podcast devoted to helping players improve their tennis game, although it hasn't been updated as frequently lately.
Florian Meier does an excellent job of breaking down strokes and explaining technical concepts. He has a ton of free videos online, everything from getting a more biting backhand slice, to serve and volley footwork and toss fundamentals. Florian is another top-level online instructor providing a ton of value that I highly recommend you check out.
Jeff is a registered dietician, NSCA Certified Strength and Conditioning Specialist (CSCS) with a Master's degree in Nutritional Science. He has a website at eatsleep.fit with a ton of awesome advice about tennis nutrition. Jeff's clients include Mike Bryan, Stefan Kozlov, James Valentine from Maroon 5, and other elite ATP and NCAA tennis players. He has also worked with endurance athletes, boxers, swimmers, and a number of touring musicians at TriFit in Santa Monica, CA. One of my most downloaded podcast episodes was my interview with Jeff on Episode 14 of The Tennis Files Podcast. I recommend you check out Jeff's eBook and Jeff's Nutrition course.  Both of them will show you how to properly feed your body to play the best tennis possible. If you click through this link that Jeff set up for my audience, you will receive over 50% off his nutrition course!

I certainly would like you to listen to this one! 🙂 I have a weekly tennis podcast devoted to helping you improve your tennis game. I interview professional tennis players, coaches, and other tennis minds to help you become a better player. And when no one feels like talking to me, I host solo episodes discussing everything from technical tips, to mental strategies and awesome resources, based on over two decades of playing the game at a national, Division I college tennis, and current 5.0 and Open level. I really enjoy producing the show, and consider it a great privilege to speak about tennis to all of you. I can't thank my audience enough for all the amazing emails, reviews, and suggestions. Your kind words and support keep me motivated to produce the best content I can! I'd really appreciate it if you'd subscribe to the show and write a review! Thanks for listening!!
Ian has over 240 episodes containing expert advice on all aspects of tennis. I am a strong proponent of immersing yourself in tennis to keep focused on improving your game, and Ian's podcasts are a great way of doing this on the go. His episodes are solo format and usually under 20 minutes, which is great for those who like shorter podcasts
Kim Selzman does a great job of providing tennis tips in short podcast episodes to help amateurs improve their tennis game. Kudos to Kim for producing over 140 episodes of quality content! She has a very endearing and upbeat attitude on her shows, and it is a pleasure to listen to her tennis advice!
Host Dr. Patrick Cohn focuses on perhaps the most important part of tennis: the mental game. The majority of his episodes are 5 minutes or less and provide excellent tips on keeping your composure, staying focused, and competing effectively. Like Ian's podcast, this one hasn't been updated as frequently lately, but hopefully that will change soon. Still, there are a ton of episodes available in the archive that will help your mental game.
Adam has another fantastic podcast centered around interviewing professional tennis players and coaches to help players improve their game. Adam is a high-performance coach and I have been impressed by his interviews and awesome social media posts on Facebook. He's consistently brought excellent coaches onto his show and I've definitely enjoyed the value they've provided to Adam's listeners.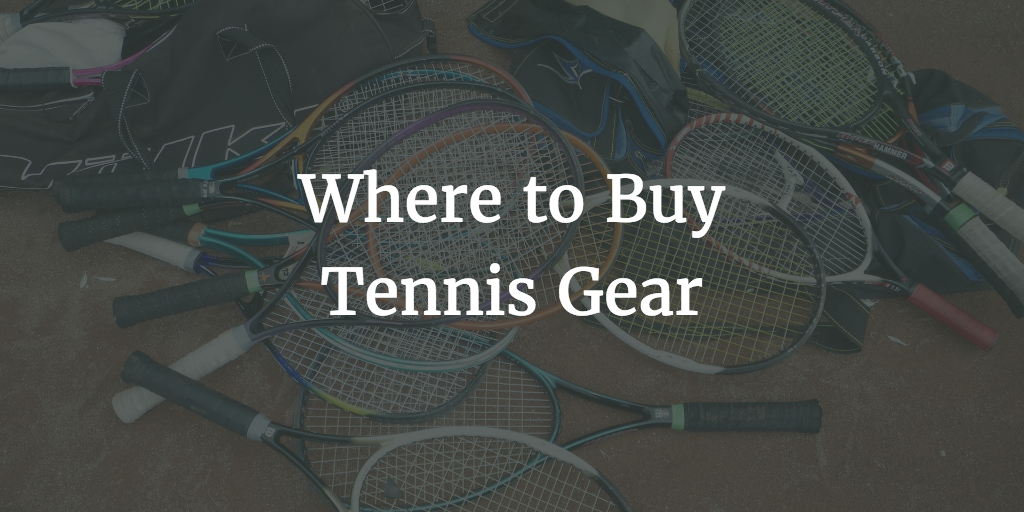 Tennis Express is one of the best online tennis shop out there. They have great prices on tennis racquets and gear, and free shipping depending on how much you buy (at the publishing of this post, it says free shipping on everything, which is awesome!). I've always been pleased with my purchases from TE. You should definitely check out Tennis Express if you want to purchase anything tennis-related.
Tennis Warehouse is one of the giants of tennis gear and equipment. They have fantastic prices, free 2-day shipping over $75, and great staff/customer reviews on racquets, shoes, and other products. They also have a great racquet demo program ($20/week for up to 4 racquets). I've bought a ton of stuff from TW and their customer service is also top notch. Nuff said.
Local to Maryland is another online tennis kingpin in Holabird Sports. They offer a great selection of racquets, shoes, strings, and everything in between. Holabird gives you free shipping over $25, so it may be a better option when you want to order less gear. The third of what I consider the big three in the online tennis gear world.
There are certainly some other great online tennis shops (Midwest Sports comes to mind) so feel free to google search products to your heart's content if you have a ton of time. Otherwise, just stick to the three above and you will be more than pleased with your options.
26. Your Local Tennis Shop 
There are thousands of these, so I don't have names for you. But local shops are valuable for the expertise that the store owner and staff can give to you. You can ask questions in person, physically feel and try certain products, and enjoy speaking with human beings about tennis face-to-face. If you prefer this vibe and enjoy supporting your local businesses, then local tennis shops are a great option to get your tennis gear!

I really like the TW forums because of the passionate members, the well-structured categories, and the helpful posts. There are all sorts of threads from pro tennis and equipment, to the college game and instruction. The forum is very active, which makes for a constant flow of information and sometimes valuable content (especially in the tennis tips/instruction thread). TW is my preferred forum, even if they are a little strict with me creating threads about my content (I only did it once 🙂 ).
The Reddit tennis forum can be helpful and interesting at times, and make you feel like the most hated person on the internet during others. It seems like the most popular posts on Reddit Tennis are either about the pro game or funny pictures and gifs. Regardless, there are a decent amount of posts geared toward tennis advice and fruitful discussion. Some of the posters are quite knowledgeable and provide fantastic content on the forum (shout out to dropshot!). Reddit Tennis also has its fair share of haters/trolls, but that's to be expected on just about any forum out there. It isn't organized like the TW forums, but the posts and questions can be entertaining and deliver great content every now and then.
If you are a pro tennis junkie, then Tennis Forums (women's game) and Mens Tennis Forums are for you. They are both frequently updated with discussions about the latest pro tournaments and opinions on the players. Even though these forums are geared toward the pro game, you can pick up tips to help improve your game based on the discussions of the mental/strategic/technical aspects of the pro matches.
I know what you're probably thinking. "Bro, do you even forum?" Yes, yes I do. Facebook has fantastic tennis groups full of passionate players and coaches. I am a member of several of them, including Competitive Tennis Coaches and Tennis Freaks.  On Linkedin, I participate in the Tennis Fans (a group about rotating devices that keep tennis players cool….just kidding!) and Tennis Industry groups. Many of the members offer thought provoking questions and opinions on the game, and as long as people remain respectful, everyone can benefit!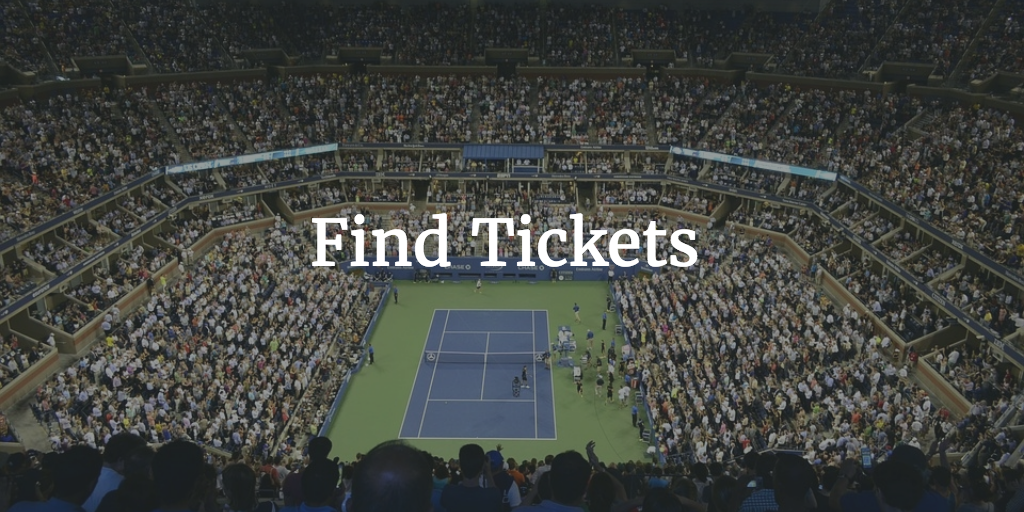 Stubhub is one of the biggest and most well-known brands when it comes to purchasing tickets. When you aren't buying tickets from the original seller, you want a name you can trust, and Stubhub certainly fits the bill. They also generally have reasonable prices and the fees don't seem too crazy.
I've also used VividSeats to purchase tickets to tennis tournaments and other events. Like Stubhub, many of the tickets you purchase are instantly downloadable which is very convenient. One time I was going to purchase US Open tickets but found out that I had to meet somebody within a couple mile radius of the Open, so make sure it says "instant download" or something to that effect if that's what you are looking for.
Often, the original seller (i.e. usopen.org/ticketmaster) will charge the least amount for tickets. This is because the individuals who offer tickets for resale generally want to sell their tickets for a profit (unless they are looking to get rid of them and don't care about that). It depends so I would check both the original ticket seller and the reseller sites above to find the best deal. One thing to note is the prices from the original seller generally stay fixed, while reseller site prices fluctuate based on the market, weather forecast, and other variables. I noticed that US Open tickets for the second Sunday went down by $40 once news of Hurricane Hermine came out!
Every once in a while, Groupon/Living Social will have a deal for tennis tickets. I've seen it for the Citi Open every once in a while, and its decent. So far, I've only seen tickets for tennis tournaments pop up close or during the event, so you probably can't plan too far ahead. But definitely perform a quick search on discount sites like Groupon and Living Social to see if there are any deals.
The USTA (and other associations) will email you with a ticket deal or discount code every now and then. It is worth checking your email or performing a quick inbox search to see if you've received any messages about the tournament you'd like to attend. The USTA has offered a buy one get one free (weekday) and percentage off codes in the past, as have other organizations.
36. Your Company 
If you work for a company (most of us) or an organization, inquire whether they have any sort of deal with the local tournament near you. One place I worked for got free tickets to the Citi Open (Legg Mason at that time) and many times, people who get the tickets at your company can't even attend. You'd be surprised how many companies purchase box seats at tournaments and get free tickets. One of them might be yours! It never hurts to ask! 🙂
In addition to having great online courses, Tomaz regularly puts together value-packed blog posts. A lot of his articles contain a relevant video, and he has a knack for explaining tennis concepts in easy to understand and helpful ways. Definitely worth a read!
I have enjoyed reading the blog posts at Tennis Consult. Two of its contributing authors, Allistair McCaw and David Mullins were guests on The Tennis Files Podcast. I've read fantastic articles from Allistair, Dave, Todd Widom, Allen Fox, and others on the various facets of tennis. I highly recommend you check out the articles on Tennis Consult.
Another of the top online tennis instructors also has a great blog that will help you improve your game. Will also includes guest posts from tennis experts like Feisal Hassan.
I'm a fan of Jeff Rothschild's unique and expert take on the nutritional and coaching side of tennis. From fighting the heat to preparation during rain delays, Jeff provides us with valuable insights on how we can get the best performance out of our bodies.
I truly believe that my tennis blog is one of the best out there for the simple reason that I am here to serve you. I always have my audience in mind when creating content, and it makes me really happy to hear how my articles and podcasts have helped your tennis games. There's nothing I love more than giving out advice and having people play better tennis because of it.
I post an article and a podcast episode every week, and hope that my consistency and quality of my content (despite also having a full-time job, whew!) will benefit your game. Things always come back to you in spades when you give to others, so I don't mind racking up the good karma 🙂
I hope you found my 41 Best Tennis Resources guide for tennis players helpful! I will keep this post updated with the latest tools and links.
[Note: some of the resources above include affiliate links, which means I receive a small commission if your make a purchase after clicking. Either way, thanks for checking them out!]
What's your favorite tennis resource that has helped improve your tennis game? Tell us your favorite resource/category in the comments section!
And for more value-packed tennis tips, I'd love for you to download a copy of my free eBook, The Building Blocks of Tennis Success, by filling out the short form below!