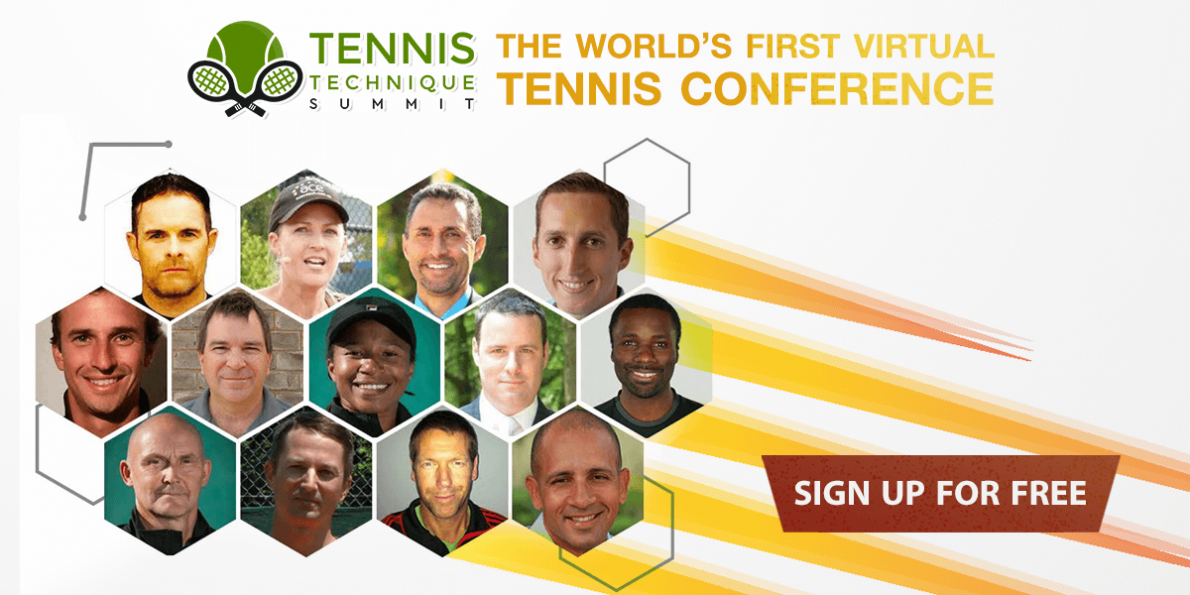 After nearly 4 months of hard work, I'm proud to announce that I'll be hosting the world's first online tennis conference: The 2017 Tennis Technique Summit!
From March 22-27, you'll be able to watch the coaches and I talk about tennis on your computer and smartphone. And you can get a free ticket to watch all the sessions!
It has been incredible connecting with many of the greatest coaches in the game. The lineup of over 25 coaches includes multiple Grand Slam Champion Johan Kriek, Sven Groeneveld (Maria Sharapova's coach), former top 100 ATP player Jeff Salzenstein, current doubles pro Megan Moulton-Levy, top-notch online instructors Ian Westermann, Tomaz Mencinger, and Florian Meier, USTA's David Ramos, and high performance coaches Dr. Mark Kovacs and Allistair McCaw.
The coaches and I examine technique on the serve, forehand, backhand, volleys, footwork, and other areas of your game to help you become a better player and reach the next level.
You'll get to watch over 30 hours of extremely valuable video interviews, powerpoint presentations, and recorded lessons during the 6 days of the summit. I truly appreciate the time and effort from all of the coaches to help make this summit a fantastic event.
Here's a quick little preview of the summit that my video editor sliced together for you:
The awesome part about this event is that it is free to attend!
Think of how much cash you'd have to invest to get this amount of advice from all of these world-class coaches. Even one tip could make a huge difference in your game, and you're going to learn about a hundred of them when you attend this event. The coaches on the summit have had so much success helping thousands of players like you improve their games. Now it is your turn.
You also have the option to upgrade to lifetime access to all the videos, which includes downloadable mp3 audio files so you can listen to the sessions from anywhere you want, free courses from the coaches, a question and answer session with me after the event, and access to a private facebook group. For all the value you are getting, I think the price (hint, it's under $100!) is pretty reasonable.
Whether you just want to watch the videos, or upgrade to the All-Access Pass, it's a no-brainer to sign-up for your free ticket to the event. If you're a passionate tennis player who wants to improve your game, you've got no excuse not to check out the Tennis Technique Summit.
Click here to get your free ticket to the 2017 Tennis Technique Summit!
I'd also really appreciate it if you could share the event with any people or groups that are interested in becoming better tennis players. My goal is to positively impact as many people as possible with the summit.
Click Here to Share the Summit on Facebook!
Click Here to Tweet the Summit!
As always, if you have any questions, feel free to reach out to me at mehrban@tennisfiles.com. Let's make this event as big as we can! See you at the summit!
Get Your Free Ticket to the 2017 Tennis Technique Summit!
Join 25+ world-class experts from March 22-27. Register Now!