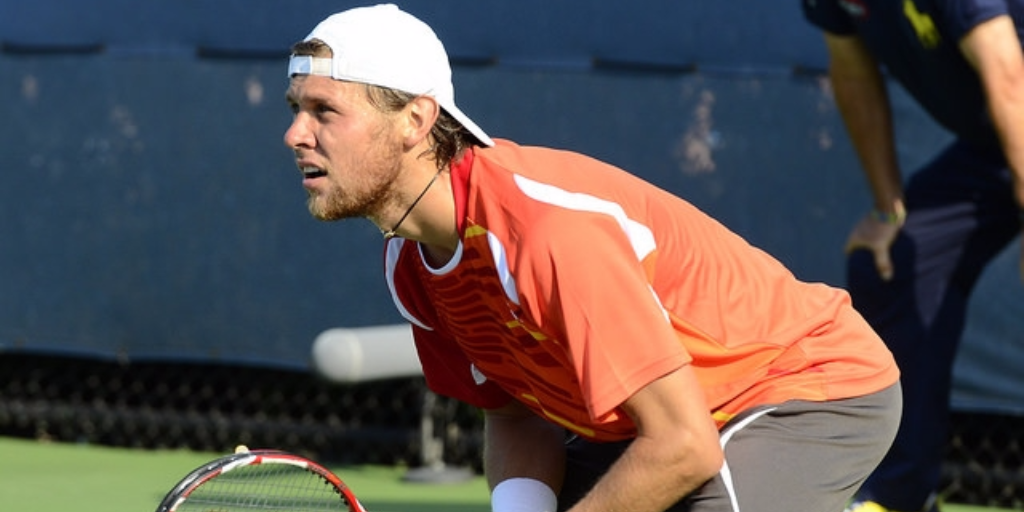 Where are all the tennis players hiding?
Sometimes it can feel exasperating when you need a hitting partner but can't find one. That's why I made this comprehensive list of methods and resources to help you find the perfect hitting partner. If you still have trouble finding someone to play tennis with after trying everything on here, then it's time to pack your bags and move from whatever tennis-hating city you currently live in. Here is a list of 13 resources and tools you can use to find the perfect hitting partner:
1. Ask Your Local Tennis Club
Ask to speak with a coach or director from your local tennis clubs. Let them know what your level of play is (beginner, intermediate, advanced, 2.5-5.0, etc), and that you are looking for a training partner. The staff-member will generally be delighted to have someone that their students can practice with. The coach may even ask you to hit in with the student during a lesson. Not too shabby!
2. Make Friends at Tournaments
Tournaments are a great place to find similar and higher-level players who you can train with. As with all things, it pays dividends to socialize and network when you aren't playing or preparing for your matches. I have met a ton of my training partners through tournaments, simply by saying hi, complementing how they play, and exchanging phone numbers. This is my favorite place to find players, because they are all competing at a high-level and want to get better, just like I do.
3. Play USTA Leagues
Playing in the USTA leagues have been one of the best experiences in my tennis career. I have met tons of awesome people, practices with many of them, and traveled to great locations during the postseason. USTA Leagues are a bit more relaxed than normal tournaments, so it is an easy way to connect with people and find hitting partners. Simply by being on a team, you will have access (through team emails) to 10+ people at your rating-level that you can ask to play tennis with. Even though I am on the Board of Directors for my local county tennis association, which manages many USTA leagues, I've always loved the USTA Leagues for all the amazing people and great hitting partners I've found through them.
4. Join a Tennis Club/Clinic
If you can afford it, join a tennis club and/or enroll in a tennis clinic. Once you attend, you'll instantly meet several tennis players who you can ask to train with. You'll also be able to size them up (like you would be able to at tournaments and USTA league matches) beforehand to see whether they would be a good training partner for your goals.
5. Post Your Contact Info at the Courts
I've seen players stick a piece of paper with their contact information on the tennis court fence or on a bulletin board. The best bet here is to include several tearable (not to be confused with terrible!) slips of paper with your name and phone number and/or email. If you have any privacy concerns (use this at your own risk!), just include your first name and create a separate email address for this purpose. Normally at least a couple of these slips are taken from the posting. I just hope they aren't telemarketers! 🙂
But Mehrban, I'm Shy and Don't Want to Ask People to Hit in Person! Got Any Other Ideas?
You are in luck, my friend! Like you, I am a child of the internet. An internet wizard, if you will. And the internet is amazing because there are a ton of resources and sites that will help you find tennis players to train with. All it takes is the click of a button or two.
Here are the
best online resources I've found to help you find hitting partners
:
6. Join or Create a Facebook/Linkedin Tennis Group
Facebook and Linkedin groups are a great resource for finding like-minded tennis players and coaches. I am a member of the Competitive Tennis Coaches group on Facebook, which fosters a lot of great discussion. Several of my guests on The Tennis Files Podcast are also members of this group. An example of another great Facebook group with eager tennis players is Tennisopolis (also see #10 below). If you can find a local tennis group, you will have a solid number of people who you can connect and play tennis with. No group? Create one! And invite players to join! I'm sure they would be thrilled to be a part of your Facebook or Linkedin group, and you'll be seen as the leader, which will probably make you more of a sought-after player. Boom! Tons of tennis partners right at your finger tips to connect and play with!!
7. Tennis Round
Tennis Round makes it easy to find players to hit with near your area. You can search TR's player database according to skill level and send and receive text messages and emails to connect with other players for free. Other features on Tennis Round including reporting your scores, accumulating points, and seeing results of other players on the site. I have been contacted and have reached out to players with Tennis Round. Sometimes I'm a little hesitant when the player doesn't have much of a profile and just a first name, so proceed at your own risk. Definitely worth a look!
8. Global Tennis Network
Global Tennis Network helps you connect with other tennis players, and even lets you search tennis courts around your area! You can find tennis leagues, ladders, and tournaments on the Global Tennis Network too. Another neat tool that you should check out if you want to find tennis partners over the internet.
9. PlayTennis.com
Head over to PlayTennis to find a tennis partner by zip code. I tested this one out and noticed a couple players that I know on the search results list. Another decent resource for finding a hitting partner. On top of that, you can also find coaches, courts, programs (clinics), and even tennis stores at PlayTennis. To contact players, you need to sign up, which is free.
10. Tennisopolis
Tennisopolis currently has a network of over 51,000 tennis players around the globe. You can sign up and join its network for free to view the profiles of other members. From there, I think you'd be able to find a couple hitting partners! There are also over 750 tennis partner groups on Tennisopolis! For example, the VA/DC group on its homepage has 866 members! Hopefully one of the tennis partner groups is local to you. Join in on the fun and find a tennis partner at Tennisopolis!
11. Online Forums
The best tennis forums I'm aware of for finding tennis players include tt.tenniswarehouse, reddit (tennis), and Craigslist. Once you are signed up (free), you can post a thread asking to find a player to hit with. While you probably won't have a clue who it is you are talking with, you may connect with and find a great training partner through online forums. Because of the anonymity, once again, proceed at your own risk! I have heard many people find hitting partners this way.
12. Pulse Play
Pulse Play is a new tennis smartwatch and app co-founded by multiple grand slam champion Andy Ram. I interviewed Andy on Episode 27 of The Tennis Files Podcast and he spoke about the features of Pulse Play. One of these features is the ability to find players to play tennis with. Once you create an account (free), you can search for players. The experience is a lot cooler and more seamless with the Pulse Play smartwatch (enter code TENNISFILES for an exclusive 15% off discount! – Note: this is an affiliate link), but I'd definitely also listen to the podcast episode and check out the app/information beforehand to make an informed decision. Definitely a cool product! Ah, the wonders of technology! 🙂
13. Smartphone Apps
If all else fails, search for tennis apps in your phone's app store and see which of them work for you. A couple apps you may want to check out that I have seen are Tennis360Hub and RapidTennis. With advances in technology, a bunch of cool new ways have been created to find hitting partners. Most of the time, the good old-fashioned methods (#1-#5 above) will do. But if they don't, or you want an alternative way to network, give the internet and smartphone app solutions a try!
There is one hitting partner that will always be there for you, doesn't talk much, and is usually an easy find:
I hope that the resources and methods above help you find the perfect hitting partner! And remember, just because some of them seem foreign to you doesn't mean you shouldn't try them! If you can think of another effective way to find hitting partners that isn't included here, let us know by writing it in the 
comments section below! 
Let's make this the most comprehensive guide ever made for finding hitting partners! 🙂
If you enjoyed this post and think it is worth sharing, please click here or on one of the share buttons on this post!
For more awesome tips on how to improve your tennis game, download my free eBook, The Building Blocks of Tennis Success, by filling out the short form below!