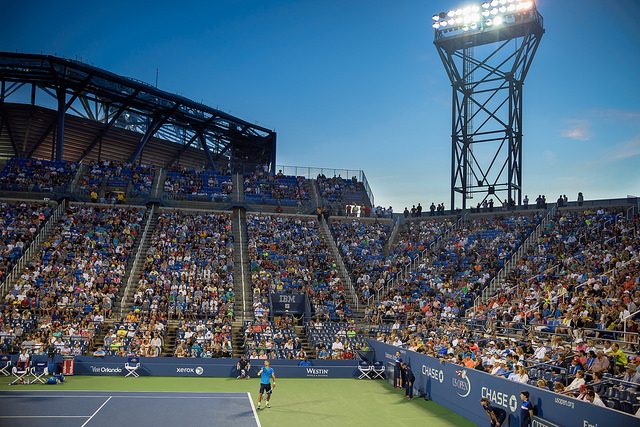 I visited the US Open this past Sunday, September 6. Below I discuss different aspects of my US Open experience: tickets, transportation, food, organization, and the matches.
I hope you enjoy my US Open trip report and pick up a few tips along the way.
US Open Tickets
I opted for the grounds pass for a number of reasons:
Cheaper than Arthur Ashe or Louis Armstrong reserved tickets.
Can get up-front seats everywhere but Arthur Ashe stadium.
I wanted to watch two of my friends play on the outer courts.
There are three ticket options at the US Open, which makes things slightly confusing for the fans.
First, you can purchase an Arthur Ashe reserved ticket, which gets you a reserved seat in Arthur Ashe stadium, access to Louis Armstrong (non-reserved seating), Grandstand stadium, and all outer courts. 
Second, you may opt for a Louis Armstrong reserved ticket, which gets you a reserved (better) seat in Louis Armstrong stadium, access to Grandstand stadium and all outer courts, but no access to Arthur Ashe stadium. The Louis Armstrong pass is only available for the first 9 days of the tournament.
Finally, you can purchase a grounds pass. This is the cheapest option, and allows you access to non-reserved seating in Louis Armstrong stadium, the Grandstand stadium, and all outer courts, but no access to Arthur Ashe stadium. The grounds pass is only sold for the first 8 days of the tournament.
Especially in the early rounds, there are so many good matches going on at the same time, that unless you really want to watch a particular match in Arthur Ashe, you can usually save a decent chunk of cash by purchasing a grounds pass. Regardless, do your research on ticket prices: if you can find an Arthur Ashe or Louis Armstrong reserved ticket for close to the price of a grounds pass, then get one of those instead.  Of course, if you are a baller, buy whatever ticket you want. 
I like Louis Armstrong stadium because it is much smaller than Arthur Ashe, which means people with grounds passes don't need binoculars to enjoy the matches. However, Louis Armstrong can take a bit of time to get into, as I discuss below.
One final thought on tickets: purchase them early! If you wait too long, the box office will sell out of tickets, and ticket prices on websites like Stubhub and Vividseats will continue to rise (they rarely go down).
Organization
Overall, the US Open is run pretty well, but there is room for improvement.
The most noticeable issue is the long line to enter Louis Armstrong stadium for Arthur Ashe and ground pass ticket holders. Those who don't have a reserved Louis Armstrong seat can only enter the stadium through Gate E. For example, the line for Tsonga-Paire was very long on Sunday, and it was even longer for Lopez-Fognini (the line reached the fountain in front of Arthur Ashe stadium). By contrast, those with reserved seats could enter the stadium through a separate gate.
I think that multiple gates should be utilized to enter Louis Armstrong.  The US Open should implement a secondary line at each entrance for the far fewer individuals with a reserved Louis Armstrong seat. While I do not know the exact mechanics and access points of the stadium, I do think this is one area that hinders fans' experience. Some people waited 20-30 minutes in line and entered just as the Lopez-Fognini match on Louis Armstrong ended, which must have been frustrating.  If there is a match you really want to watch at Louis Armstrong, either camp out early at the stadium, or purchase a Louis Armstrong reserved ticket.
It was also a pain to watch the elite players practice. They hit on the courts numbered P1 through P5. If you can't snag one of the few rows set up to watch the practice courts above, then it is extremely hard to watch the more popular players. Additionally, the fence behind the practice courts were covered with a tinted and barely transparent material which makes it even more difficult to watch the players (peering through a tennis court fence is soul-crushing enough by itself).
I am not sure if this is meant to give the players less visibility of the crowd so they can concentrate, but I found this setup to be irritating. For example, on Sunday the rows above P1 were completely filled and the crowd behind the court was several people deep, so it was extremely difficult to see Djokovic practice. There is a schedule of player practices on a monitor near the courts, so once again, if there is a player you want to watch, find out when they will be there and get to the practice courts early.
Transportation
It was pretty easy to get to the U.S. Open. My girlfriend and I were staying in the New Brunswick area of New Jersey, so we hopped on the NJ Transit Train to Penn Station, and took the Long Island Rail Road (LIRR) to the Mets-Willets Point station (towards Port Washington). Once you exit the station, it's just a short stroll down the walkway to the entrance of the US Open. Door to door it took us about 1.5 hours to get from New Brunswick to Flushing.  Another option which is cheaper but a bit more inconvenient, is to take the 7 Subway down to Mets-Willets station instead of the LIRR. The subway is a bit of a walk from Penn Station, so we opted for the LIRR. Be sure to ask for the right track number: there are over 20 of them at Penn Station.
Food
The quality and variety of eating options at the US Open are definitely solid. The food village was a conglomeration of about 15 different food choices, from Prime Burger and Carnegie Deli to Hill Country Barbeque. I have eaten Hill Country Barbeque in DC and I can confirm that the food, at least in DC, is delicious.
We ate at the Heineken Red Star Café, located on the floor above the US Open Collection store. While the prices were a tad on the expensive side (expected at a sports event), the food was delicioius. I enjoyed a sweet onion burger with blue cheese for about $18 and my girlfriend bought a pulled bbq chicken sandwich for around $17. The cool thing about this Café is that the top floor overlooks courts 4, 5 and 6.
I also tried the signature US Open alcoholic drink called the "Honey Deuce." It has Grey Goose Vodka, melons, and some other tasty ingredients that I could not identify (probably not a good sign). While I am not a big vodka fan, this drink was refreshing and delicious. I definitely recommend it!
There are other fancy restaurants like the Mojito Restaurant and the Oyster Bar, neither of which I have tried yet. However, my girlfriend said that the food and setup at the Mojito Restaurant looked great, so we will probably try it out next time.
Matches
I was fortunate to watch two of my friends, Treat Huey and Adil Shamasdin, play at the U.S. Open on Sunday. I also got to see Feliciano Lopez play Fabio Fognini, and a future star in female junior Usue Arconada.
Treat Huey
The first match we saw featured doubles specialist Treat Huey. Treat and I played many of the same juniors tournaments, and I can always say I won 5 games off a US Open quarterfinalist (Doubles – 2013). He beat me 6-3 6-2 in a sectional championship tournament when we were both 15 years old.
Treat (Philippines) and partner Colin Fleming (Great Britain) lost a very competitive 3-set doubles match to Leonardo Mayer (Argentina) and Joao Sousa (Portugal), 6-4, 3-6, 6-3.
When I first started watching, Mayer and Sousa had firm control of the match, closing out the first set by breaking Huey/Fleming and gaining break points early in the second. Treat and Colin managed to stay even with the South Americans, toughing out a couple close service holds. Treat and Colin then seized the momentum and played a fantastic second set. Treat did not have much trouble holding serve for the last set and a half. He has a fantastic lefty-serve, which he can place anywhere in the service box with exceptional control and power.
Treat's father told my dad many years ago that he sent Treat to the tennis court everyday with a bucket of balls to practice his serve. That move paid dividends, because the serve is the most important part of the game, especially in doubles.
The momentum shifted for the final time in the third set: Mayer/Sousa broke Colin's serve and did not look back. Other than the British player's trouble holding serve, I think Colin and Treat played a great match. It was nice to see Treat's mom after the match and chat with her about the good old days and Treat's success. It's always good to see a fellow half-Filipino excelling in the world 🙂
Adil Shamasdin
I met Adil through his brother, Irfan, who was my teammate in college for three years. 
One year when we were at Yale, there was an Ivy-league match taking place at the same time as our conference tournament. Irfan pointed out a player with cat-like reflexes, who was extremely quick and had pro-level hands at net. This player turned out to be Irfan's brother, Adil, who played for Brown University, graduating in 2005.
The Canadian had a solid 2015 US Open, reaching the third round with partner Philipp Oswald (Austria) before falling 6-4 6-4 to 2015 Wimbledon doubles finalists Jamie Murray (Great Britain) and John Peers (Australia).
Adil and Philipp played pretty well and put up a good showing against Murray/Peers. The match, like most highly competitive contests, hinged on a couple key points which went in favor of the English/Aussie duo.
I spoke to Adil after the match. He was in good spirits and reflected on his best showing in a grand slam thus far.
"They had a better system than we did. We knew what we needed to do but it was more on an individual basis. I wasn't serving as well as I had been the first two rounds. They were a tough team."
When I asked Adil what he would focus on in practice after the US Open he told me it would be his return game. The return is one of the most crucial aspects of doubles, and I'm confident that it will help him keep grinding up the ATP tour rankings. I congratulated Adil and his family, and continued roaming the grounds for more tennis.
Feliciano Lopez and Fabio Fognini
After waiting in line for about 20 minutes to get into Louis Armstrong stadium, we witnessed the end of the second set and the 18th-seeded Lopez dominate the third.  Fognini put up a decent fight to get the match to the tiebreak, but he looked nowhere near the same form as in the Nadal match earlier in the week. Lopez won the tiebreaker 7-5, and then Fognini took a medical timeout.
The 32-seeded Italian continued to have trouble with Lopez's serve and volley attack and the third set was a bit of a letdown (except for the screaming Lopez fan behind us who apparently likes quick tennis matches). Lopez won the match 6-3 7-6(5) 6-1.  
Usue Arconada
I also saw a great talent in 16-year old Usue Arconada (USA). The eighth seed is very agile, aggressive, and made quick work of fellow junior Valeriya Zeleva. What impressed me was her composure and ability to hold her ground against deep hard shots from the Russian.
Final Thoughts
The US Open is a great place to watch an endless amount of world class tennis matches. Just make sure to buy your tickets early, and be strategic about getting into Louis Armstrong for big matches if you do not have a reserved ticket for that stadium. It can get crowded at times, but you would expect that at one of the biggest tournaments in tennis. 
If you have any questions or comments about my US Open Trip Report, let me know by writing in the comment box below!
Thanks for reading, and enjoy the rest of the US Open.