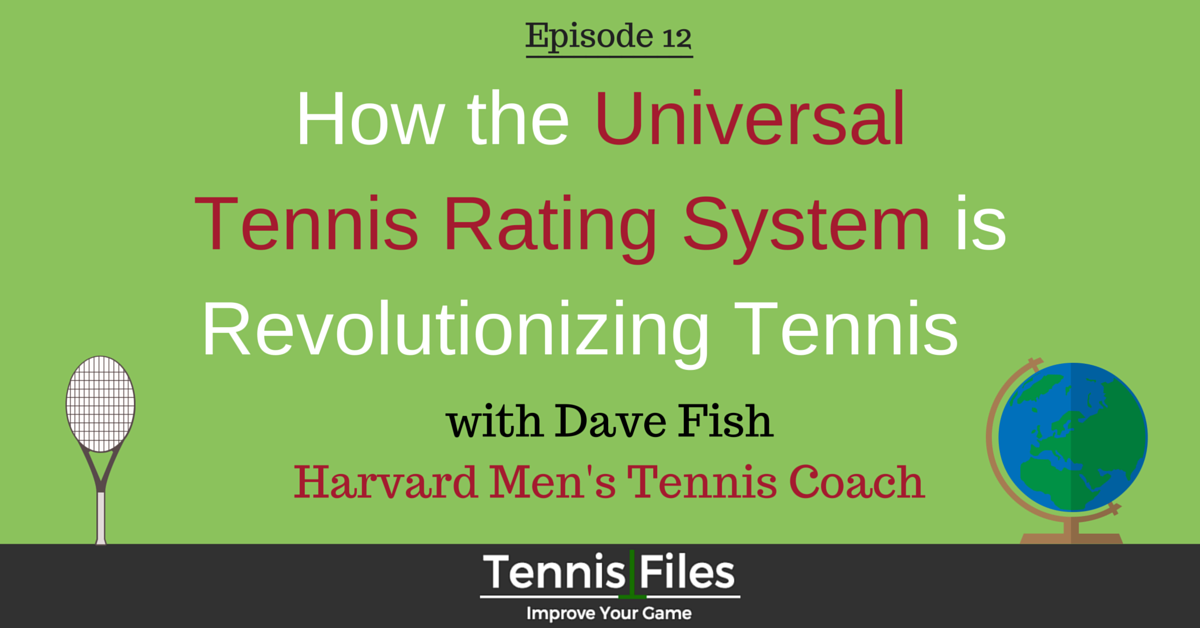 On Episode 12 of The Tennis Files Podcast, I spoke with Dave Fish, coach of Harvard University Men's Tennis, about the Universal Tennis Rating system (UTR).
UTR provides tennis players worldwide a common scale to determine their level of play based on actual match results without regard for age, gender or where the matches are played.  Dave also answered audience-submitted questions on what it is like to be on the Harvard Men's Tennis Team.
The UTR system helps facilitate more competitive matches and gives players a more accurate way of determining their skill level. Even John McEnroe is a fan of UTR because of its ability to provide players with more competitive local-based matchplay. With UTR, tennis players can compare their skill level with other players from all around the world.
UTR is not only a wonderful resource for tennis players, but it helps coaches, parents, tennis associations and tournament directors more accurately gauge players' tennis abilities based on UTR's 16 level-scale. College tennis recruits can use UTR to figure out the ratings of a team's roster and help them decide whether that school is a fit for them and their tennis skills.
On this episode, you will learn:
The purpose of the Universal Tennis Rating system
Why UTR is gaining widespread support among the tennis community
Why UTR will increase the amount of competitive matches and decrease the occurence of blowout matches
The importance of the competitive threshold
How UTR will reduce travel time and costs for players, parents, and coaches
How UTR is already being implemented in tournaments
Why the UTR system will result in the most precise tennis rating in the history of tennis
Why John McEnroe is a fan of UTR
Why UTR rates everyone on the same scale, without regard for gender or age
Why tennis players will improve much more rapidly under the UTR system
How Dave structures practices for the Harvard Men's Tennis Team
and more!
UTR is an exciting new rating system that is revolutionizing the game of tennis. And the basic subscription to UTR is free! I highly encourage you to check out the Universal Tennis Rating website and use their free or premium services to more accurately determine the true tennis skill level and rating of you and your peers.
Many thanks to Dave for spending the time to talk with me on the show, and best of luck to Harvard Tennis for the rest of the season!
Subscribe to automatically download new episodes

Click the icon above, click the blue "View in iTunes" button, then hit "Subscribe."
Or hit the subscribe button in your favorite podcast app!
Links Mentioned in This Episode
Universal Tennis Rating Website
UTR's 50 percent solution article
Free and premium subscriptions to UTR