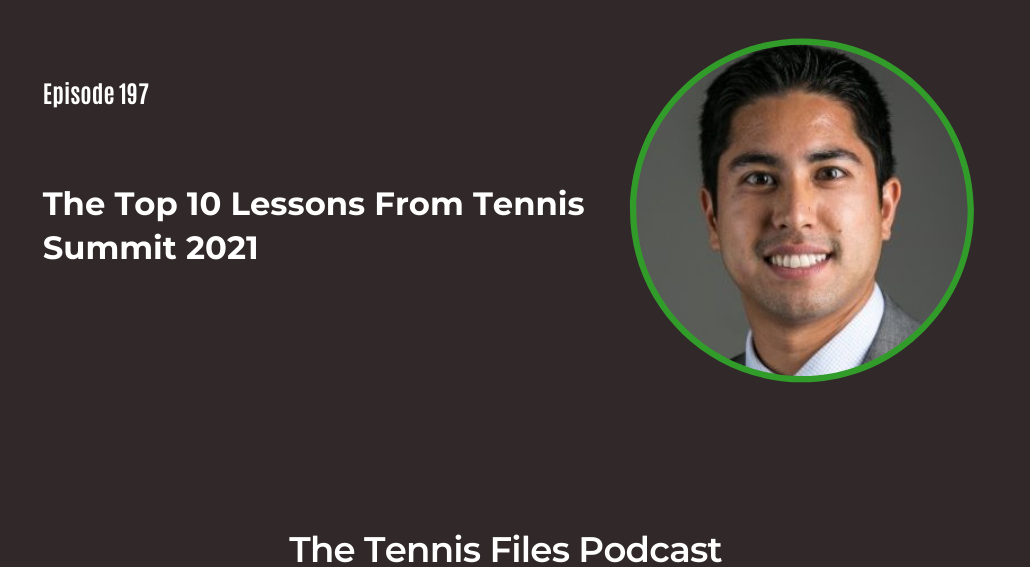 On this episode of the podcast, Mehrban recaps his top 10 lessons learned from all the amazing 45+ Tennis Summit 2021 sessions on technique, strategy, fitness, and the mental game with Peter Freeman from Crunch Time Coaching!
You'll learn Mehrban's biggest takeaways from Craig O'Shannessy, Louis Cayer, Jorge Capestany, Satoshi Ochi, Peter Freeman, and many more from this year's epic summit, which had over 11,000 players and coaches who attended!
Pick one of these lessons that resonates with you and block time on your calendar to work on it consistently each week. Enjoy!
Subscribe to automatically download new episodes!

Click the icon above, click the blue "View in iTunes" button, then hit "Subscribe."

Or hit the subscribe button in your favorite podcast app!
Right Click Here to Download the MP3
Links Mentioned in the Show
Podcasts:
Check Out All My Podcasts Here!
Check Out All My Podcasts on Apple Podcasts!
My Youtube Channel!
Tennis Files Youtube Channel - Subscribe! You know you want to 😉
Note: Some of the links above are affiliate links, so if you make a purchase after clicking, I'll make a small commission that will help support the podcast. Thanks either way!
If you enjoyed this episode, subscribe to The Tennis Files Podcast in iTunes or your favorite podcast app!
For more tips on how to improve your tennis fitness, subscribe to my newsletter and download a free copy of my free eBook, The Building Blocks of Tennis Success below! Thanks for listening!