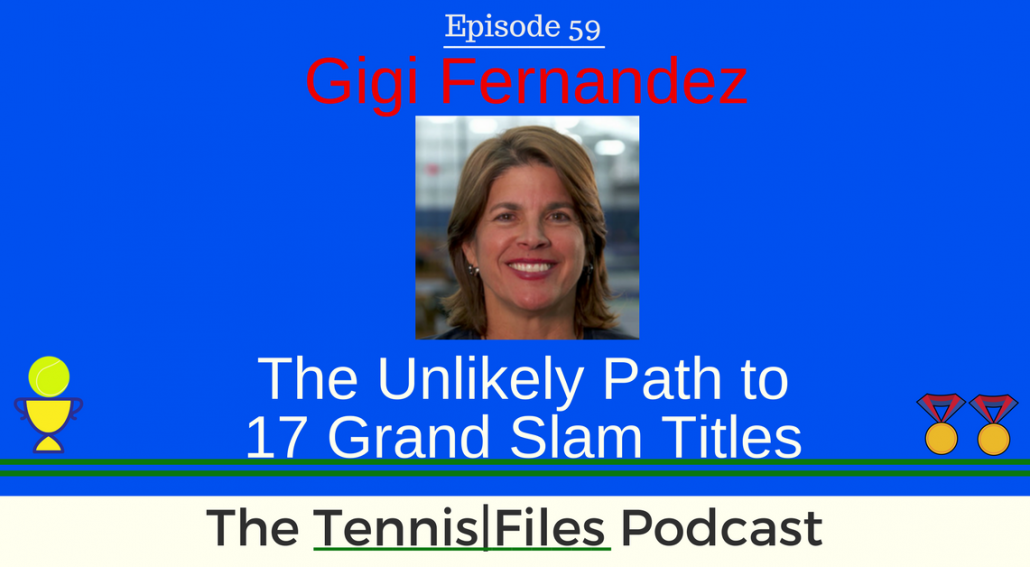 On today's episode, I spoke with 17-time grand slam champion Gigi Fernandez about her unique path to becoming one of the legends of tennis. Gigi is widely considered to be one of the best doubles players of all time. She won 2 Australian Opens, 6 French Opens, 4 Wimbledons, and 5 US Opens, 2 Olympic Gold Medals with Mary Joe Fernandez, the 1990 Fed Cup, and is a Hall of Famer. In 2000, Gigi was named Puerto Rican Athlete of the Century. The former world #1 doubles and #17 singles player now spends her time coaching adult players how to excel in tennis and developed the Gigi Method of doubles.
We discussed how Gigi overcame a lack of resources as a junior in Puerto Rico, her strategies for playing dominating doubles, her journey to winning 17-grand slam doubles titles, the Olympics, life after tennis, and much more on Episode 59 of the The Tennis Files Podcast!
I hope you enjoy my interview with Gigi, and let us know what you think in the comments below!
Time-Stamped Show Notes
[3:03] Where Gigi stores her 17-grand slam trophies and the 100s of other trophies she won in her lifetime
[3:33] What Gigi would have been if she wasn't a professional tennis player
[4:28] 3 things most of the world doesn't know about Gigi Fernandez
[5:49] How Gigi got her start in tennis
[6:42] Memories of her Gigi's first tennis tournament
[12:36] Gigi's lack of role models and how she blazed her own trail instead
[8:03] Where she trained as a junior
[9:26] How Gigi elevated herself to the best player in Puerto Rico despite very few resources
[14:40] Gigi's most memorable experience as a junior
[16:21] What made her decide to play at Clemson
[19:02] Why Gigi improved her game the most in college vs any other time in her career
[23:47] Gigi's most memorable Grand Slam win and how changing her thoughts helped her come back from her lowest point in her career
[27:40] Why detaching from the outcome is the most important advice Gigi has ever received in her career
[29:13] The benefits of meditation and how it helps control your emotions
[31:43] How doubles has changed from when she played vs. today
[34:33] Gigi's most important accomplishment in her pro career out of all the grand slams, the #1 rankings, the gold medals, Fed Cup title, Hall of Fame induction, and all of her other titles
[35:23] Gigi's experience at the Olympics and the difference playing for your country vs. at pro tournaments
[36:39] How Gigi was able to stay consistently successful during her remarkable run of winning at least one Grand Slam title every year from 1988–1997, except in 1989, and for three straight years winning three of the four Grand Slam doubles titles in the same year (1992–1994)
[39:36] How Gigi balanced her singles training with her doubles training, since she played both at a very high level
[41:48] Doubles drills she practiced with her partners
[43:22] Why she decided to retire in 1997 at the age of 33
[46:10] Life after pro tennis and earning a new identity: coaching pros and going back to school
[48:32] What is the Gigi Method and Doubles.tv all about?
[52:31] Big improvements players have made through learning tennis at doubles.tv
[54:44] Books she'd gift to a friend to help them become a better tennis player
[56:51] One big myth that a lot of tennis players and/or coaches believe today
[58:21] One key tip from Gigi to help us improve our tennis games
[1:00:16] Where we can find Gigi online and in person
Subscribe to automatically download new episodes!

Click this icon, click the blue "View in iTunes" button, then hit "Subscribe."

Or hit the subscribe button in your favorite podcast app!
Right Click Here to Download the MP3
Links Mentioned in the Show
Gigi's "Never Lose Your Serve" video course – Gigi's free Video training course
Gigi Method – Gigi's website
doubles.tv – Gigi's doubles program
gigi@gigifernandeztennis.com – Gigi's email
Tennis Files Youtube Channel – Subscribe! You know you want to 😉
If you enjoyed my interview with Gigi, subscribe to The Tennis Files Podcast in iTunes or your favorite podcast app!
For more tips on how to improve your game, download a free copy of my eBook, The Building Blocks of Tennis Success below! Thanks for listening!