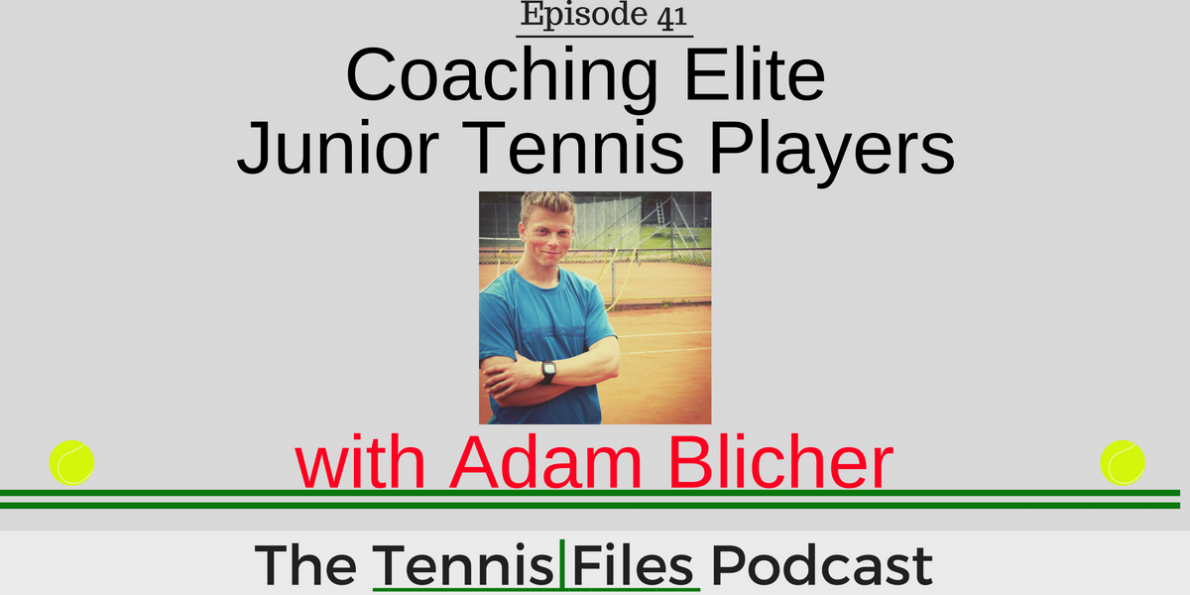 On Episode 41 of TFP I had the pleasure of speaking with Adam Blicher about coaching elite junior players and high-performance tennis principles. I first heard about Adam when I searched for tennis podcasts on iTunes. The Adam Blicher Show popped up, and ever since, I have learned a lot from Adam and the fantastic guests he has had on his show.
Adam focuses on dissecting and deconstructing the minds of world-class performers & leading specialist in our sport. This is something that I love doing as well, so it is not surprising that we connected and did an episode that will help you all improve your tennis games.
Adam also has a really cool show called Adam's Advice that will be up around the time of this episode. I highly encourage you to check out Adam's podcast and his show to further immerse yourself in the world of experts so that you can improve your tennis game!
Time-Stamped Show Notes
[2:33] How did you get to where you are today in your tennis career?
[3:51] What is it about tennis that inspires and motivates you to get up and coach your players every single day? 
[5:01] What are 3 things most of the world doesn't know about Adam Blicher
[5:57] In your bio, it mentions that you dissect and deconstruct the best tennis performers and athletes so that you can teach others; How does one go about doing this type of in-depth study to improve themselves? 
[8:55] If you could go back and talk to yourself when you were a junior, what advice would you give yourself? 
[10:25] Pressure is a huge part of tennis; what type of mental exercises or training do you have your players go through to help them with this part of their game?
[13:01] What type of advice do you give your players before they step out on the court? 
[15:25] What are your thoughts about meditation? 
[18:26] How can a player break through a losing streak? 
[20:22] If a player constantly gets tight on big points, what advice would you tell that player to help him/her perform optimally in critical situations. 
[22:10] What is a typical day of coaching like for you?
[23:37] What are three keys to successfully coaching juniors in the 14-16 age group?
[25:43] How much traveling do your players do, and do they ever have issues coping with the travel? 

If so, how do you help them with this?

[28:00] What are some mistakes that you see other coaches making that inhibits the growth of their players? 
[30:48] What should a player do if they have to make a big technical change to a stroke (i.e. how much tournament play should they be doing)?
[34:20] What type of fitness regimen do you put your players through? 
[39:22] Who are a couple of your high-performing junior players and w

hat about them makes them so successful?

[42:18] What did you learn from interning at the Patrick Mouratoglou Academy? 

What is it about coach Mouratoglou that makes him a great coach?

[45:41] Which interview on The Adam Blicher Show is your all-time favorite, and why? 
[48:52] What was the best piece of advice your podcast guest gave on the show? 
[50:16] I understand you are planning to release Adam's Advice; can you tell us about it? 
[51:12] What are three books that you would give as a gift to your tennis players? 
[52:37] Do you have a morning routine, and if so, what is it? 
[53:47] Adam's favorite type of coffee 
[54:33] Where can our audience find you online and in person?
[56:20] Upcoming podcast episodes
[57:50] Key piece of advice to improve your tennis game
Many thanks to Adam for coming onto The Tennis Files Podcast and providing our audience with a lot of great advice and tips to help you improve your tennis game!
Subscribe to automatically download new episodes!

Click this icon, click the blue "View in iTunes" button, then hit "Subscribe."

Or hit the subscribe button in your favorite podcast app!
Right Click Here to Download the MP3
Links Mentioned in the Show
Complete Conditioning for Tennis
7 Keys to Being a Great Coach – [Allistair McCaw – TFP 011]
Note: Some of the links above are affiliate links, so if you make a purchase after clicking, I make a small commission. Thanks either way!
If you enjoyed my interview about coaching elite junior tennis players with Adam, subscribe to The Tennis Files Podcast in iTunes or your favorite podcast app!
For more tips on how to improve your game, download a free copy of my eBook, The Building Blocks of Tennis Success eBook below! Thanks for listening!