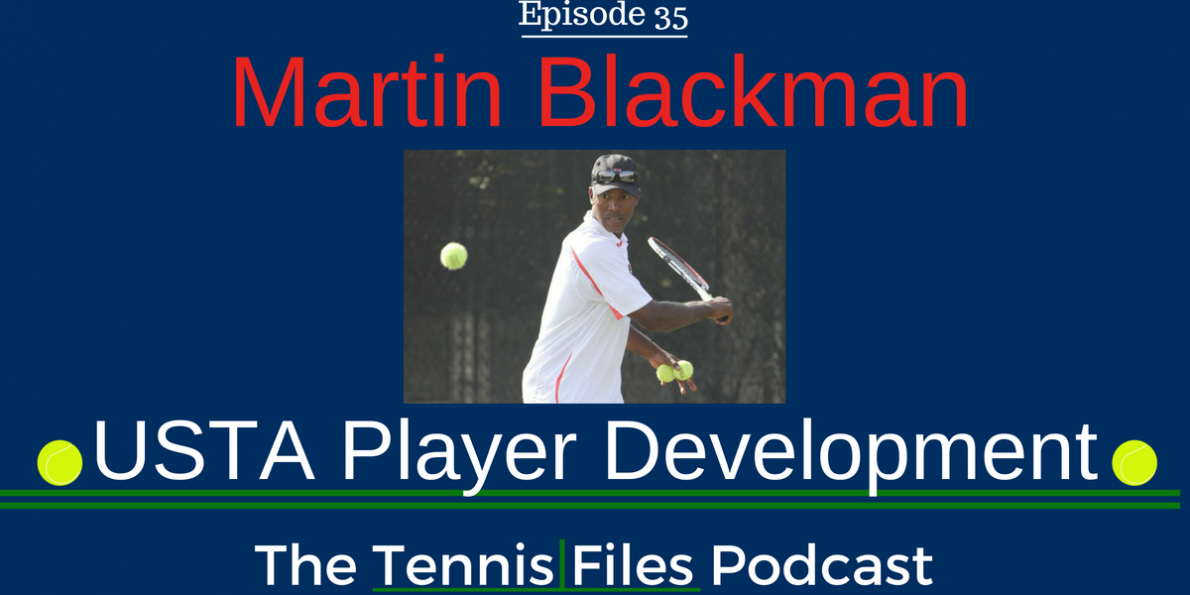 On today's show, I had the pleasure of speaking with Martin Blackman, General Manager of the United States Tennis Association's (USTA) Player Development Program.
Coach Blackman is responsible for partnering with the U.S. tennis community to identify and develop the next generation of world-class American tennis players. The former ATP pro and college tennis coach spoke to us about the USTA's player development program that has recently seen a lot of success and a ton of top-ranked American talent.
The current head of USTA PD was one of the top juniors in the world and eventually climbed to a ranking of #158 on the ATP Tour. He also played Davis Cup for Barbados. After his pro career, Blackman coached the American University tennis team and top junior players at the Junior Tennis Champions Center in Maryland.
On Episode 35, Coach Blackman speaks to us about what the USTA is doing to bolster the development of top American tennis players. We can adopt many of Coach Blackman's and the USTA's principles into our own way of thinking to help us improve our tennis games.
Time-Stamped Show Notes:
[3:44] How Martin Blackman started playing tennis
[5:00] Coach Blackman's college and pro tennis career
[8:00] The most important part of the evolution of a tennis coach
[9:35] How Martin figured out to have a stronger connection with his players
[10:50] Advice Coach Blackman would give to his 20-year old self
[11:50] The importance of embracing the process
[13:11] How does Coach Blackman define player development?
[18:57] What key characteristics or traits need the most development among top tennis players?
[22:40] Knowing the long-term vision for the player and sacrificing short-term gain
[23:11] Why Pete Sampras switched to a one-handed backhand, and Martin's victory over Pete in the juniors
[25:10] What our audience can do to help improve their tennis games
A huge thanks to Coach Blackman for coming onto the show and for speaking with me about how the USTA, and you all as players and coaches, can better develop into successful tennis players.
I hope you enjoy my interview with Coach Blackman! Let me know what you think in the comments below!
Subscribe to automatically download new episodes!

Click this icon, click the blue "View in iTunes" button, then hit "Subscribe."

Or hit the subscribe button in your favorite podcast app!
Right Click Here to Download the MP3
Links Mentioned in This Episode
Free Guide to Setting SMART Goals
Complete Conditioning for Tennis (2nd edition)
Interview with Dr. Mark Kovacs
Interview with Coach Brian Boland (UVA Men's Tennis)
Note: The link to Complete Conditioning for Tennis above is an affiliate link, so if you make a purchase after clicking, I make a small commission. Thanks either way!
If you enjoyed my interview with Coach Blackman, do yourself a solid and subscribe to The Tennis Files Podcast!
To get a copy of your free guide on How to Set SMART Goals, subscribe to my newsletter below!
Download Your Free SMART Goal Guide!
Subscribe to my newsletter to get my free guide on how to set SMART Goals to help you improve your tennis game! It includes a fillable worksheet and checklist to make sure you set the right goals to get where you want to be in tennis and in life.
Thanks for being a valued Tennis Files subscriber! Check out my eBook if you haven't already at the top of the menu bar! I am proud to serve you 🙂