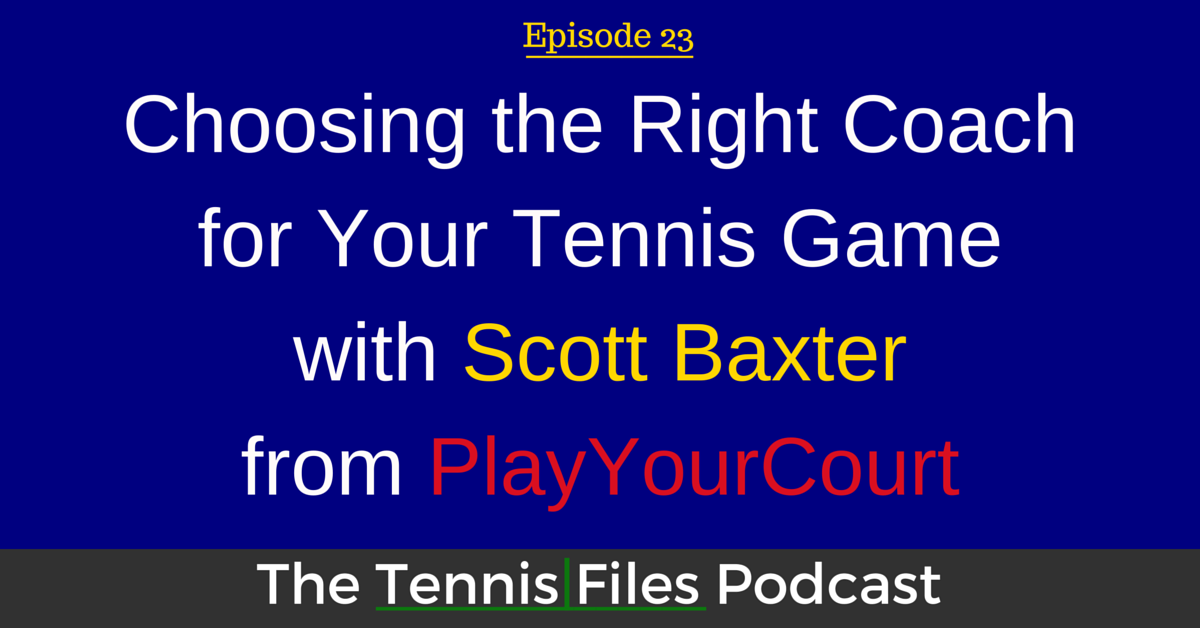 Today I spoke with Scott Baxter, CEO and Founder of PlayYourCourt.  Scott is a USPTA certified tennis coach with over 12 years of coaching experience.  He used his problem solving skills and passion for tennis to create a unique platform to help you find the right coach for your tennis game.
By entering your location and answering a couple questions, you can set up lessons with a tennis coach near you that best suits your skill level and goals within minutes (or even faster depending on your clicking skills!).
Scott was a highly ranked junior in the Mid-Atlantic section and later played college tennis for the University of Maryland.  He ultimately decided to focus on school, earning a double degree in marketing and logistics.  After working as a tennis coach for a number of years and understanding the needs of tennis players who struggle to find a quality tennis coach in their area, Scott created PlayYourCourt.
As I have noted in my free ebook, The Building Blocks of Tennis Success, hiring a great tennis coach will be one of the best decisions you'll ever make for your tennis game. Top notch tennis coaches give you immediate feedback, point out weaknesses, and will help accelerate your tennis progress.
I highly encourage you to use PlayYourCourt to find the optimal tennis coach to take your game to the next level.  Every single coach on PYC has been personally interviewed by Scott to ensure they provide quality instruction to PYC's players.  By using PYC, you will quickly and easily be on your way to improving your tennis skills and flaws in your game that are holding you back from your true potential.
On this episode, you will learn:
How PlayYourCourt can help you find the right coach for your tennis game
The most important traits of a good tennis coach
Why having a good coach is the best way to improve your game
How tennis coaches can get listed on PYC
The algorithm that PYC uses to place you with your optimal tennis coach
How Scott came up with the idea for PYC
Scott's tip to help you improve your tennis game
and more.
I really appreciate you tuning in to this episode, and I know that your tennis game will benefit from my interview with Scott from PlayYourCourt!
Subscribe to automatically download new episodes

Click this icon, click the blue "View in iTunes" button, then hit "Subscribe."
Or hit the subscribe button in your favorite podcast app!
Links Mentioned in This Episode
Find a Tennis Coach now with PlayYourCourt – use code TENNISFILES for $25 off any lesson package! (note: this is an affiliate link, so if you make a purchase after clicking the link, I make a small commission. Thanks either way!)
Interview with Allistair McCaw
If you learned something useful from listening to the show, share this episode with a friend using the share buttons above or below this post! Thanks for listening!