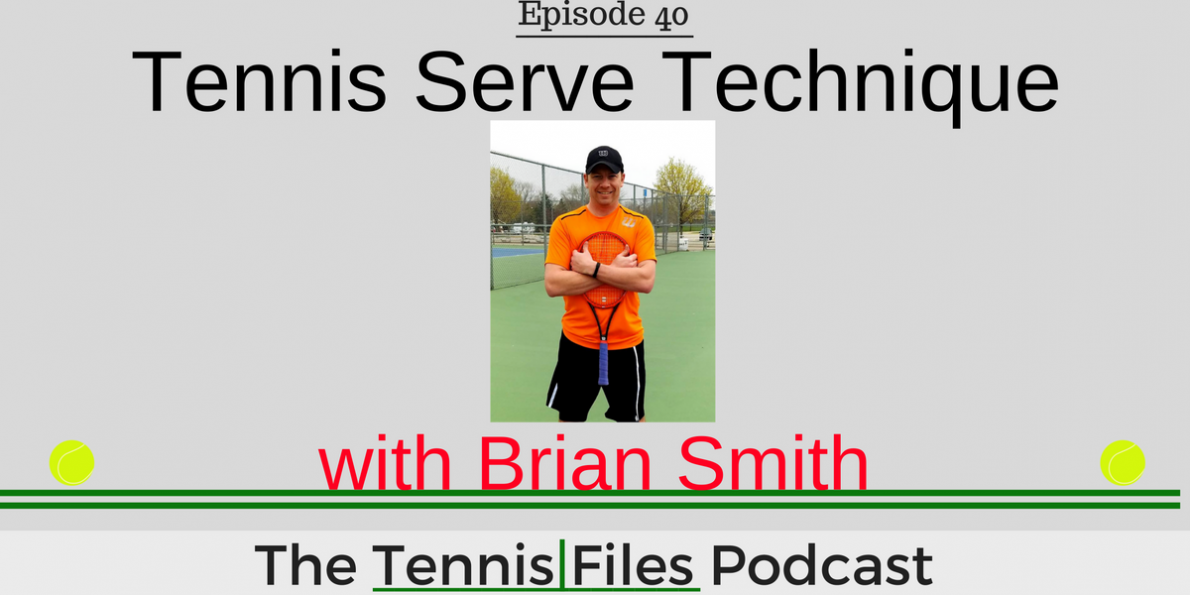 On today's episode, I spoke with Brian Smith, creator of Performance Tennis Training, about tennis serve technique. Brian and I went through each phase of the tennis serve, from the grip to the finish.
The serve is easily the most important part of the game. As I've said time and time again, we serve half the time, and you can start dictating with it immediately.
Brian creates fantastic, value-filled videos about all aspects of tennis, including stroke mechanics and footwork, on his Performance Tennis Training Youtube Page. I've watched many of them, and when I've implemented Brian's tips, they have worked really well for me.
Thanks to Brian for being on the show and talking about the most important stroke in tennis, the serve!
Time-Stamped Show Notes
[2:32] How Brian Smith became an expert tennis coach
[3:52] Tennis book that made the most impact on Brian's tennis career
[4:49] What motivates Brian to be the best tennis coach he can be every day
[6:23] Why the tennis serve is the most important part of your game
[7:16] The grip we should use for the tennis serve and some alternatives
[9:09] Various stances for the serve (platform, pinpoint)
[10:35] Brian's preferred backswing technique (abbreviated vs. full/classic)
[13:23] How to develop a smoother backswing on the serve
[15:19] Tools we can use to smooth out the serve
[16:57] How much should we rotate our bodies on the serve?
[18:32] The ideal loading position for the serve
[19:42] Ideal height to toss the ball
[21:17] How to toss the ball properly
[23:04] What is pronation and how does it help us hit better serves?
[24:42] Would a weak continental grip still allow us to pronate effectively?
[26:22] The different types of second serves
[28:19] How can we produce more spin on our serves?
[30:10] Tips for generating power on our first serves
[34:03] How can players hit flat serves?
[37:58] Brian's favorite serve placements
[40:14] How many serves should we practice hitting a day?
[42:32] What parts of our body should we be strengthening to hit better serves
[43:57] Favorite point patterns off the serve
[46:19] Exercises to keep the rotator cuff healthy
[47:27] Resources to improve players' serves
[49:52] How did Brian come up with the idea for Performance Tennis Training?
[51:23] Why should players check out Performance Tennis Training?
[53:07] Brian's favorite PTT video
[54:30] Future plans for PTT
[55:59] One key piece of advice on how you can improve your tennis serve
[56:57] Where can we follow Brian and PTT online?
Subscribe to automatically download new episodes!

Click this icon, click the blue "View in iTunes" button, then hit "Subscribe."

Or hit the subscribe button in your favorite podcast app!
Right Click Here to Download the MP3
Links Mentioned in the Show
TFP 031: 7 Effective Technical Fixes for Your Tennis Game
Performance Tennis Training Youtube Page
Performance Tennis Training Facebook Page
If you enjoyed my interview about serving with Brian, subscribe to The Tennis Files Podcast in iTunes or your favorite podcast app!
For more tips on how to improve your game, download a free copy of my eBook, The Building Blocks of Tennis Success eBook below! Thanks for listening!