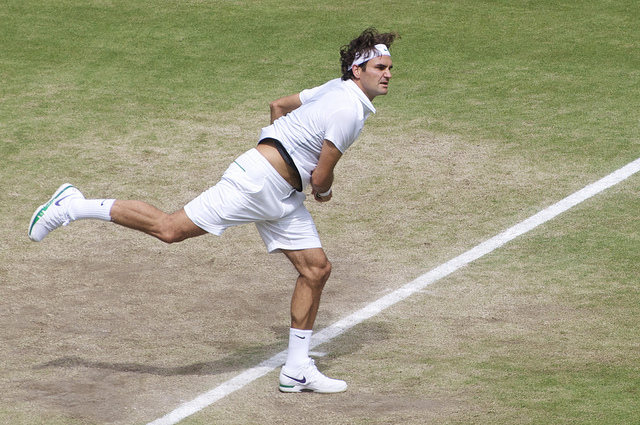 7. Connors d. McEnroe (1982)
Score: 3–6, 6–3, 6–7(2–7), 7–6(7–5), 6–4
Reigning Wimbledon champion and #1 seed John McEnroe couldn't defend his title, losing to #2 seed Jimmy Connors in 1982. However, he did help produce one of the most classic championship matches at the All-England club.
It was only fitting that they went the distance: Connors and McEnroe blistered past Mark Edmonson and Tim Mayotte, respectively, in straight sets.  Connors had also beaten McEnroe at the grass-court event in Queens three weeks prior, which no doubt helped his belief (does he really need a confidence boost with that fist pump?) that he could defeat the world's #1 tennis player again.
Adding further motivation, Connors had been a finalist at the All-England Club 3 times, losing to Arthur Ashe in 1975, and Bjorn Bjorg in 1977 and 1978.  After a back and forth affair, Connors broke at 1-all in the fifth, and held throughout to notch the victory.
Interesting stats: The match took 4 hours and 14 minutes, which was the longest finals in Wimbledon history.  Both Johnny Mac and Connors won 173 points.  The victory was huge for Connors: his last grand slam title was the 1978 US Open.
Notably, Bjorn Bjorg did not play at the All-England Club that year in protest.  Bjorg took several months off the tour after losing to McEnroe at Wimbledon the year prior.  As a result, the 5-time Wimbledon Champion (1976-1980) was told by the Professional Tennis Council that he had to play Wimbledon Qualifying before he could play in the main draw.  Since he had been away from the tour, he had to play at least 10 Grand Prix events in order to be exempt from Wimbledon qualifying.  I'm pretty sure that helped Connors and McEnroe's chances.
Here is some video of the last few minutes of the match.  Maybe you'll pick up some Spanish while you're listening too :-).
6. Graf d. Vicario (1985)
Score: 4-6 6-1 7-5
Steffi Graf, the dominant German who barely ever hit a topspin backhand, dropped the first set before roaring back to defeat #3 seed Arantxa Sánchez Vicario. Vicario defeated Conchita Martinez, the defending champ and #2 seed, in another close semifinal matchup.
At 5-5 in the third set, Vicario's service game went to deuce. Vicario saved one break point with a volley into the open court after setting it up with a drop shot.  However, on the next point, Vicario's drop shot was not as successful; Graf hit a deep slice down the line to Vicario's backhand, and picked off Vicario's cross court pass with a drop shot volley.  Then, Graf hit a booming inside-out crosscourt forehand that Vicario dumped into the net to break Vicario.
Graf served her way to 40-0 after a Vicario unforced error.  The German served and volleyed on match point, and clinched her 6th Wimbledon title when Vicario missed a backhand pass attempt long.  Graf would win her 7th and final Wimbledon in a repeat finals matchup over Vicario the next year.
The 1995 Graf-Vicario Wimbledon final was one of the three-set classics of the women's open era.
Check out a video of the last few games below!
https://www.youtube.com/watch?v=BrsfeBIc1Bc
5. Djokovic d. Federer (2014)
Score: 6–7(7–9), 6–4, 7–6(7–4), 5–7, 6–4
Last year was a fantastic final.  I remember falling to my knees in disappointment  when Federer lost this match.  He had not won a major since the 2012 Wimbledon Championships (poor guy!) and many counted him out as too old and on the way to retirement.
Djokovic, though, looked headed for a fairly straightforward victory serving at 5-3 in the fourth set.  However, the Fed-Express managed to break Djokovic twice, and fended off a match point on his own serve thanks to a Hawk-Eye challenge.
Both men failed to convert break points in the 7th and 8th games of the fifth set.  However, serving at 4-5, Federer produced a forehand error at 15-30 and a backhand error on match point, and with that, Djokovic was the 2014 Wimbledon Champion. That is the closest that Federer has gotten to a major title since.
The match was played at a very high-level for just about all of the entire 3 hours and 56 minutes that it lasted.  Rafael Nadal, the #2 seed, was knocked out in the 4th round by a wildcard and then 19-year old Nick Kyrgios in 4 sets.
Here's a highlight video of the match from start to finish.  I love highlight videos, especially when its a high-quality five-set Fed-Djoker match.
https://www.youtube.com/watch?v=QnCZjXaIl1s
4. Ivanisevic d. Rafter (2001)
Score: 6–3, 3–6, 6–3, 2–6, 9–7
This final makes the list because it was a great match and an even greater storybook ending for Ivanisevic, who said he was retiring after Wimbledon.  The big-serving Croatian had lost 3 Wimbledon finals (1992, 1994, 1998), two of them in 5-sets, and was now ranked 125th.  He needed a wildcard to play in the tournament.
The last set made up for the relatively lopsided first four sets. Ivanisevic broke Rafter at 7-7, and then in the deciding game, both players found themselves at deuce.
Rafter hit a backhand-slice pass that floated just wide, and you have to love it when a thankful Ivanisevic made the sign of the cross, knelt down, and then shook his left-arm to signify that he needed one more big serve to clinch the championship.
However, Rafter came up with a beautiful topspin lob to get the game back to deuce.  Then Ivanisevic, after missing the first serve long, hit a great second serve in the same spot (down the T) that Rafter dumped in the net.
Ivanisevic missed the first serve wide, but the lefty hit a second serve down the T that Rafter once again couldn't quite get over the net. With that, the Croat finally claimed his first Wimbledon title.
After a very gracious congratulatory hug by Rafter, Ivanisevic, predictable filled with emotion (let the tears roll!) jumped into the stands where his proud father was watching and the entire team of the 2001 Wimbledon champion embraced.
With the win, Ivanisevic jumped from 125 to 16 in the world rankings.  He also became the first wildcard to ever win a grand slam title.
Interestingly, Pete Sampras, who had won the tournament seven of the past 8 years, was bounced out by a young 19-year old by the name of Roger Federer.  Perhaps you have heard of the guy  :-)?
Check out the final moments of this historic final below!
https://www.youtube.com/watch?v=_hECNfj5G_s
3. Nadal d. Federer (2008)
Score: 6–4, 6–4, 6–7(5–7), 6–7(8–10), 9–7
After five straight Wimbledon titles, Federer encountered Nadal in the finals for the third-straight year.  This time, the Spaniard from Mallorca prevailed in an extremely tight five-set affair.  Federer no doubt deserved to hold his head up high; he nearly made one of the greatest comebacks in tennis history, falling just short in the final moments.
The match lasted 4 hours and 48 minutes, and was widely regarded as one of the greatest matches ever.
Unfortunately the light was fading fast towards the end of the match, and Federer later said he wanted to halt the match but chose not to.  It would have been tough on the fans, but hell, I would have if it was for a Wimbledon title!
At 7-all in the fifth, and 15-30 on Roger's serve, Nadal hit a beautiful pinpoint crosscourt backhand winner.  Federer, as he had done all match, fought back to deuce.  However, on break point he hit a seemingly easy forehand approach shot just long to give Nadal the opportunity to serve out the match.
The final game again went to deuce.  In the final points of the match, Nadal hit a serve out wide to force a forehand error, and then Federer missed a forehand approach shot again (which seemed to bounce a bit awkwardly), this time into the net.  With that, Nadal won his first Wimbledon title.
This match is such a classic that Tennis Channel aired it on television last week.  Check out the highlights of this insane match below!
2. Williams d. Davenport (2005)
Score: 4–6, 7–6(7–4), 9–7
In what I consider the greatest women's Wimbledon final ever, Venus Williams won her third title at the All-England Club against a very game Lindsay Davenport.  The match was so close that Davenport had a match point of her own but could not convert.
Williams, the 14th seed, also defeated defending champion Maria Sharapova in the semifinals.  Davenport topped Amelie Mauresmo in three tough sets before facing Williams.
Lindsay broke at 1-1 and 4-2 in the first set, and withstood a mini-comeback by Williams to win 6-4.  However, the second set was razor-thin.  In the tiebreak, Williams won her first service point, then took both of Davenport's service points to seize a commanding 3-0 lead. Williams opened up the court enough for a forehand down the line winner on set point.
At 7-7, ad-out in the third set on Davenport's serve, Williams was able to move Davenport around the court once again and produced a backhand crosscourt winner to break the number one seed.
Serving for the match, Williams got off to a strong 30-0 start, and then hit a blistering backhand pass down the line to set up triple match point.
At 40-15, Davenport didn't quite get into position on the sixth shot of the rally, and had to arm a forehand that seemed too close to her body.  As a result, Davenport dumped a forehand into the net, and with that, Williams claimed the Wimbledon title.
Check out highlights of the back-and-forth title bout below!
1. Federer d. Roddick (2009)
Score: 5–7, 7–6(8–6), 7–6(7–5), 3–6, 16–14
I remember watching this amazing and historic match while I was at my buddy's lakehouse in the summer of 2009.  The great American hope, Andy Roddick, against the Swiss Maestro Roger Federer.  I don't think many people expected this one to go the distance, but Roddick put up a heck of a fight in this one.
77 games this final took (Yoda impressions, anyone?), the most amount of games ever in a grand slam final.
After winning the first set, Roddick played a blistering first 8 points of the tiebreak, winning six of them to take a 6-2 lead. However, with four chances to take a two-sets to love advantage, Federer engineered an amazing comeback by winning 6 straight points to take the tiebreaker.
However, instead of being deflated, Roddick realized how much of a chance he still had at winning.  He played a strong third set, falling just short, and then roared back to take the fourth set after breaking Roger in the fourth game.
The fifth set truly solidified this historic match as an instant classic, lasting 30 games.  At 14-15, deuce, Federer hit a slice backhand return that landed short but had a lot of spin, and Roddick responded with a mishit of his own that landed just inside the baseline.
However, Roddick paused momentarily when he mishit the approach shot.  As a result, even though Roddick's approach shot landed in, the court was wide open, and Federer calmly scooped up the forehand past Roddick to set up match point.
After a missed first serve, Roddick hit a solid topspin serve that Federer chipped back.  Roddick then hit a well-struck inside-out forehand, but Federer stepped forward and responded with a very strong and deep backhand.
Roddick shanked a forehand out, and the match was finally over. Federer claimed his 6th Wimbledon title.  He added another in 2012 and now has seven. Not too shabby!
Here are some highlights of the match:
https://www.youtube.com/watch?v=DFF1zbG3GY8
I hope my post on The 7 Greatest Wimbledon Finals in History gets you pumped to watch Wimbledon for the next two weeks!  🙂
What are some of the greatest Wimbledon finals you think should have made the list? Comment below!