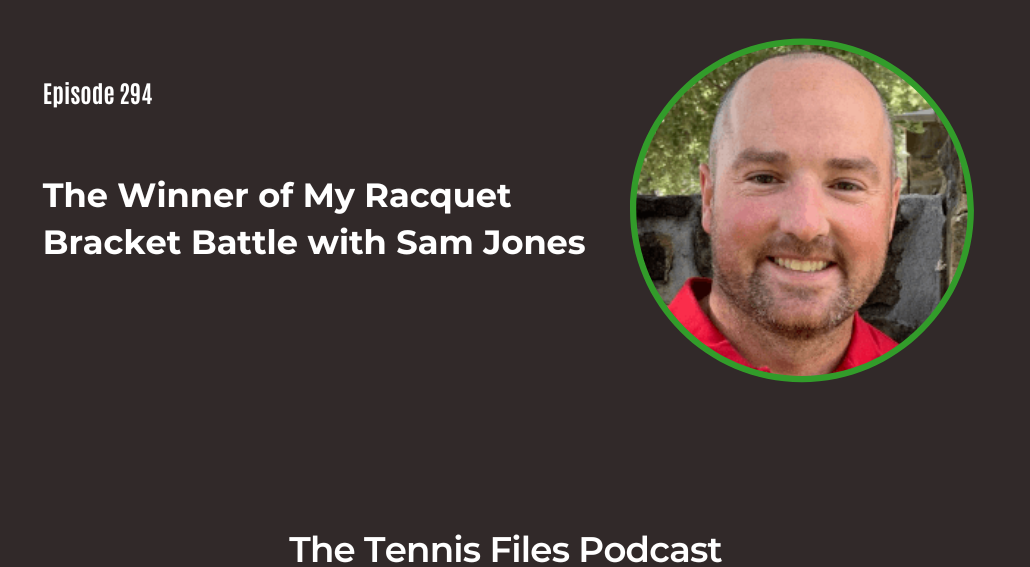 On Episode 294 of The Tennis Files Podcast, I will reveal the winner of my racquet bracket battle with Sam Jones.
Sam has always been fascinated by new racquet and string technologies and how they can help players improve their games and avoid injury. This passion led him to a position at one of the largest online tennis retailers in the world, Tennis Express, as a content writer and playtester. Sam was also certified as a Master Racquet Technician in 2011. He was a 4 year member of The Southwestern University Men's Tennis Team (2001-2005), and served as a team captain during his junior and senior seasons. Sam achieved All-SCAC (southern collegiate athletic conference) status his senior year, and then began a 10+ year coaching career.
On episode 277 of the show, we talked about the top 8 racquets that Sam and I picked for me to playtest. On today's episode, we are going to reveal which racquet made it to the top of our list.
I hope you enjoy my interview with Sam! Let us know what you think about this episode in the comments below!
And be sure to subscribe to Tennis Files to receive the latest tennis content to improve your game straight to your inbox!
Subscribe to automatically download new episodes!

Click the icon above, click the blue "View in iTunes" button, then hit "Subscribe."

Or hit the subscribe button in your favorite podcast app!
Right Click Here to Download the MP3
Links Mentioned in the Show
TFP 277: The 8 Racquets I'm Testing To Choose My Next Stick with Sam Jones
Podcasts:
Check Out All My Podcasts Here!
Check Out All My Podcasts on Apple Podcasts!
My Youtube Channel!
Tennis Files Youtube Channel - Subscribe! You know you want to 😉
Note: Some of the links above are affiliate links, so if you make a purchase after clicking, I'll make a small commission that will help support the podcast. Thanks either way!
If you enjoyed this episode, subscribe to The Tennis Files Podcast in iTunes or your favorite podcast app!
For more tips on how to improve your tennis fitness, subscribe to my newsletter and download a free copy of my free eBook, The Building Blocks of Tennis Success below! Thanks for listening!