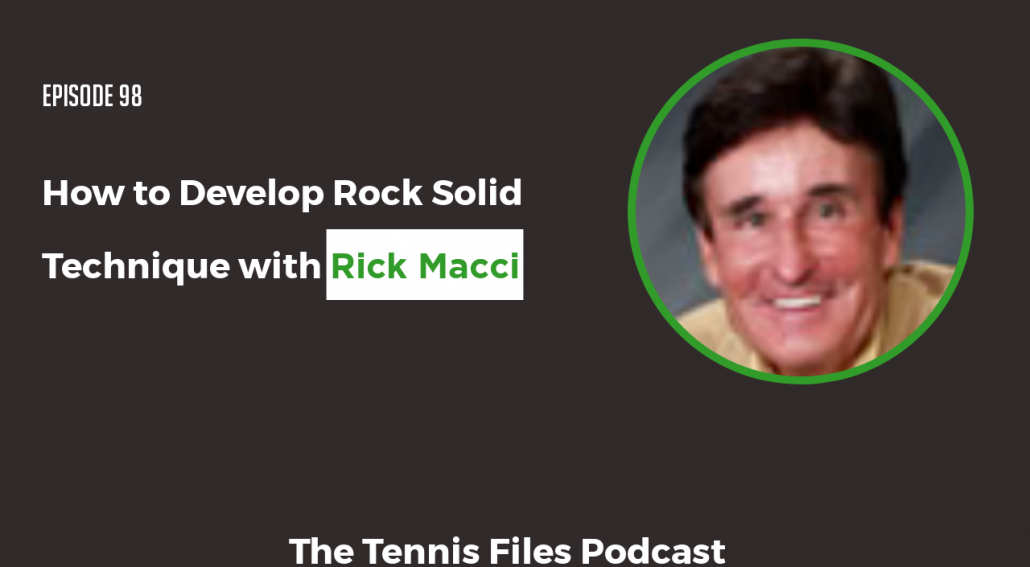 On Episode 98 of The Tennis Files Podcast, I spoke with legendary coach Rick Macci about the most important principles for developing rock-solid technique on our strokes.
Rick has coached five number one players: Venus and Serena Williams, Jennifer Capriati, Andy Roddick, and Maria Sharapova, as well as hundreds of world class professionals. He has guided his players to a combined 247+ USTA National Championships since 1985, and is widely regarded as one of the best tennis coaches of all time. Rick is also the founder of Rick Macci Tennis Academy, and is a highly sought out motivational speaker, clinician, and author.
On this episode, Rick discusses his philosophy on developing biomechanically-sound technique, gives us simple yet super-effective technique tips, and explains some huge mistakes in our technique that, if fixed, will supercharge your efficiency and power. I particularly love the power leak Rick mentions for the serve in the interview (I won't spoil it for you, you'll have to tune in to find out! :O) ).
I hope you enjoy this podcast interview episode with Rick! Let us know what you think about it in the comments below!
Subscribe to automatically download new episodes!

Click the icon above, click the blue "View in iTunes" button, then hit "Subscribe."

Or hit the subscribe button in your favorite podcast app!
Right Click Here to Download the MP3
Links Mentioned in the Show
Resources
Books
Complete Conditioning for Tennis (2nd edition) - Dr. Mark Kovacs
Tennis Summit Links
Tennis Summit 2019 - Register for FREE today!
Related Podcasts
TFP 082: Dr. Sean Drake — RacquetFit and the Body-Tennis Connection
TFP 090: 5 of My Favorite Doubles Plays to Take Control of Matches
TFP 080: Q&A 4.5+ Edition — Re-tooling Your Strokes, Backhand Tips, Serve Consistency, Returning, Advanced Drills and More!
TFP 075: Q&A Edition — Anticipation, Fitness, Consistency, Technique and More!
Check Out All My Podcasts Here! - Podcasts Homepage
Check Out All My Podcasts on iTunes! - iTunes Tennis Files Podcast Page
My Youtube Channel!
Tennis Files Youtube Channel - Subscribe! You know you want to 😉
Note: Some of the links above are affiliate links, so if you make a purchase after clicking, I'll make a small commission that will help support the podcast. Thanks either way!
If you enjoyed this episode, subscribe to The Tennis Files Podcast in iTunes or your favorite podcast app!
For more tips on how to improve your tennis fitness, subscribe to my newsletter and download a free copy of my free eBook, The Building Blocks of Tennis Success below! Thanks for listening!
The Building Blocks of Tennis Success eBook
Subscribe to get my free eBook and learn about goal setting, training smart, proper technique, mental fortitude, the importance of competition, health and fitness, and more!
Thanks for being a valued Tennis Files subscriber! I am proud to serve you 🙂