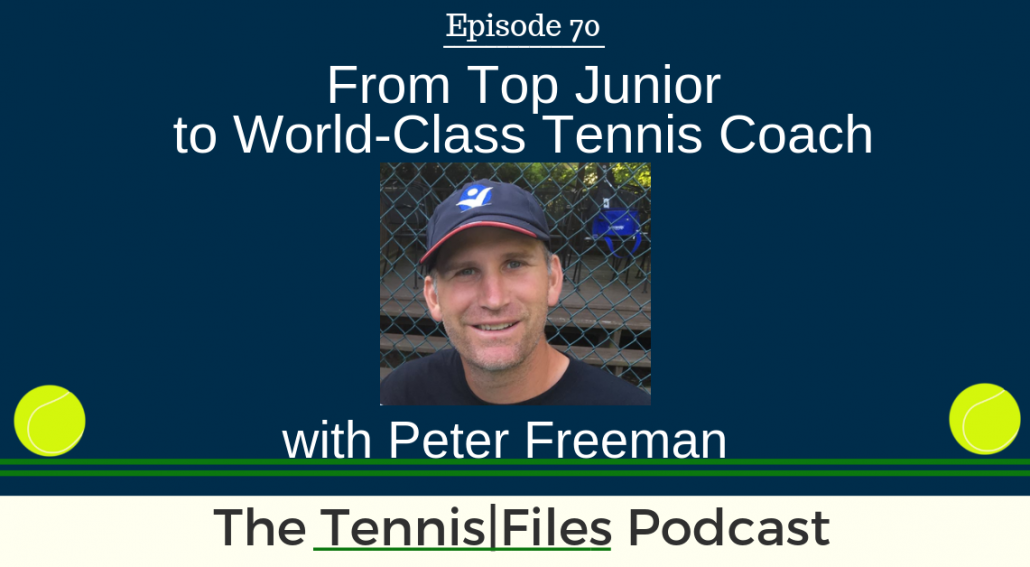 On Episode 70 of The Tennis Files Podcast, I spoke with my good friend Peter Freeman about his journey from a top junior to teaching tennis players worldwide how to level up their tennis games. Pete is the founder of Crunch Time Coaching, and does an amazing job of creating tennis videos and other great content to help players improve their technique, strategy, and many other parts of their game. We talk about everything from Pete's development as a junior player, to how he got into coaching and the online tennis instruction space, and a ton of awesome tips on how we can improve and get more power on our serve, backhand, and volleys. This episode is a really fun and value-packed one, and I highly encourage you to hit the play button above to listen to it!
In addition to running Crunch Time Coaching, Pete has a long list of credentials that makes him one of the top coaches in the business. Pete has coached division 1 college tennis players, produced state level and national champions, and has been awarded the honor of USTA Georgia Pro of the year. Pete also creates tons of fantastic tennis content on Youtube and I highly recommend you check out his Youtube Channel. He has coached under Tony Palafox, who was John McEnroe's former coach, and Frank Brennan, a former Stanford University Coach who won 10 national titles. Pete has a huge passion for tennis and will do whatever it takes to get your game to the next level.
Pete gave an amazing presentation on how to hit a monster topspin forehand on last year's Tennis Technique Summit, and one on Slice Serve Strategy on this past year's Tennis Summit 2018 that I hosted. If you haven't already, you can go to those links to check them out for free! Pete also hosts Tennis Con, an annual online tennis conference with some of the best names in the business like Gigi Fernandez, Rick Macci, Jeff Salzenstein, and many more! On top of all that, he is the Director of Tennis at Gold's Gym in Atlanta.
It was a pleasure speaking with Pete on the podcast, and I know you'll really enjoy this episode and learn a lot about how we can improve our serve, backhands and volleys, and what it takes to become a great tennis coach. Many thanks to Pete for coming onto the podcast! Let us know what you think about this episode in the comments below!
Time-Stamped Show Notes
BEGINNINGS
[3:56] How Pete got his start playing tennis
[5:56] Pete's role models growing up
[8:32] Pete's playing style as a junior compared with the pros back then
[10:21] Three things most of the world doesn't know about Pete (and a funny encounter with John McEnroe)
COACHING
[14:37] Reaching the top ranks as a junior in New Jersey
[18:47] A unique event that sparked Pete's tennis coaching career
[22:07] How Pete developed into the great coach that he is today
[23:06] Pete's stint working outside of the tennis world in the real estate industry and the tough realities of being a tennis coach
[26:43] The pay structure for head pros of tennis clubs
[29:50] The difficulty of teaching players who aren't passionate about the game
[32:47] What caused you to want to take your coaching to the online world and create Crunch Time Coaching?
[36:42] Why Pete named his business Crunch Time Coaching
[38:01] What excites Pete the most about teaching online
[40:03] The biggest roadblock in Pete's tennis coaching career and how he overcame it
[41:55] How do pros go about reserving court time to teach lessons, and the issues pros have with this
TIPS FOR TENNIS PLAYERS
[43:05] The biggest mistakes tennis players make when they serve
[46:14] Where power in the serve come from
[49:51] How players can generate more spin on the serve
[52:49] Pete's favorite serve to use in matches
[55:28] The biggest issues tennis players have with their backhands (both one and two-handed)
[59:30] The approach players with technique problems should take when trying to improve that stroke
[1:03:18] How you can win matches without good technique
[1:06:04] Why tennis players don't improve
[1:09:50] Technical problems on volleys and what we should be doing instead
[1:13:23] Two concepts that Pete has changed his mind about since he's become a coach
CLOSING QUESTIONS
[1:16:36] Why Pete created Tennis Con and what it is all about
[1:20:17] 3 books Pete would gift to a tennis player to help them improve their game
[1:23:25] Where we can follow Pete online or in person
[1:25:20] One key tip from Pete to help us improve our tennis games
Subscribe to automatically download new episodes!

Click the icon above, click the blue "View in iTunes" button, then hit "Subscribe."

Or hit the subscribe button in your favorite podcast app!
Right Click Here to Download the MP3
​Links Mentioned in the Show
Pete's Website
Tennis Summit Links
Books
My Youtube Channel!
Tennis Files Youtube Channel - Subscribe! You know you want to 😉
​If you enjoyed this episode, subscribe to The Tennis Files Podcast in iTunes or your favorite podcast app!
For more tips on how to improve your game, subscribe to my newsletter and download a free copy of my eBook, The Building Blocks of Tennis Success below! Thanks for listening!