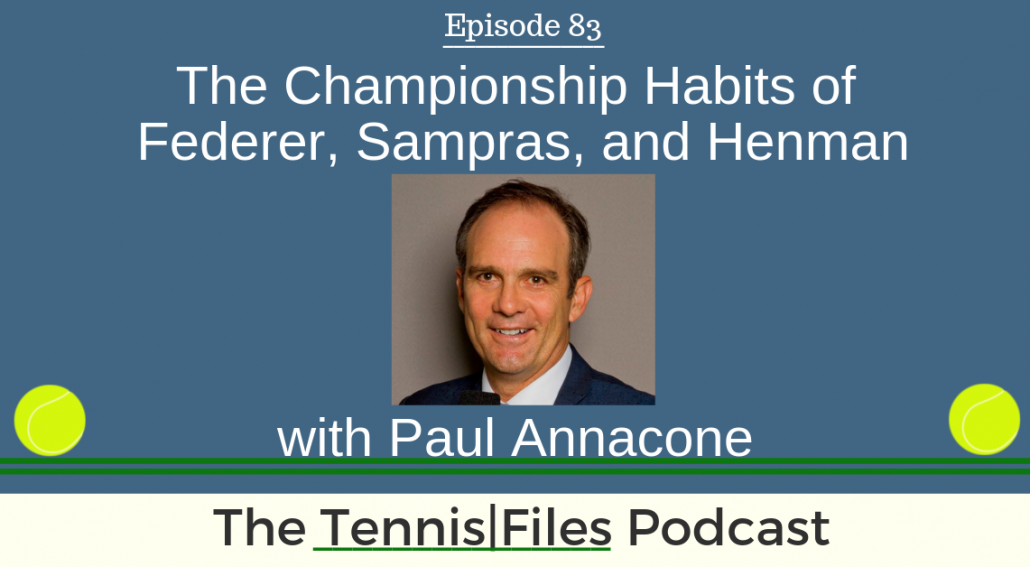 On Episode 83 of the podcast, Paul Annacone shares the championship habits and characteristics of the greatest players in the world that he's coached, including Roger Federer, Pete Sampras, and Tim Henman.
I spoke with Paul about the secrets to his career success on the tour, and why Roger, Pete, and Tim were able to win grand slams and achieve top rankings on the last Tennis Summit that I previously hosted, and it was voted one of the most favorite sessions of the event.
That's why I decided to bring the audio of that session to this episode's podcast to help you learn the insights from one of the best tennis coaches, and nicest people, on the planet!
Paul guided Federer to two straight year-end championships in 2010 and 2011, a return to the World no. 1 ranking, and his seventh Wimbledon Championship. He also led Sampras to 7 grand slam titles.
Paul was a world-class player as well, reaching #12 in the world in singles and #3 in doubles. He won the Australian Open doubles title in 1985, reached the Wimbledon singles Quarterfinals, and won 3 singles and 14 doubles titles
Paul also recently published a fantastic book called Coaching for Life, where Paul talks about his experiences with the great champions he has coached to give readers a how-to blueprint on overcoming challenges and succeeding both on the court and in life. You can check out Paul's website at paulannacone.com.
I really hope you enjoy my interview with Paul! Let us know what you think about this episode in the comments below!
Show Notes
The top habits and characteristics of Federer, Sampras, Henman, and Annacone
​How Henman was able to bounce back from the toughest stretch of his career
The importance of routines and how they helped the top players
How Sampras and Federer are able to maintain laser focus for so long on the tour
Federer's evolution during his legendary career
A key tip to help us improve our tennis games
Why adaptation and openness to learning is crucial to your tennis development
Planning for long-term success in your career, and more!
Subscribe to automatically download new episodes!

Click the icon above, click the blue "View in iTunes" button, then hit "Subscribe."

Or hit the subscribe button in your favorite podcast app!
Note: Some of the links above are affiliate links, so if you make a purchase after clicking, I'll make a small commission that will help support the podcast. Thanks either way!
​If you enjoyed this episode, subscribe to The Tennis Files Podcast in iTunes or your favorite podcast app!
For more tips on how to improve your tennis game, subscribe to my newsletter and download a free copy of my eBook, The Building Blocks of Tennis Success below! Thanks for listening!
The Building Blocks of Tennis Success eBook
Subscribe to get my free eBook and learn about goal setting, training smart, proper technique, mental fortitude, the importance of competition, health and fitness, and more!
Thanks for being a valued Tennis Files subscriber! I am proud to serve you 🙂