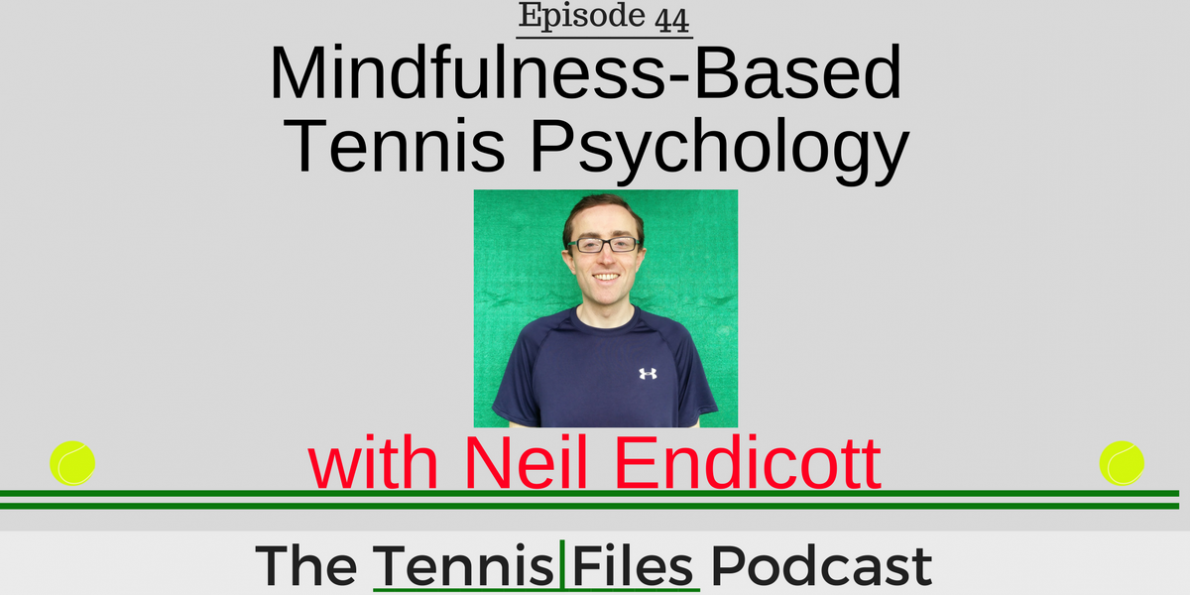 On today's episode I had the pleasure of speaking with Neil Endicott, a coach and author who specializes in Mindfulness-Based Tennis Psychology (MBTP). Neil discussed how tennis players can play more confident and effective tennis by training the mental part of their game through MBTP.
Neil has written numerous articles that have been featured in publications such as The Huffington Post and Tennis Magazine. Even Novak Djokovic has talked about how mindfulness helped him reach new heights in his career in his book Serve to Win. If one of the greats in the game believes in training yourself to be more mindful, it's worth a try.
We discuss human psychology, how players can change their mindset through MBTP, meditation, and how we can train ourselves to perform our best by being in the moment and recognizing negative thoughts for what they are: thoughts and nothing more.
I know a lot of you struggle with pressure and negative emotions on the court. This episode will help you on your journey to overcoming these mental obstacles. I hope you enjoy this fantastic episode on mindfulness with Neil.
Time-Stamped Show Notes
[4:43]

How did you end up becoming an expert on the mental side of tennis?

[10:29]

Were there any particular books or courses that you read which laid the foundation for your philosophy about the mental game?

[14:17]

If you could give your 16-year old self advice, what would you say?

[15:55]

What pros use mindful meditation to help their tennis games?

[20:52]

More relaxed versus fiery players and how both can use mindfulness based tennis psychology to excel on the court they should mentally approach tennis matches

[24:19]

How Mindfulness Based Tennis Psychology is structured to help tennis players

[28:35]

Here's a scenario: I get an easy sitter on a crucial break point, and blast the ball long. I immediately get a negative thought about what just happened. What should I do?

[32:28]

Mistakes are a part of tennis.

[33:56]

Why we tend to battle against ourselves in our minds and what to do about it

[38:43]

What is a basic meditation that we can start with that will help us be more mindful?

[42:06]

How long should we meditate for?

When is the optimal time to meditate; in the morning, before a match, or after a match?

[45:22]

How long does it normally take before we will see results from MBTP?

[47:43]

Mindfulness doesn't necessarily mean hard work

[50:22]

When we play against players that are ranked higher than us, there is often an innate feeling that we are supposed to lose/cannot win. How can we overcome these thoughts?

[55:08]

One key to improve our tennis games

[57:43]

Mindfulness Based Tennis Psychology can help you excel in other parts of your life as well
Subscribe to automatically download new episodes!

Click this icon, click the blue "View in iTunes" button, then hit "Subscribe."

Or hit the subscribe button in your favorite podcast app!
Right Click Here to Download the MP3
Links Mentioned in the Show
Djokovic's New Tennis Psychology – Neil's article on Novak Djokovic and MBTP
Serve to Win – Novak Djokovic's book
Note: The link to Novak Djokovic's book is an affiliate link, so if you make a purchase after clicking, I make 78.5 million dollars a small commission that helps support the podcast. Thanks either way! 🙂
If you enjoyed my interview with Neil, subscribe to The Tennis Files Podcast in iTunes or your favorite podcast app!
For more tips on how to improve your game, download a free copy of my eBook, The Building Blocks of Tennis Success eBook below! Thanks for listening!