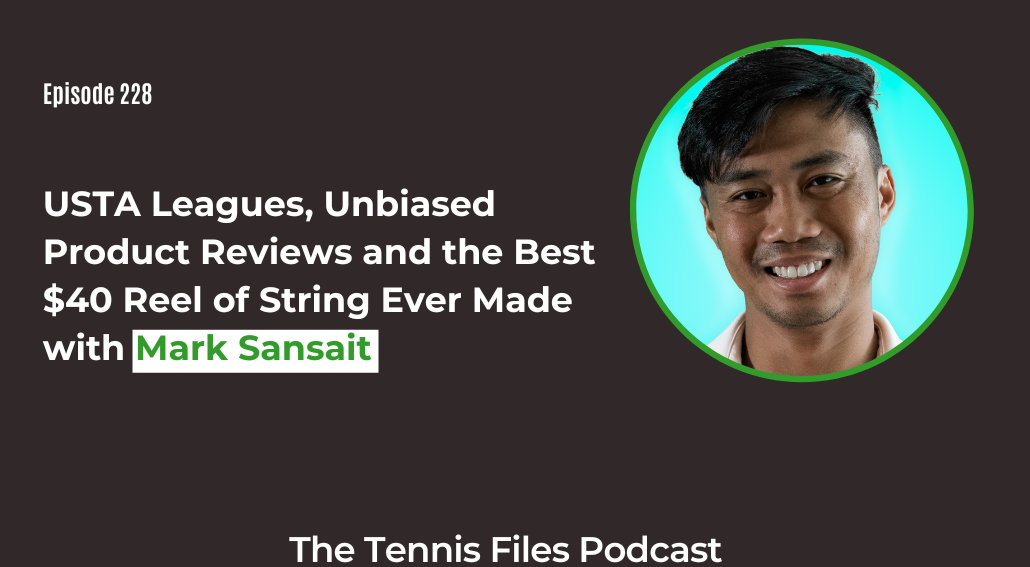 On Episode 228 of The Tennis Files Podcast, I interviewed Mark Sansait about his experiences playing in USTA Leagues, recording matches for YouTube, and reviewing tennis products.
Mark is the founder of Toxic Tennis. He consistently creates entertaining and educational tennis content. Mark publishes videos of NTRP 4.5-5.0 match play, product reviews, and tutorials on his YouTube Channel, which has nearly 10k subscribers. Mark played college tennis at The University of Wisconsin-Whitewater and was recently bumped up to the NTRP 5.0 level.
On the show, you'll learn Mark's up and down experiences with USTA Leagues, what he thinks about getting bumped up to an NTRP 5.0, how Mark records his matches, Mark's journey creating tennis content on YouTube, the best $40 reel of string money can buy, his favorite racquets of 2021, facing a copyright claim from one of the biggest online tennis retailers in the world and much more!
I hope you enjoy my interview with Mark! Let us know what you think about this episode in the comments below!
And be sure to subscribe to Tennis Files to receive the latest tennis content to improve your game straight to your inbox!
Subscribe to automatically download new episodes!

Click the icon above, click the blue "View in iTunes" button, then hit "Subscribe."

Or hit the subscribe button in your favorite podcast app!
Right Click Here to Download the MP3
Links Mentioned in the Show
Mark Sansait's YouTube Channel
Best Stiff Round Poly on the Market Video
ISOSPEED Baseline Control String

Podcasts:
Check Out All My Podcasts Here!
Check Out All My Podcasts on Apple Podcasts!
My Youtube Channel!
Tennis Files Youtube Channel - Subscribe! You know you want to 😉
Note: Some of the links above are affiliate links, so if you make a purchase after clicking, I'll make a small commission that will help support the podcast. Thanks either way!
If you enjoyed this episode, subscribe to The Tennis Files Podcast in iTunes or your favorite podcast app!
For more tips on how to improve your tennis fitness, subscribe to my newsletter and download a free copy of my free eBook, The Building Blocks of Tennis Success below! Thanks for listening!