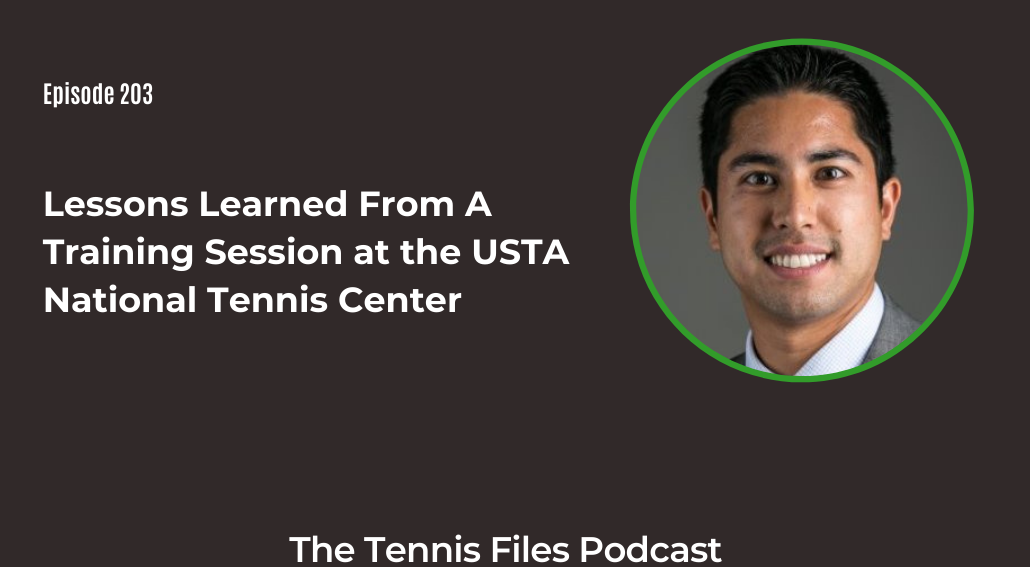 On Episode 203 of the podcast, I'll walk you through my 9 biggest takeaways that I learned from taking a private lesson at the USTA National Campus.
I recently took a trip to Orlando and booked a one-on-one lesson at the USTA National Campus a few days before returning home. This training session was a big eye opener to the areas in my game that could use some work. Right after the lesson, I jotted down my key takeaways from the lesson in the notes app of my iPhone and decided that I would share them with you on the podcast. They include tips that will help you improve your forehand, backhand, volleys, serves, doubles tactics, and much more!
I really hope you enjoy this episode! If you found it helpful, let me know in the comments below!
And be sure to subscribe to Tennis Files to receive the latest tennis content to improve your game straight to your inbox!
Subscribe to automatically download new episodes!

Click the icon above, click the blue "View in iTunes" button, then hit "Subscribe."

Or hit the subscribe button in your favorite podcast app!
Right Click Here to Download the MP3
Links Mentioned in the Show
Tennis Files - Subscribe Here!
Podcasts:
Check Out All My Podcasts Here!
Check Out All My Podcasts on Apple Podcasts!
My Youtube Channel!
Tennis Files Youtube Channel - Subscribe! You know you want to 😉
Note: Some of the links above are affiliate links, so if you make a purchase after clicking, I'll make a small commission that will help support the podcast. Thanks either way!
If you enjoyed this episode, subscribe to The Tennis Files Podcast in iTunes or your favorite podcast app!
For more tips on how to improve your tennis fitness, subscribe to my newsletter and download a free copy of my free eBook, The Building Blocks of Tennis Success below! Thanks for listening!