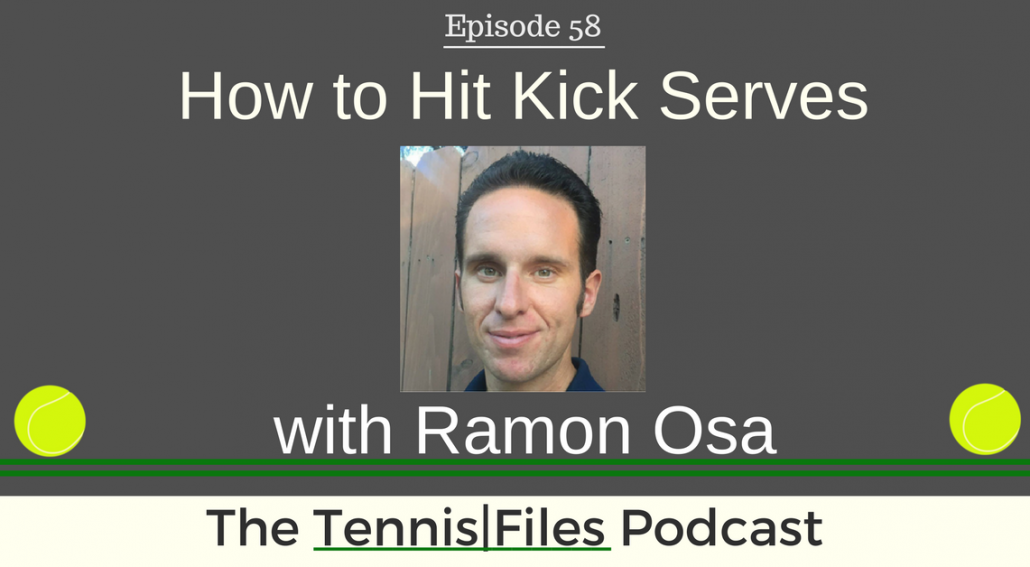 On today's episode, I spoke with Ramon Osa from Osa Tennis 360 about how to hit kick serves.  Ramon is an expert at helping tennis players discover the fun in tennis, while showing them what they need to do to improve their technique and tactics.  Ramon is the founder of Osa Tennis 360, where he produces value-filled and fun tennis videos.  He also has an awesome Youtube channel with fantastic tips and advice.  Ramon believes that fun, along with the right system to develop world-class strokes and sound fundamentals, is the key to improving your tennis game.
We discussed technical aspects of the kick serve, how to toss the ball properly when hitting a kick serve, kick serve strategy, Ramon's approach on how to learn this severely underused and often feared serve, and much more on Episode 58 of the The Tennis Files Podcast!
I hope you enjoy my interview with Ramon, and let us know what you think in the comments below!
Time-Stamped Show Notes
[5:56]

What is the kick serve, and how can it help us win tennis matches?

[9:07]

Why are players uncomfortable hitting or trying to hit kick serves?

[11:05]

At what level (NTRP rating) do players consistently use the kick serve?

[12:34] The number one thing that players do incorrectly when trying to hit a kick serve.
[13:41]

How to be more relaxed when serving

[15:15]

The technical differences between the kick serve and a flat or slice serve

[17:38] How we should toss the ball when we hit a kick serve.
[18:45]

How should we approach developing our kick serve — piece by piece or as a whole?

[20:17] Ramon's two favorite drills that teaches us how to hit a kick serve.
[22:28]

How far forward should we lean into the court for kick serves?

[25:21]

How often should we use the kick serve in tennis matches?

[27:26] Why we should use the kick serve more often in doubles matches
[23:18] One key tip to help us hit better kick serves
[30:52]

How Ramon's serve course helps tennis players develop their kick serves

[34:56]

What is in the course, and how is it organized?

[38:44] 

Results Ramon's players have achieved through his instruction and courses

[41:55] Advice to players who don't believe they can develop a solid kick serve
Subscribe to automatically download new episodes!

Click this icon, click the blue "View in iTunes" button, then hit "Subscribe."

Or hit the subscribe button in your favorite podcast app!
Right Click Here to Download the MP3
Links Mentioned in the Show
Osa Tennis 360 – Ramon's website
Ramon's Youtube Channel – Osa Tennis 360
Tennis Files Youtube Channel – Subscribe!  You know you want to 😉
If you enjoyed my interview with Ramon, subscribe to The Tennis Files Podcast in iTunes or your favorite podcast app!
For more tips on how to improve your game, download a free copy of my eBook, The Building Blocks of Tennis Success below! Thanks for listening!