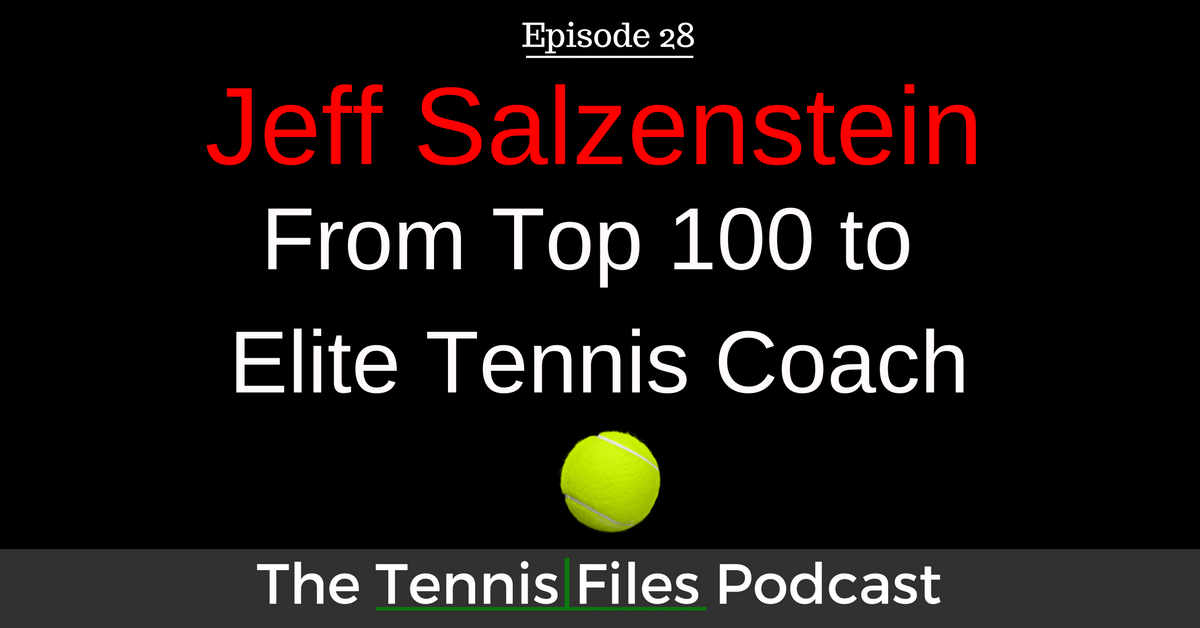 Today I spoke with Jeff Salzenstein, a former top 100 ATP Pro and one of the most well-respected tennis coaches in the game. Jeff has battled against many of the best tennis players in the world throughout his career. He has combined that experience, along with his desire to learn all he could about playing optimal tennis, to create many of the most popular online tennis courses in the world. The very first online tennis course that I ever purchased was from Jeff!
Jeff has recently moved his popular online tennis instruction site (jeffsalzensteintennis.com) to Tennis Evolution. There, he continues to create the highest-quality tennis instructional videos possible. I can speak from experience, having purchased both a fitness course and a tennis serve course from Jeff. Both these courses surprised me with the number of videos and how much value each one provided.
My interview with Jeff was one of the best episodes I've had so far on The Tennis Files Podcast. Jeff answered each question with amazing insight, and I learned so much from speaking with him. I definitely encourage everyone to check out Tennis Evolution. Jeff also has a ton (and I mean a ton!) of free instructional videos on Youtube that will provide a ton of value and help with your game. If you aren't familiar with Jeff's work, watch some of his videos on Youtube and you will understand why he is one of the best instructors out there today.
On this episode, you will learn:
How Jeff got his start playing tennis
The difference between juniors and the college game
What it was like to play at Stanford University
How Jeff came up with the idea for creating online tennis courses
Jeff's thoughts on optimal footwork
Jeff's meditation techniques, and how it can help us play better tennis
Why Jeff focuses on self-development, and how it translates to optimal performance
Super helpful tips on how you can improve your tennis game
and more!
Thanks to Jeff for being an amazing guest and taking time out of his busy schedule to speak with me on The Tennis Files Podcast. I look forward to having Jeff back on the show soon, and can't wait to keep learning from all the great content he keeps putting out on the interwebs!
Subscribe to automatically download new episodes!

Click this icon, click the blue "View in iTunes" button, then hit "Subscribe."
Or hit the subscribe button in your favorite podcast app!
Links Mentioned in This Episode
The Freedom Journal* – an amazing journal that will help you reach your goal in 100 days.
The 5-Minute Journal* – another awesome daily journal to help you keep things in perspective
The Inner Game of Tennis* – one of the most well-respected tennis books that will help you achieve optimal performance
Headspace – Meditation App – a fantastic app that helps you learn how to meditate. There are 10 free lessons, and it also has a paid version.
Seagull* – A book on how to think out of the box and stand out from the crowd.
The Alchemist* – A story that will show you how to follow your dreams.
50 Mental Strategies for Fearless Performance* – Another recommendation from Jeff for a great tennis book to enhance your performance through mental strategy.
[Note: The links above with * next to them are affiliate links. If you make a purchase after clicking one of them, I receive a small commission. Thanks in advance either way!]
Thanks for checking out my podcast episode with Jeff! If you enjoyed listening to the show, share this episode with a friend using the share buttons above or below this post! Thanks for listening!