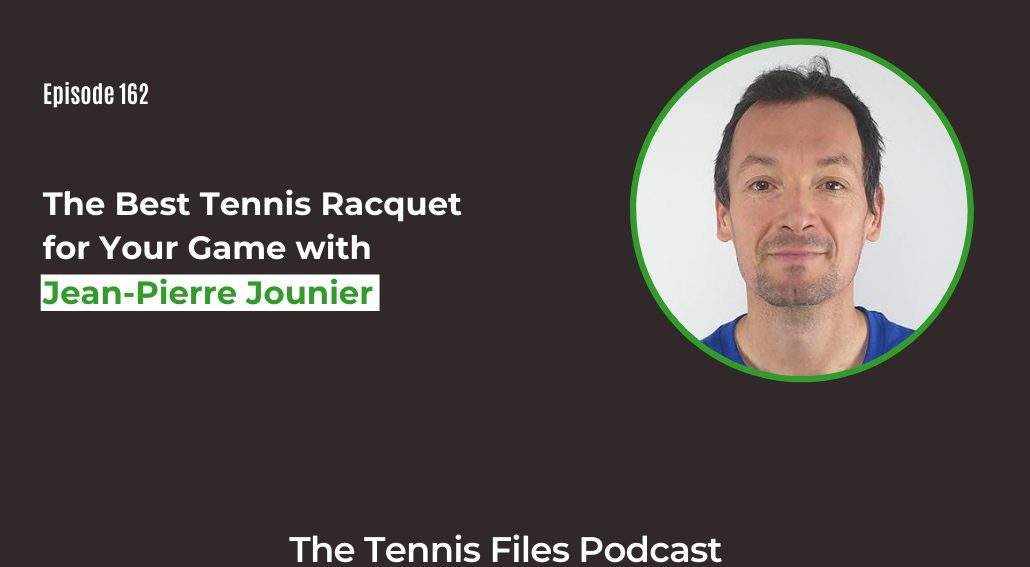 On Episode 162 of The Tennis Files Podcast, I spoke with French tennis coach Jean-Pierre Jounier about the most important factors you need to consider when choosing a tennis racquet.
A lot of tennis players make the costly mistake of picking a racquet based on their favorite player, what their friends use, or even worse, how the racquet looks. Luckily for you, on this episode Jean-Pierre and I will show you exactly how to choose the optimal racquet for your game.
Jean-Pierre has two YouTube channels, Team-Tennis.FR and Team-Tennis [English], geared towards helping players with strategy, technique, and tennis equipment. He has done a lot of in-depth reviews on the latest tennis racquets, and so I brought him on the podcast to help us with this area of the game that so many players both enjoy and struggle mastering. Jean-Pierre is also a great player and has been a practice partner for several tennis pros.
On the show, you'll learn the different types of racquets, the main factors to consider when choosing between them, common mistakes players make when testing racquets, the most popular racquets among different levels, the impact of strings when testing racquets, tips to improve your tennis game, and much more!
I hope you enjoy my interview with Jean-Pierre! Let us know what you think about this episode in the comments below!
And be sure to subscribe to Tennis Files to receive the latest tennis content to improve your game straight into your inbox!
Subscribe to automatically download new episodes!

Click the icon above, click the blue "View in iTunes" button, then hit "Subscribe."

Or hit the subscribe button in your favorite podcast app!
Right Click Here to Download the MP3
Links Mentioned in the Show
Team-Tennis Youtube Channel (English)
Team-Tennis Youtube Channel (French)
The Building Blocks of Tennis Success eBook (Free Download!)
Podcasts:
Check Out All My Podcasts Here!
Check Out All My Podcasts on Apple Podcasts!
My Youtube Channel!
Tennis Files Youtube Channel - Subscribe! You know you want to 😉
Note: Some of the links above are affiliate links, so if you make a purchase after clicking, I'll make a small commission that will help support the podcast. Thanks either way!
If you enjoyed this episode, subscribe to The Tennis Files Podcast in iTunes or your favorite podcast app!
For more tips on how to improve your tennis fitness, subscribe to my newsletter and download a free copy of my free eBook, The Building Blocks of Tennis Success below! Thanks for listening!
The Building Blocks of Tennis Success eBook
Subscribe to get my free eBook and learn about goal setting, training smart, proper technique, mental fortitude, the importance of competition, health and fitness, and more!
Thanks for being a valued Tennis Files subscriber! I am proud to serve you 🙂