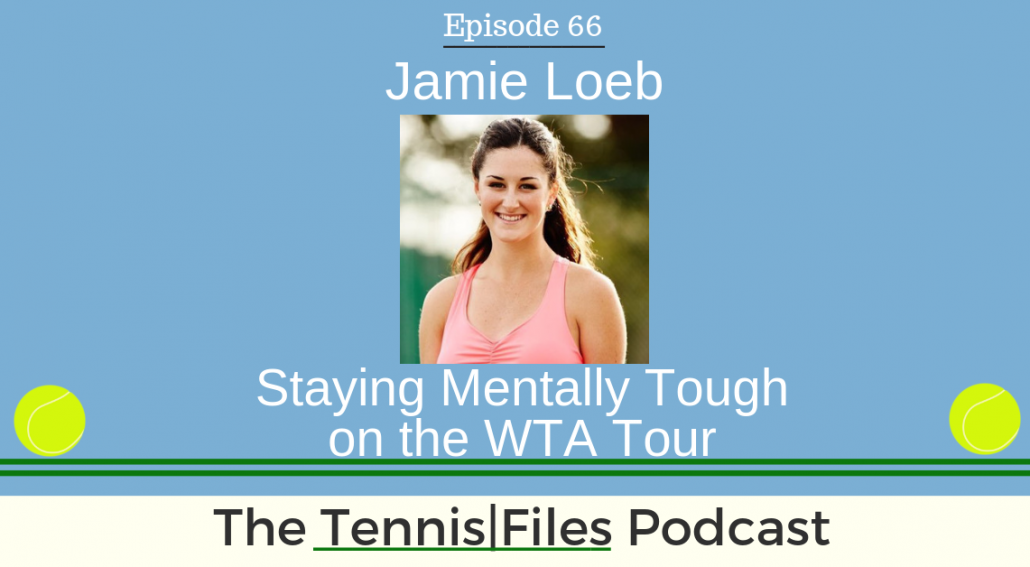 On Episode 66 of The Tennis Files Podcast, I spoke with WTA world #164 Jamie Loeb about her rise from the juniors to playing the biggest tournaments in the world. Jamie developed into a top junior, had a championship run at the University of North Carolina, and qualified for the US Open while still in college before turning pro full-time. Jamie is grinding it out on the tour and living the dream of traveling the world as a professional tennis player.
I first met Jamie at the Player's Party at the Citi Open last month, along with her former teammate and friend Tessa. I remembered that my former assistant coach and teammate Ale Pedergnana is close friends with Jamie, and after a friendly chat and compliments on her dance moves, Jamie was nice enough to come onto the podcast. We chat about her keys to success on the pro tour, how she overcame the toughest moment in her career, how tough it is to survive financially as a pro, what racquets and strings she uses, tips for pros on how to improve your Instagram game, some great insights into how you can improve your tennis game, and much more.
I've also added something new for the first time: a transcript of the interview. See below to read the transcript or click here to download the transcript! It was a pleasure speaking with Denis on the podcast, and I wish him all the best in his career. Let us know what you think about this episode in the comments below!
Click Here to See the Transcript!
Please let me know what you think about whether I should keep doing transcripts for the podcast! Based on your feedback, I'll decide whether to keep doing the transcripts or scrap it. It's an added cost (obviously), and I actually had this one automatically transcribed then fixed it up myself and it took a ton of time, so I'll have to figure out a better way if you want me to keep doing the transcripts. Thanks for your feedback!
Time-Stamped Show Notes
[1:57] Jamie's incredible dance moves
[4:09] Breaking the myth about Jamie's mom being her coach
[5:43] How her family influenced her game growing up
[7:25] When Jamie knew she wanted to turn pro
[8:35] How Jamie's sister Jenna won a state championship on a broken ankle
[8:59] Her tennis role models
[9:37] Three things that most of the world doesn't know about Jamie Loeb
[12:03] When Jamie started seriously training for tournaments
[13:14] How many tournaments she played as a junior
[14:02] Was burnout ever an issue as a junior player?
[15:37] The decision to finish up high school online
[17:30] Is high school tennis is a good training ground for serious junior tournament players, and potential improvements
[19:30] Jamie's experience training at the John McEnroe Tennis Academy
[20:29] A typical day like at JMTA
[21:30] Practice matches with John McEnroe and why he never does mini-tennis
[24:45] Playing at the US Open in 2015 vs. Wozniacki after winning the American Collegiate Invitational
College Tennis at UNC
[27:23] Deciding to attend UNC instead of going pro full-time
[30:47] What is your first memory of your college tennis career?
[32:03] Elements of Jamie's game she improved the most while at UNC
[33:42] How to develop maximal focus and tunnel vision
[36:57] The most important piece of advice her coach Brian gave her at UNC
[39:51] How many days a week the team trained fitness vs on-court practice in the fall season, and how that changed in the spring
[41:31] Deciding to leave school early to turn pro
[42:30] Big differences between college tennis and the pro tour
[43:59] Focusing on the dynamic warm-up
[45:27] A typical day of training while on the tour
[46:18] How much weight training is part of her fitness?
[47:28] Traveling with a coach, and how frequently her coach joins her at tournaments
[48:54] Does she travel with other team members besides her coach (physio, stringer, etc)?
[50:48] How hard it is to stay afloat financially on the tour
[52:25] The most expensive things pros have to pay for
[53:15] Housing with volunteer families
[54:01] Jamie's relationship with her fellow American players and the kinds of activities they do together
[55:24] What Jamie does to relax from training and tournaments
[56:45] The lowest point in Jamie's career and how she overcame it
[1:02:08] The highlight of her pro career
[1:03:13] Her experience at this year's US Open at her home tournament
[1:04:08] Jamie's tournament plans for the rest of the year
[1:04:56] Her thoughts on this year's US Open final and the controversy at the end of the Williams-Osaka match
[1:07:05] The most ridiculous tournament experience of her career
[1:08:05] Getting things done in the morning
[1:09:09] Tips for improving your Instagram game
[1:10:45] Jamie's favorite food to eat before a tennis match
[1:11:59] Jamie's drink of choice to stay hydrated during a tennis match
[1:12:16] Jamie's racquet, string and tension
[1:12:37} The friendliest ATP and WTA pros
[1:14:03] Jamie's favorite tennis player of all time
[1:15:06] Jamie's social media accounts
[1:16:28] Advice from Jamie to improve your tennis game
Subscribe to automatically download new episodes!

Click the icon above, click the blue "View in iTunes" button, then hit "Subscribe."

Or hit the subscribe button in your favorite podcast app!
Right Click Here to Download the MP3
Click Here to Download the Transcript!
Links Mentioned in the Show
Tennis Files Youtube Channel - Subscribe! You know you want to 😉
If you enjoyed this episode, subscribe to The Tennis Files Podcast in iTunes or your favorite podcast app!
For more tips on how to improve your game, subscribe to my newsletter and download a free copy of my eBook, The Building Blocks of Tennis Success below! Thanks for listening!