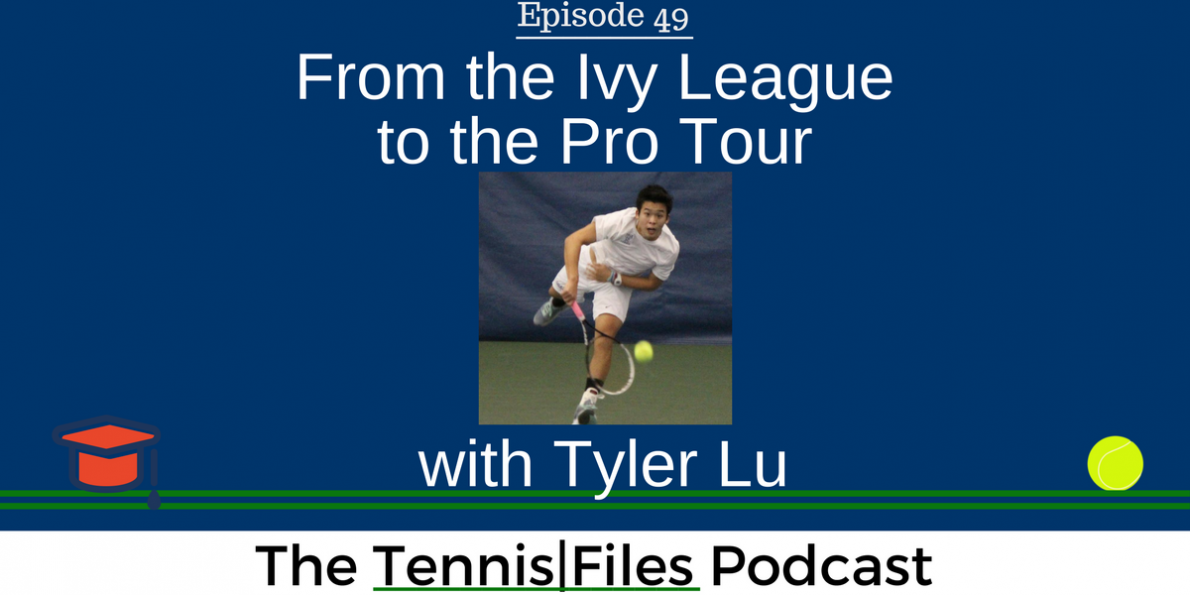 On today's show, I spoke with Yale standout and recent graduate Tyler Lu.  Tyler has played #1 at Yale since his freshman year, and was ranked as high as #64 in the country in college. We discussed Tyler's journey from starting tennis at 12 years old to transitioning to the pro tour, and some excellent tips that can help improve your serve and mindset on the court.
Tyler, a blue chip recruit, has defeated a bunch of top 40 ranked college tennis players and was ranked as high as No. 3 in the Southern California (SoCal) region as a junior and No. 24 in the nation by the USTA. I am definitely glad that Tyler's brother Austin reached out to me to get this interview set up.
Thanks to Tyler for coming onto The Tennis Files Podcast! I really enjoyed speaking with him.  Tyler is a very intelligent young man with a bright future ahead of him. I hope you enjoy his very insightful thoughts about tennis and advice on how we can all play better tennis.
Time-Stamped Show Notes
[1:49]

 Sports and activities Tyler did as a young kid before playing tennis

[3:25]

 Tyler's first memory of hitting a tennis ball

[

4:17]

] Was it difficult starting tennis at a relatively late age?

[6:07]

Tyler started practicing seriously from day 1

[6:57]

 Tyler's first tournament experience and its impact on his career

[7:52]

How playing other sports helps tennis players on the mental side of the game and competing

[9:15] Tyler not making his high school tennis team first year
[10:17] The structure of Tyler's high school tennis team tryouts
[11:15] How Tyler responded after not making his high school team
[13:02]

Why Tyler didn't train at a tennis academy and still improved his game a ton

[14:16]

Tyler's experience with coaches as a junior player

[14:51]

When Tyler started to reach a high ranking in Southern California and the nation

[15:41]

What helped Tyler reach the top of the junior rankings in such a relatively short period of time

[17:09] Tyler's playing style, and

 how it evolved as he got older up until college?

[18:46]

How to selectively go for your shots

[19:31] Tyler's

 proudest moment in his junior tennis career

[20:29] His

 biggest victories in the juniors

[21:29] T

he recruiting process as an upperclassman in high school

[22:13]

How and why Tyler choose Yale over other big name schools?

[23:27]

The school Tyler would have gone to if he didn't select Yale

[24:39]

Which Ivy League school had the highest-ranked tennis program

[25:12]

What part of Tyler's game he improved the most while at Yale?

[26:28] Key tip to improve your serve

Visualize yourself hitting the top of the ball up on your serve for more power

Works for flat and topspin serves
Slice side of the ball for slice serves

[30:34]

What was a typical day of practice like in college?

[32:54]

How difficult was it to balance studies at a top Ivy League school with Division I tennis?

[34:47]

How much off-court training (weight training, agility/sprints) did the team do?

[36:45]

What was the lowest point in Tyler's college tennis career, and how he overcame it

[40:05] The college tennis dynamics of supporting your teammates while competing for a spot in the lineup
[42:12] Tyler's

 most memorable team match with Yale

[44:32] Why confidence is so importance for tennis players
[49:04] F

actors Tyler considered when deciding whether to go pro

[50:45] The

 profession Tyler would take up if he didn't decide to go pro

[52:00]

How Tyler plans to handle the financial burden of playing on the pro tour

[54:10]

Why domestic tournaments can cost more than international tournaments

[56:26]

 Tyler's goals for his first year on tour

[57:20]

Will Tyler be traveling with a coach and/or team during this time?

[58:41]

Plan for practicing while on the pro tour

[1:00:08] Resources to improve your tennis game that Tyler recommends

Youtube videos of pros practicing

[1:01:41] Tyler's

 favorite tennis player of all time

[1:01:53]

What made Tyler decide to start a blog?

[1:04:39]

Where we can follow Tyler online

[1:05:10] O

ne piece of advice Tyler has for the audience to help them improve their tennis game?
Subscribe to automatically download new episodes!

Click this icon, click the blue "View in iTunes" button, then hit "Subscribe."

Or hit the subscribe button in your favorite podcast app!
Right Click Here to Download the MP3
Links Mentioned in the Show
Tyler's Blog – http://www.tylerlutennis.com/
Support Tyler's Pro Career – Tyler's GoFundMe Page
Outliers – Malcolm Gladwell
International Tennis Performance Association 
Complete Conditioning for Tennis

TFP 033: Dr. Mark Kovacs – Strength and Conditioning for Tennis Players
Note: Some of the links above are affiliate links, so if you make a purchase after clicking them, I make Eleventy-Billion dollars a small commission that helps support the podcast. Thanks either way! 🙂
If you enjoyed my interview with Tyler, subscribe to The Tennis Files Podcast in iTunes or your favorite podcast app!
For more tips on how to improve your game, download a free copy of my eBook, The Building Blocks of Tennis Success below! Thanks for listening!