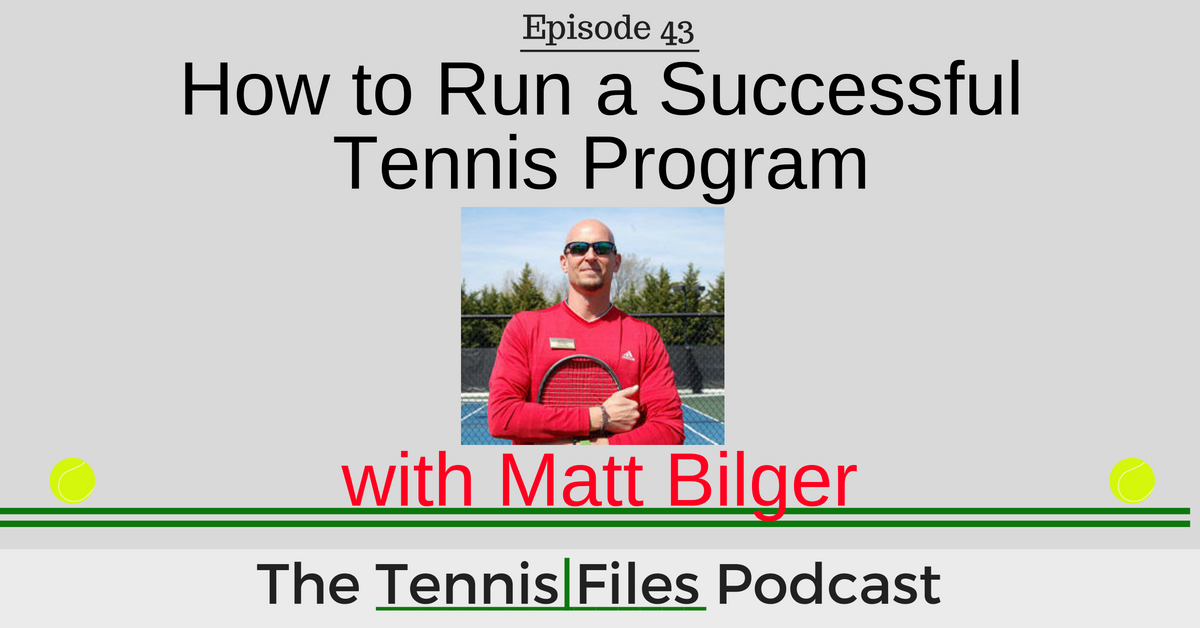 On today's show I had the pleasure of speaking with Matt Bilger, Director of Tennis at Chantilly National Golf and Country Club. Matt was my former assistant coach at The University of Maryland, Baltimore County where I played Division I college tennis. He always kept our team positive and ready to handle adversity. Matt brings the same expertise and energy to the court with his current players, and it was my pleasure to interview Matt on the podcast.
Matt and I discussed his passion for the game and tips for running a successful tennis program. Matt talks about his approach for teaching club level players, how he structures the program, and common mistakes that he fixes in his students' games.
It was awesome to speak with Matt and I appreciate the enthusiasm and effort that he brings to every lesson and clinic he teaches. Enjoy the episode and let me know what you think in the comments below!
Time-Stamped Show Notes
[4:15]

 Matt journey from a late start in tennis to Director at a country club

[5:58]

How Matt's mentor influenced his passion for tennis

[7:22]

At what age did Matt start playing competitive tennis?

[8:43]

Advice for aspiring Directors of a tennis/country club

[12:18]

How Matt overcame the lowest point in his career

[14:17]

What are three things the world doesn't know about Matt Bilger?

[15:57]

 Three of the biggest mistakes that Matt sees club players make

[17:28]

The structure of tennis programs at Chantilly National.

[19:02]

How Matt gets more players to be engaged and participate in your programs, particularly with social media

[20:32]

How to fix technical issues in club players

[22:03]

How to approach teaching beginner tennis players

[24:10]

Matt's affable personality; was it always this way?

[25:30]

How to maintain motivation teaching long hours

[27:04]

What are 3 tips to improve our serves?

[29:19]

How Matt incorporates fitness into his clinics

[31:15]

Some of Matt's favorite tennis drills

[33:10]

Favorite tennis books?

[34:08]

The best advice Matt's ever been given about tennis

[35:23]

One key tip to help tennis players improve their game

[36:22]

Where we can follow Matt online and on social media
Subscribe to automatically download new episodes!

Click this icon, click the blue "View in iTunes" button, then hit "Subscribe."

Or hit the subscribe button in your favorite podcast app!
Right Click Here to Download the MP3
Links Mentioned in the Show
TPF 002: Focus on the Process with Keith Puryear 
Pete Sampras – A Champion's Mind: Lessons From a Life in Tennis
Note: Some of the links above are affiliate links, so if you make a purchase after clicking, I make 800 million dollars a small commission that helps support the podcast. Thanks either way! 🙂
If you enjoyed my interview with Matt, subscribe to The Tennis Files Podcast in iTunes or your favorite podcast app!
For more tips on how to improve your game, download a free copy of my eBook, The Building Blocks of Tennis Success eBook below! Thanks for listening!