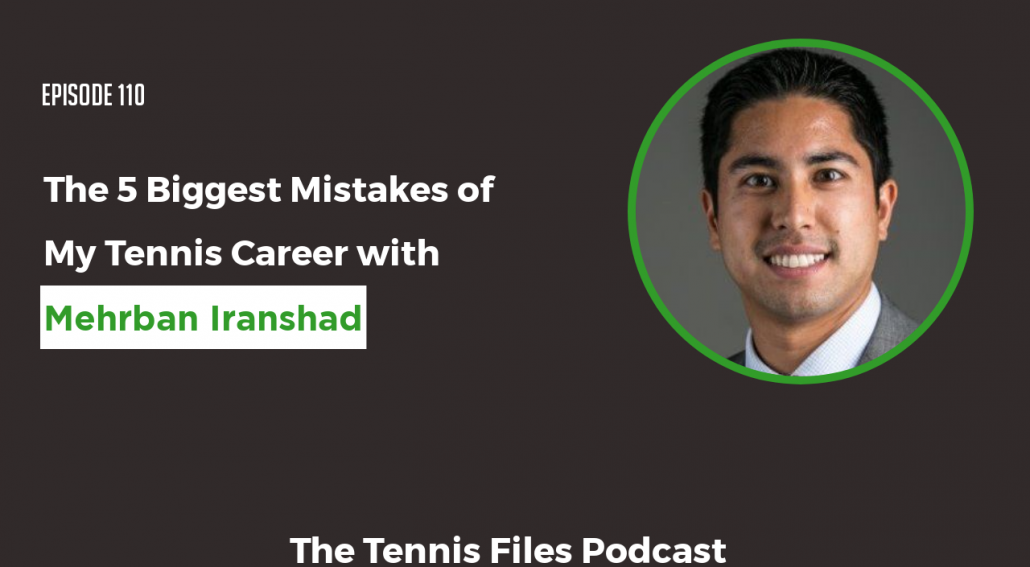 On Episode 110 of The Tennis Files Podcast, I discuss the five biggest mistakes that I've made throughout my tennis career. If I could pick five of the most impactful choices on my game, take a time machine, and change them, it would be the ones that I talk about on this episode. It wasn't easy to admit some of these mistakes for you to hear, but I think it's really important to talk about not only your successes, but also your low points so that you can reflect, refine, and improve!
These mistakes touch on really important concepts like the fear of failure and seeking long-term gains instead of short-terms wins. I hope that by revealing these suboptimal choices, it will help you make the right choice when you are faced with a similar situation.
I also talk about my awesome experience at this year's U.S. Open, including the matches I watched, really cool people that I met (shout out to Andi and Nina!), and even a lost credit card story (oops!). I also highly encourage you to check out The Tennis Channel Podcast Network, at: http://tnns.co/podcasts. I am really proud to be a part of this super talented group of tennis podcasters!

I hope you enjoy this solo podcast episode with yours truly and find it helpful! Let me know what you think about it in the comments below!
Subscribe to automatically download new episodes!

Click the icon above, click the blue "View in iTunes" button, then hit "Subscribe."

Or hit the subscribe button in your favorite podcast app!
Right Click Here to Download the MP3
Links Mentioned in the Show
Resources
The Tennis Channel Podcast Network
30 College Tennis Coaches Reveal Top Character Traits of Successful Student Athletes
Complete Conditioning for Tennis (2nd edition) - Dr. Mark Kovacs
Tennis Summit Links
Tennis Summit 2019 - Register for FREE today!
Related Podcasts
TFP 108: How to Make a Successful Comeback From Injuries with Treat Huey​
TFP 107: Thai-Son Kwiatkowski - Pursuing Your Passion on Tour
TFP 082: Dr. Sean Drake — RacquetFit and the Body-Tennis Connection
TFP 074: Jeff Salzenstein — How to Change Your Mindset and Achieve Your Potential
TFP 090: 5 of My Favorite Doubles Plays to Take Control of Matches
TFP 080: Q&A 4.5+ Edition — Re-tooling Your Strokes, Backhand Tips, Serve Consistency, Returning, Advanced Drills and More!
TFP 075: Q&A Edition — Anticipation, Fitness, Consistency, Technique and More!
Check Out All My Podcasts Here! - Podcasts Homepage
Check Out All My Podcasts on iTunes! - iTunes Tennis Files Podcast Page
My Youtube Channel!
Tennis Files Youtube Channel - Subscribe! You know you want to 😉
Note: Some of the links above are affiliate links, so if you make a purchase after clicking, I'll make a small commission that will help support the podcast. Thanks either way!
If you enjoyed this episode, subscribe to The Tennis Files Podcast in iTunes or your favorite podcast app!
For more tips on how to improve your tennis fitness, subscribe to my newsletter and download a free copy of my free eBook, The Building Blocks of Tennis Success below! Thanks for listening!
The Building Blocks of Tennis Success eBook
Subscribe to get my free eBook and learn about goal setting, training smart, proper technique, mental fortitude, the importance of competition, health and fitness, and more!
Thanks for being a valued Tennis Files subscriber! I am proud to serve you 🙂