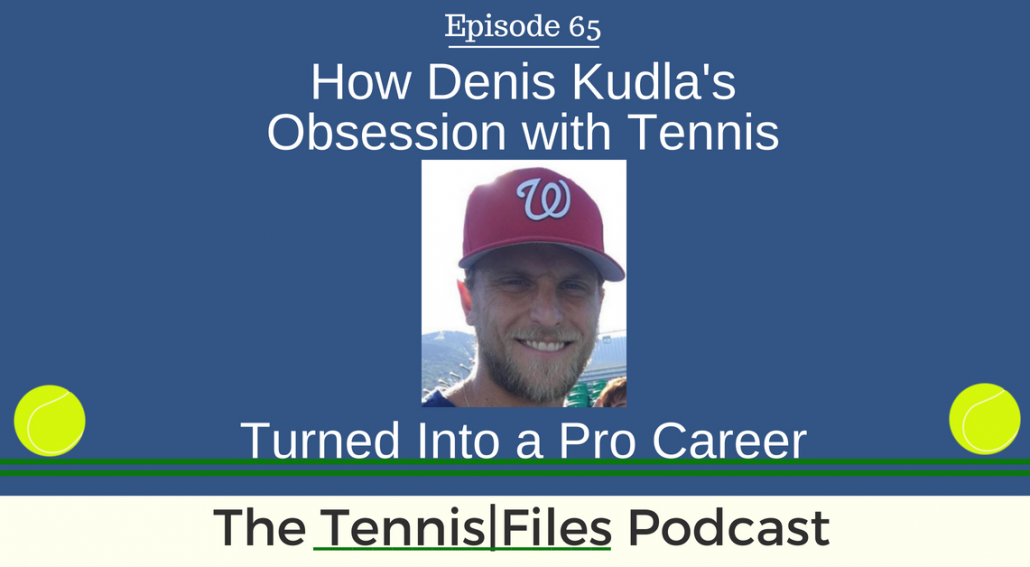 On Episode 65 of The Tennis Files Podcast, I spoke with ATP world #73 Denis Kudla about how his obsession with tennis turned into a pro career.  Denis turned pro as teenager and has had his share of ups and downs, but through it all his passion for the game and excellent support system has helped him catapult back into the Top 100 once again.
Denis has always been one of my favorite players to root for because he is from Arlington, Virginia, which is very close to where I'm from (Maryland), and also because he is a very down to Earth guy.  I first met and interviewed Denis at the Citi Open last month after he and Frances Tiafoe played a doubles match (two in the same day actually).  Denis wore a Washington Capitals shirt, which has been the pride of DC for their championship win (and one of my favorite hats to wear). 
Denis was kind enough to make some time to speak with me while he was in New York preparing for the U.S. Open.  You'll hear Denis talk about his tennis career from the beginning, how he trained as a junior at the Junior Tennis Champions Center (JTCC), why he has always prioritized fitness, and how he bounced back from the lowest point of his career.
It was a pleasure speaking with Denis on the podcast, and I wish him all the best in his career.  Let us know what you think about this episode in the comments below!
Time-Stamped Show Notes
[2:36] Denis's 

training and preparation for the US Open

[3:43]

Playing golf at the Stowe Tennis tournament in Vermont

[4:26]

Similarities between tennis and golf

[5:27]

Why this has been the best year of Denis's sports fan life (Washington Capitals / Philadelphia Eagles)

[7:47] Denis's

 first memory of hitting a tennis ball

[9:04]

 Transition to training at the Junior Tennis Champions Center, and why Denis's family made the decision

[10:37] How Denis

 stayed focused on his tennis training as a junior and avoided distractions

[11:54]

The most important changes Denis made in his game as a junior

[13:27]

A quote that has always stuck with Denis throughout his career

[14:05]

The structure and hours of being homeschooled at a tennis academy (Junior Tennis Champions Center)

[15:51]

Denis's closest friends and competitors during his junior career

[17:17]

How to overcome your doubts against stiff competition

[18:26] Why Denis decided to turn pro instead of going to college
[19:44]

The lowest point in Denis's professional career and how he bounced back to the Top 100

[21:34]

What caused Denis to hit rock bottom as an ATP pro

[22:59]

Differences between Challenger and ATP Tour Level players

[24:14]

Why routines don't always work as a professional tennis player

[25:44]

What Denis changed in his fitness routine after losing a two set lead vs. Thiem at the Australian Open

[26:39]

Denis's approach to fitness in the off-season

[27:22]

One piece of advice from Denis to help you improve your tennis game
Subscribe to automatically download new episodes!

Click this icon, click the blue "View in iTunes" button, then hit "Subscribe."

Or hit the subscribe button in your favorite podcast app!
Right Click Here to Download the MP3
Links Mentioned in the Show
Tennis Files Youtube Channel – Subscribe!  You know you want to 😉
If you enjoyed this episode, subscribe to The Tennis Files Podcast in iTunes or your favorite podcast app!
For more tips on how to improve your game, subscribe to my newsletter and download a free copy of my eBook, The Building Blocks of Tennis Success below!  Thanks for listening!