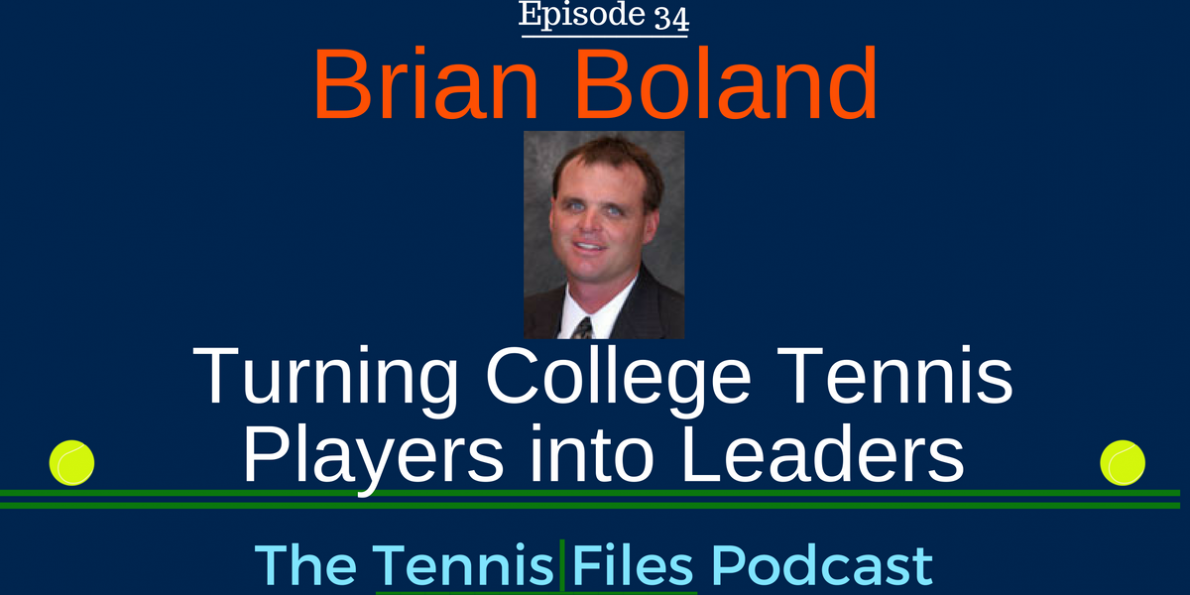 On Episode 34 of TFP, I had the honor of speaking with Brian Boland, Coach of the 2013, 2015, and 2016 NCAA Division I Championship University of Virginia Men's Tennis program. Coach Boland shows us how we can produce better leaders and human beings through college tennis. This approach is ultimately what determines whether coaches and players are truly successful in life.
Coach Boland's approach of focusing on developing his players have resulted in incredible accomplishments, both on and off the court. Virginia Men's Tennis has been ranked in the top five of the ITA's final rankings in 8 of the past 10 seasons, and they've also won 5 ITA National Team Indoor Championships, 14 conference championships and 18 NCAA and ITA individual national championships.
What is so striking about Coach Boland is that he doesn't focus on the results so much as the development of his players. That his favorite moment at Virginia Men's Tennis has been attending weddings of his players, rather than winning titles, speaks volumes about his values. Coach Boland was also the very first contributor to one of my most popular articles, 30 College Tennis Coaches Reveal Top Character Traits of Successful Student-Athletes.
Huge thanks to Coach Boland for coming onto the show! This episode is a must-listen for any coaches and players who want to get the most out of themselves and their players. Coach Boland shows us how we can do this through leadership, integrity, and character.
Time-Stamped Show Notes:
[
] How did Coach Boland become a head coach at UVA?
[
] One thing that the world doesn't know about Coach Boland
[
] How do you keep motivated after winning everything there is to win in college tennis?
[
] How did UVA bounce back from adversity this year to win the NCAA Championship?
[
] How do you deal with players who aren't in the lineup
[
] Challenges in maintaining an elite team year after year
[
] What did Coach Boland mean when he said "It takes a village to be the best at what you can do."
[
] What systems do you have in place to ensure that your players succeed?
[
] How and where Coach Boland recruit players
[
] The success of local mid-atlantic players at UVA
[
] How UVA tennis player Thai-Son Kwiatkowski is skyrocketing up the ATP rankings
[Episode 33 of TFP)
] Shout out to Dr. Mark Kovacs (guest on
[Treat Huey's rise to the top of the ATP doubles ranks
] 
[
] What's the goal for UVA during the fall college tennis season?
[
] UVA's individual and team practices in the fall and spring
[
] The structure of individual practices
[
] Difference between fall and spring seasons
[
] Drilling during practices
[
] Coach Boland's favorite drills
[
] How to determine UVA's lineup
[
] Coach Boland's toughest and most enjoyable moments at UVA
[
] Sanam Singh's wedding
[
] How has UVA Tennis changed over the years?
[
] How can we save our college tennis programs?
[
] Coach Boland's morning routine
[
] Books that Coach Boland would gift someone looking to improve their tennis game
[
] The importance of tennis coaches and experts sharing information with the community
[
] Best advice that Coach Boland has every received
[
] Where can we follow Coach Boland and UVA Men's Tennis online
[
] One tip from Coach Boland that will help us improve our tennis games
I hope you enjoy my interview with Coach Boland! Let me know what you think in the comments below!
Subscribe to automatically download new episodes!

Click this icon, click the blue "View in iTunes" button, then hit "Subscribe."

Or hit the subscribe button in your favorite podcast app!
Right Click Here to Download the MP3
Links Mentioned in This Episode
Interview with Dr. Mark Kovacs
Complete Conditioning for Tennis (2nd edition)
Note: Some of the links above are affiliate links, so if you make a purchase after clicking, I make a small commission. Thanks either way!
If you enjoyed my interview with Coach Boland, be sure to subscribe to The Tennis Files Podcast! Next up on the schedule is Martin Blackman, Head of Player Development at USTA.
For more tennis tips to improve your game, download my free eBook, The Building Blocks of Tennis Success, by subscribing to my newsletter below!