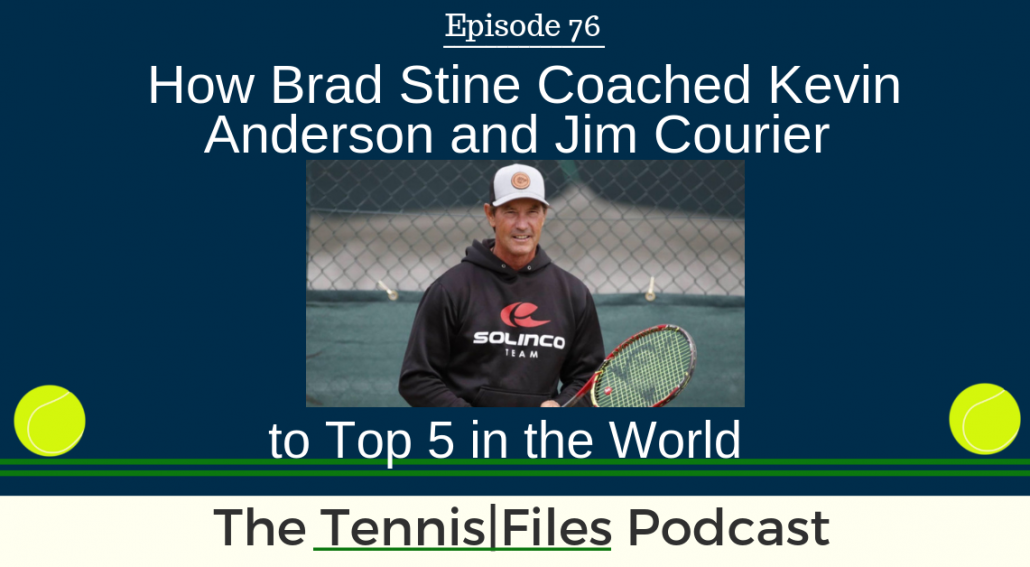 On Episode 76 of The Tennis Files Podcast, I spoke with Brad Stine about how he coached Kevin Anderson, Jim Courier, and many other players to top ATP world rankings. Brad's philosophies, systems, and strategies have enable him to consistently propel whoever he coaches, from high level juniors, college players and tour pros, to top rankings and grand slam titles. It was fascinating to hear Brad's tennis journey and how both he and his players have risen to the upper echelon of the game.
Brad is a world-class tennis coach from Fresno, California who has coached numerous top ATP pros in his career, most notably former world #1 Jim Courier. He currently coaches ATP world #6 Kevin Anderson, and has also previously coached Andrei Medvedev, Jonathan Stark, Mardy Fish, Taylor Dent, Sebastien Grojean, Sargis Sargisian, and Byron Black.
Brad played and coached at Fresno State, and led the program to a top 20 DI ranking as a coach. He was also a US National Coach for the USTA and coached the US junior national team, which was loaded with top talent: Jim Courier, Pete Sampras, MaliVai Washington, Todd Martin, Jonathan Stark, Jared Palmer, David Wheaton and Jeff Tarango
On this episode, we talk about how Brad became a top level coach and his journey from coaching at the USTA, to college tennis, and eventually to coaching some of the best ATP pros of all time.
I really hope you enjoy my interview with Brad! Let us know what you think about this episode in the comments below!
Show Notes
Brad's favorite place in the world to go snowboarding
Brad's first memory of hitting a tennis ball
How Brad got his start in coaching
Brad's experience coaching the US Junior National Team, which was loaded with top talent: Jim Courier, Pete Sampras, MaliVai Washington, Todd Martin, Jonathan Stark, Jared Palmer, David Wheaton and Jeff Tarango
The most important skills Brad focused on developing in the US Junior National Team
Coaching D1 college tennis at Fresno State
The most important changes Brad made to the Fresno State tennis team that caused the program to eventually get a top 20 DI ranking, and why an atmosphere of respect is so important
Differences between coaching in college and the pro tour
Going from coaching college tennis to Jim Courier and how they ended up working together
Jim's personality and the approach Brad took to maximize Jim's abilities
Jim's unorthodox backhand and how the coaching team maximized his game
The importance of the backhand slice to Jim's success
The traits and habits that most contributed to Jim Courier's rise to the top of the game
How Brad and Kevin Anderson started their coaching partnership
The importance of self-containment and conserving energy and how this has improved Kevin's results
How we can strike a balance between getting pumped up and positive versus conserving energy
An example of having a stronger physical presence on the court
Kevin's most important traits that make him a top 10 player
Kevin's increased focus on his fitness training and getting stronger
What's next for Brad and Kevin
3 books Brad would gift to a friend to help them play better tennis
Subscribe to automatically download new episodes!

Click the icon above, click the blue "View in iTunes" button, then hit "Subscribe."

Or hit the subscribe button in your favorite podcast app!
​If you enjoyed this episode, subscribe to The Tennis Files Podcast in iTunes or your favorite podcast app!
For more tips on how to improve your game, subscribe to my newsletter and download a free copy of my eBook, The Building Blocks of Tennis Success below! Thanks for listening!