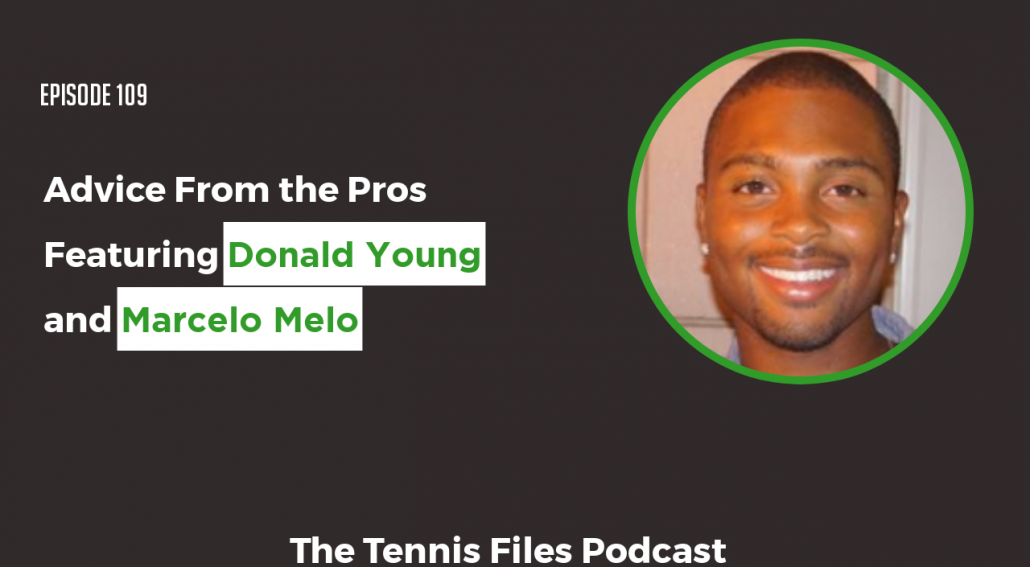 On Episode 109 of The Tennis Files Podcast, I spoke with ATP Pros Donald Young and Marcelo Melo about their greatest lessons learned on tour, what makes them world-class athletes, and keys tips to play your best tennis. I interviewed Donald and Marcelo a few weeks ago at the Citi Open and combined these relatively short (for my podcast interview standards!) interviews together. And after each interview, I recap the key takeaways and give my take on what each of these pros discussed.
I am also really proud to announce that The Tennis Files Podcast has joined The Tennis Channel Podcast Network! It is truly an honor to be a part of it. TC's podcast network just launched this past Sunday (August 25) with a fantastic lineup for every type of tennis fan that you can check out at: http://tnns.co/podcasts. I am really stoked to be a part of this super talented group of tennis podcasters!

Speaking of talent, you've probably heard about Donald and Marcelo. Donald has been ranked as high as #38 in the world, and was a former junior world #1. Marcelo has been on top of the doubles tour numerous times, notching over 500 career wins (the day that I interviewed him was his 500th victory!) and two grand slam doubles titles (French Open and Wimbledon).

On today's episode, you'll learn the step by step recovery methods of both players, the most valuable lessons they've learned on the tour, how to consistently get to bed on time despite so many distractions and electronics around us, how to find the right doubles partner, how to come back from injuries and low points in your career, the most important character traits of successful competitive tennis players, and much more!

I hope you enjoy this podcast episode with Donald and Marcelo and find it helpful! Let us know what you think about it in the comments below!
Subscribe to automatically download new episodes!

Click the icon above, click the blue "View in iTunes" button, then hit "Subscribe."

Or hit the subscribe button in your favorite podcast app!
Right Click Here to Download the MP3
Links Mentioned in the Show
Resources
The Tennis Channel Podcast Network
30 College Tennis Coaches Reveal Top Character Traits of Successful Student Athletes
Complete Conditioning for Tennis (2nd edition) - Dr. Mark Kovacs
Tennis Summit Links
Tennis Summit 2019 - Register for FREE today!
Related Podcasts
TFP 108: How to Make a Successful Comeback From Injuries with Treat Huey​
TFP 107: Thai-Son Kwiatkowski - Pursuing Your Passion on Tour
TFP 082: Dr. Sean Drake — RacquetFit and the Body-Tennis Connection
TFP 074: Jeff Salzenstein — How to Change Your Mindset and Achieve Your Potential
TFP 090: 5 of My Favorite Doubles Plays to Take Control of Matches
TFP 080: Q&A 4.5+ Edition — Re-tooling Your Strokes, Backhand Tips, Serve Consistency, Returning, Advanced Drills and More!
TFP 075: Q&A Edition — Anticipation, Fitness, Consistency, Technique and More!
Check Out All My Podcasts Here! - Podcasts Homepage
Check Out All My Podcasts on iTunes! - iTunes Tennis Files Podcast Page
My Youtube Channel!
Tennis Files Youtube Channel - Subscribe! You know you want to 😉
Note: Some of the links above are affiliate links, so if you make a purchase after clicking, I'll make a small commission that will help support the podcast. Thanks either way!
If you enjoyed this episode, subscribe to The Tennis Files Podcast in iTunes or your favorite podcast app!
For more tips on how to improve your tennis fitness, subscribe to my newsletter and download a free copy of my free eBook, The Building Blocks of Tennis Success below! Thanks for listening!
The Building Blocks of Tennis Success eBook
Subscribe to get my free eBook and learn about goal setting, training smart, proper technique, mental fortitude, the importance of competition, health and fitness, and more!
Thanks for being a valued Tennis Files subscriber! I am proud to serve you 🙂