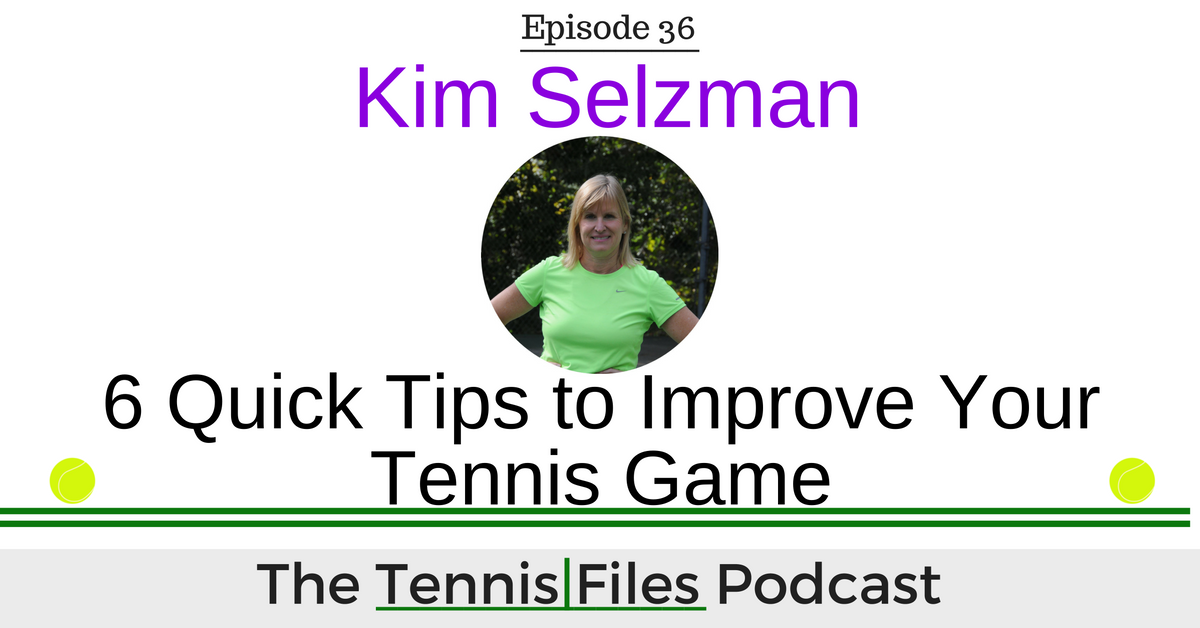 On Episode 36 of TFP, Kim Selzman from The Tennis Quick Tips Podcast and tennisfixation.com joined me to give you some of her best tips to help you improve your game.
Kim started playing tennis at 40 years old and fell in love with the game immediately. She is a super passionate tennis player that enjoys sharing what she knows and learns about the game with her audience. Well that sounds a little familiar! 🙂
Kim does an awesome job of giving her audience value-packed tips that are quick and easy to implement, and can really boost your game. She has produced over 140 podcast episodes and it was a lot of fun to speak with her on the show. I also included her podcast in my article The 41 Best Tennis Resources Every Player Should Know.
Time-Stamped Show Notes
[2:58] How Kim got her start in tennis

[5:34] Kim's website and podcast

[9:09] 3 tips to improve your serve
[15:35] One tip Kim follows every time she plays tennis
[18:52] Why Kim changed her mind about lobbing

[22:43] Resources that Kim uses to improve her game

[26:03] Favorite tennis books Kim would give as a gift to someone who wants to improve their tennis game 

[30:33] One key tip to improve your tennis game

[34:06] Where can we find Kim online
A big shout out to Kim for coming onto the podcast and giving us some great tips on how we can all become better tennis players!
Subscribe to automatically download new episodes!

Click this icon, click the blue "View in iTunes" button, then hit "Subscribe."

Or hit the subscribe button in your favorite podcast app!
Right Click Here to Download the MP3
Links Mentioned in the Show
A special gift from Kim for our listeners!
Winning Ugly – Brad Gilbert
Arthur Ashe on Tennis
Tennis Beyond Big Shots – Greg Moran
Interview with Dr. Mark Kovacs
Complete Conditioning for Tennis Players
Note: The links to the books above are affiliate links, so if you make a purchase after clicking, I make a small commission. Thanks either way!
If you enjoyed my interview with Kim, let me know by leaving a review for The Tennis Files Podcast in iTunes or your favorite podcast app!