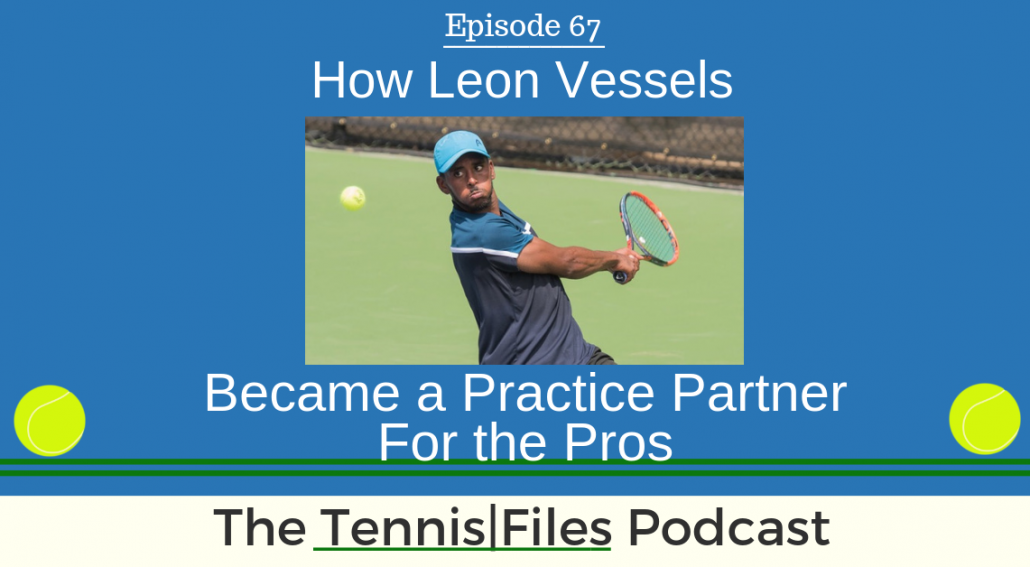 On Episode 67 of The Tennis Files Podcast, I spoke with Leon Vessels about how he became a practice partner for top ATP and WTA pros. Leon has practiced with Alexander Zverev, Kei Nishikori, Grigor Dmitrov, Eugenie Bouchard, Gael Monfils, John Isner, Janko Tipsarevic, Alexandr Dolgopolov, Rajeev Ram, and countless other top ranked players. I noticed Leon playing with these top players at the Citi Open while covering the tournament over the past few years, and was intrigued about his story.
What is particularly amazing about Leon is that although he was a top junior, he did not play college tennis or on the pro tour, took several years off the game, and yet still possesses the skills and focus to practice with the top players in the world. On the podcast we get into how Leon became a practice partner at the Citi Open, how others can become practice partners at tournaments, the level required to practice with the pros, tips he's learned from the best in the world, and much more.
It was a pleasure speaking with Leon on the podcast, and I know you'll really enjoy this episode about Leon's journey to becoming a practice partner with these players. I know we'd all love to be in Leon's shoes. Heck, I think becoming a practice partner for the pros is one of my next goals 🙂
Let us know what you think about this episode in the comments below!
Time-Stamped Show Notes
[3:46] How Leon got his start playing tennis
[6:57] Leon's ultimate goal in tennis
[8:50] Where Leon trained as a junior
[12:05] Why Leon decided not to play college tennis due to burnout and other factors
[14:40] How Leon made his tennis comeback by getting challenged from his friends
[15:56] How Leon first became a practice partner at the Citi Open for Rajeev Ram
[18:05] How Leon got a wildcard to play in the Citi Open
[20:07] Are there common drills that pros ask for from practice partners?
[22:04] The mentality practice partners must have and Leon's close relationship with Alexander Dolgopolov
[23:45] Leon's rough practice experience practicing with Eugenie Bouchard
[25:54] Who are some of the most relaxed and demanding tennis players during practice
[30:23] The level of tennis you need to be a practice partner at pro tournaments
[32:46] How you can become a practice partner

[36:02] The vetting process for practice partner applicant

[39:24] Biggest lessons learned from practicing with the pros
[40:51] What it feels like to warm-up a top 3 player (Zverev) before a final
[44:18] Where we can follow Leon online

[45:35] A key tip from Leon to help you improve your tennis game


Subscribe to automatically download new episodes!

Click the icon above, click the blue "View in iTunes" button, then hit "Subscribe."

Or hit the subscribe button in your favorite podcast app!
Right Click Here to Download the MP3
​Links Mentioned in the Show
Tennis Files Youtube Channel - Subscribe! You know you want to 😉
Article about Leon Being a Practice Partner at Citi Open
​If you enjoyed this episode, subscribe to The Tennis Files Podcast in iTunes or your favorite podcast app!
For more tips on how to improve your game, subscribe to my newsletter and download a free copy of my eBook, The Building Blocks of Tennis Success below! Thanks for listening!
The Building Blocks of Tennis Success eBook
Subscribe to get my free eBook and learn about goal setting, training smart, proper technique, mental fortitude, the importance of competition, health and fitness, and more!
Thanks for being a valued Tennis Files subscriber! I am proud to serve you 🙂